Written by Environmental Conservation Intern Thomas Patti.
If you don't think bird conservation can be an action sport, think again.
As we make landfall on Lake Champlain's Poppasquash Island after a three-mile boat trip east from North Hero, hundreds of Ring-billed Gulls and Common Terns swirl and scream overhead, intent on making their presence known. While the whitish-gray birds look similar in the air, making separate species counts nearly impossible, there are clear differences between them: the terns are smaller, with slender, pointed wings and a forked tail. A bright red bill and dashing black cap further contrast with the gulls' subtler features.
But there's nothing subtle about any of these birds as they plummet toward our heads, timing their approach with the harshest, shrillest noise they can muster. The terns aren't afraid to make contact, either. Earlier this season, conservation program manager Mark LaBarr mistakenly brought one hard hat for the both of us and generously offered it to me, a decision that proved costly when he returned home to find ten bloody welts across his scalp. Despite this constant threat of violence, the terns' behavior is an encouraging sign at this time of year. With eggs and chicks hiding deep in the island's rocky crevasses and grassy knots, the adults overhead are on high alert, seeking to intimidate any potential predator who dares entry into the nesting colony.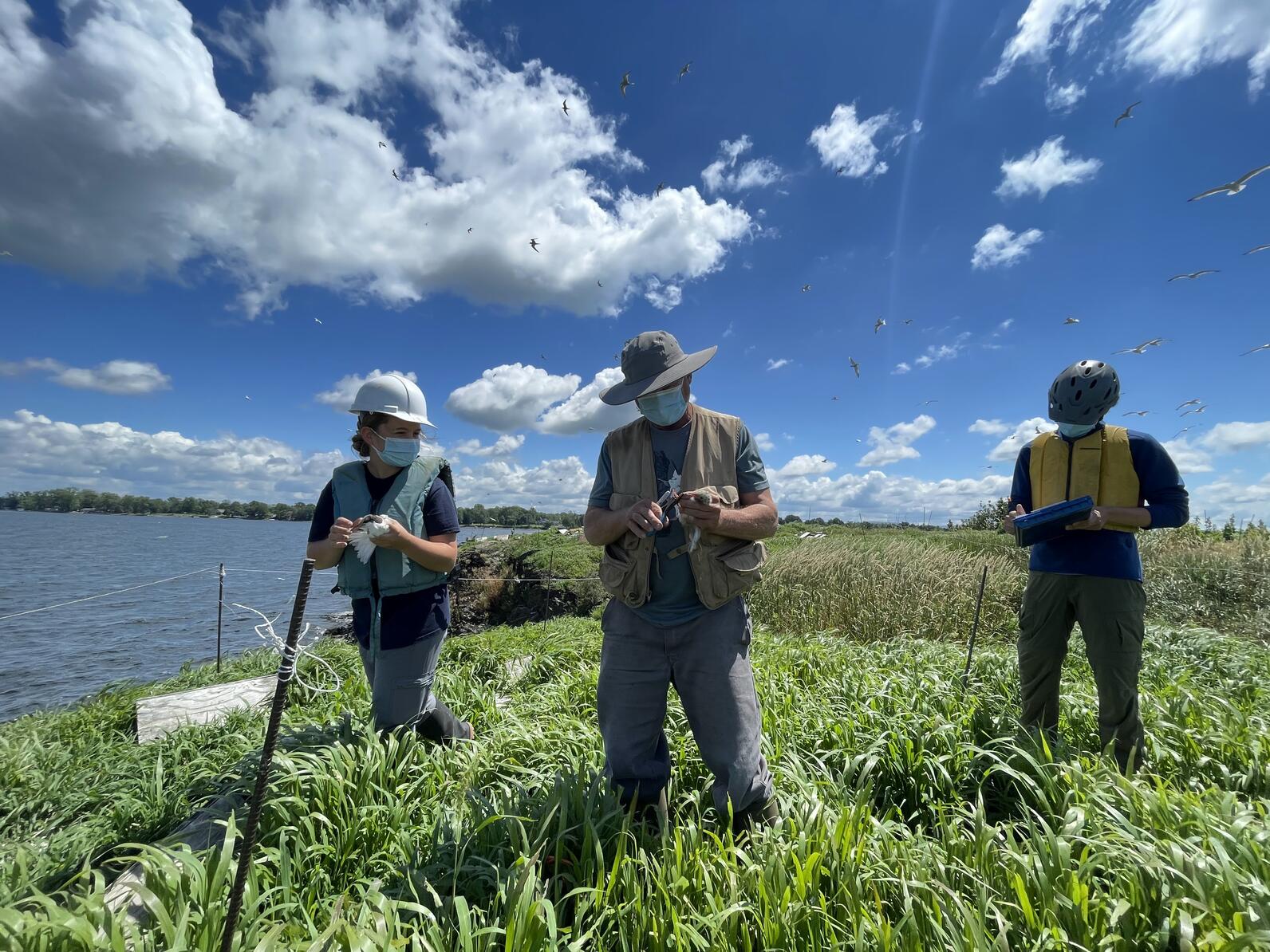 Even with the obvious language barrier between tern and man, it's somewhat surprising that these particular birds haven't yet grown accustomed to Mark's friendly presence on the island. For 34 years, including 25 with Audubon Vermont, Mark has dutifully ventured to Lake Champlain each breeding season, risking life and limb to monitor the population stability and reproductive success of the state's Common Terns. (The oldest known Common Tern was 25 years old—long enough, I think, to recognize a man like Mark as friend, not foe, and to notify the others.) As a conservation intern this summer, I have had the privilege of assisting Mark with various Common Tern conservation efforts on Lake Champlain, such as erecting shelters to protect vulnerable hatchlings from predators and the elements, posting signage around the island to limit human disturbance, and banding chicks to track year-to-year productivity.
Banding newborn terns is the closest I'll ever come to boot camp. The fluffy, spotted toddlers are deceptively speedy as I bear-crawl under wire fences (raised to deter predators and competitors like owls and cormorants) and tiptoe along precarious shale bluffs in their pursuit.
When I finally grab hold of one, I check to see if it is already sporting a stainless steel anklet. If so, I report the band's unique identification number to my co-intern Grace. If not, I call over Mark to add one. Holding such a delicate creature in my hands puts our challenging work in perspective.
I realize that defending the right of these birds to persist into the future is both a moral obligation and a profound, life-affirming privilege. I unrelatedly decide I deserve the moniker 'the calm intern' for my composure in the face of seabird mayhem. Then, the delicate creature ejects white paste onto my jacket sleeve, and I snap out of my romantic musings.
So far this year, Vermont's Common Terns have enjoyed a highly productive breeding season. We've documented hundreds of nests on three islands (Poppasquash, Rock, and Gramma's), banded dozens of chicks, and already observed the first fledglings. This success comes after a disappointing 2021 season, in which very few chicks fledged due to suspected predation and disturbance by Great Horned Owls and Peregrine Falcons. We are hopeful for a return to 2020 heights, when 240 chicks fledged. Due to Common Terns' relatively long lifespans, populations can withstand this year-to-year volatility as long as adult numbers remain high. Still, the messy, noisy chaos orchestrated by this year's terns is a welcome sight, and a testament to the continuing impact of Audubon Vermont's active conservation management.
Common Terns have been protected under Vermont's Endangered Species Law since 1989, a year after their numbers in the state plummeted to a low of just 50 breeding pairs. Throughout the '90s, biologists ramped up the anti-predator and anti-human disturbance strategies we still use today, boosting tern numbers across the state.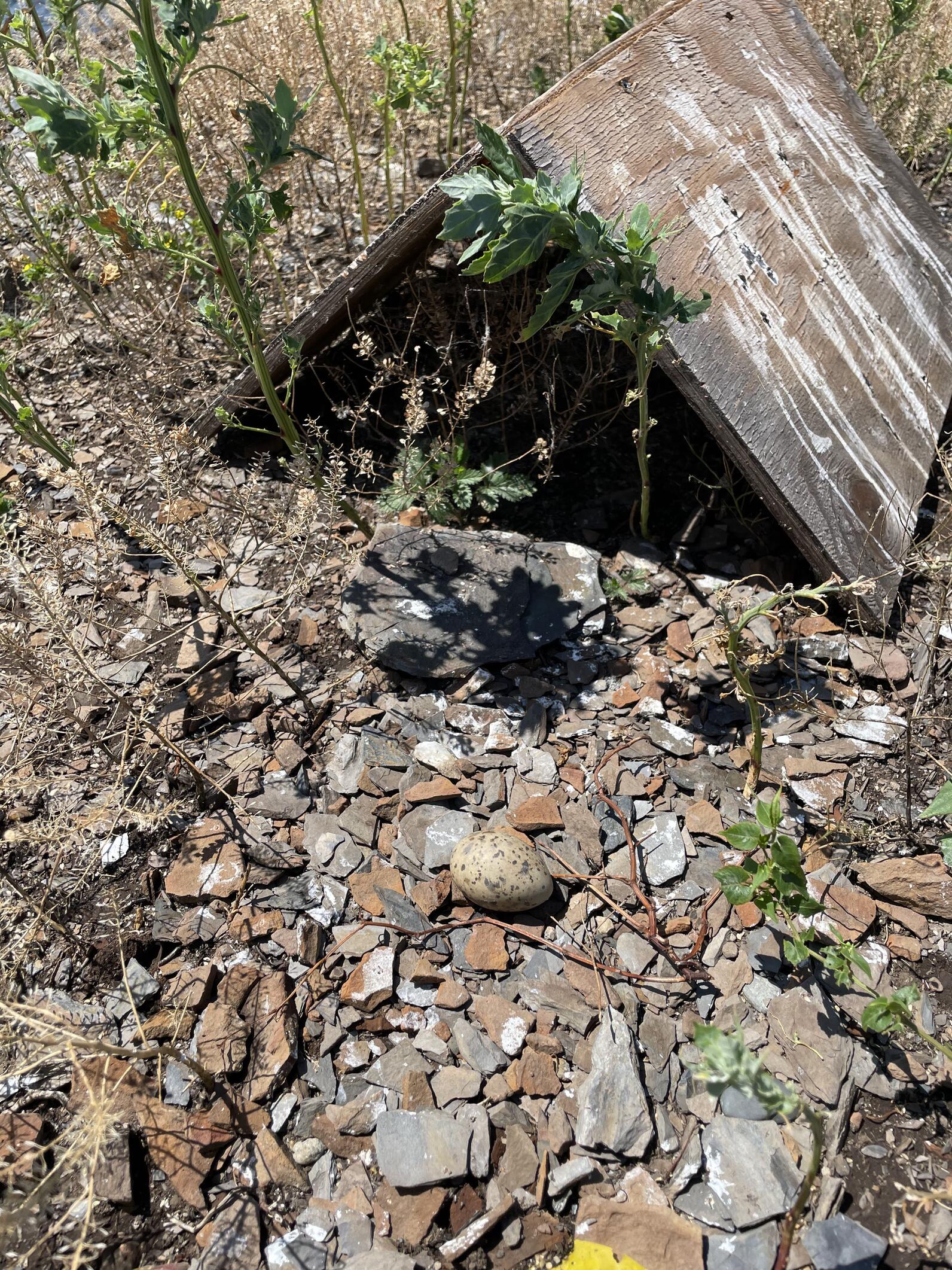 In partnership with the Vermont Fish and Wildlife Department, Audubon Vermont began coordinating the Common Tern Recovery Project in 1997, following a decade of oversight by the Vermont Institute for Natural Science. And in February of this year, Vermont Fish and Wildlife designated three of Lake Champlain's tern islands as critical habitat, in recognition of their importance to Common Tern conservation across the state. As a result of these long-term, collaborative efforts, since 1988, adult Common Terns in Vermont have increased by 300 percent.
Yet Vermont's Common Terns are facing a new challenge. Late last month, Audubon reported on early evidence of avian flu outbreaks among Common Tern colonies in Maine. At Pond Island and Stratton Island, off the state's central and southern coasts, researchers this breeding season have observed a small but steady stream of dead terns. With no signs of predation, injury, or starvation, and as the birds show neurological symptoms like compulsive head-shaking and failure to take to the skies when approached, the string of deaths points to the highly pathogenic avian influenza (HPAI) as a likely cause. Four Common Terns from Pond Island have already tested positive for the disease, marking the first confirmed cases in seabird colonies along the east coast of the United States. This alarming development comes during a swell in avian flu on both sides of the Atlantic, including in terns. The same strain that has wiped out several thousand Sandwich Terns in the Netherlands this season alone has recently killed an additional thousand Caspian Terns on Wisconsin's Lake Michigan coast.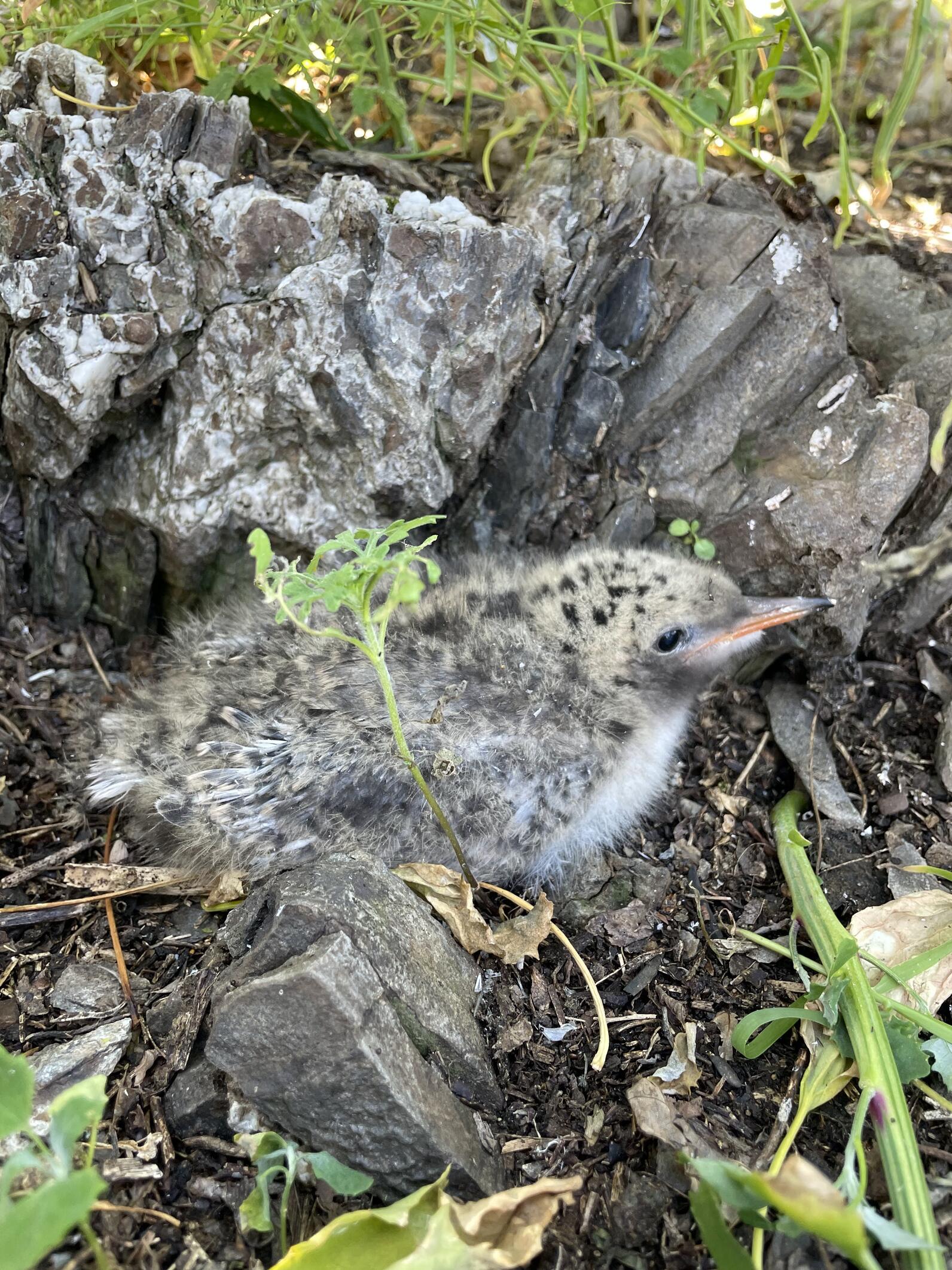 Fortunately, we have seen no evidence of HPAI in the Common Tern colonies of Lake Champlain. For now, the birds are isolated from the larger Great Lakes population, reducing their likelihood of contraction. When Vermont's terns migrate to Central and South America for the winter, however, they might come into contact with infected groups. This risk is something to keep a close eye on in future breeding seasons. In the meantime, for the safety of both the birds and ourselves, we have taken extra precautions while working within the colonies, including wearing face masks and sanitizing our hands after each visit.
After two years of the COVID-19 pandemic, we are all painfully aware of the measures we can take to reduce the risk of viral spread. Regrettably, birds don't take direction from the CDC, and vaccines against HPAI are not feasible for wild birds. Still, whether for COVID in humans or HPAI in birds, one fundamental truth remains: healthy, well-supported communities enjoy greater resilience to disease. Ensuring that Vermont's breeding tern colonies have everything they need to mate, raise chicks, and prepare for fall migration is therefore more important than ever. And from just a handful of visits to the Lake Champlain colonies so far, I am confident that the Common Terns of Vermont are in very good hands.