LGBTQ
Pride Hikes: Sleepy Hollow Ski and Bike Center
Co-hosted by Audubon Vermont, Pride Center of Vermont, Outright Vermont, and Sleepy Hollow
Sunday, October 16, 2022
1:00pm - 3:00pm Eastern Huntington, Vermont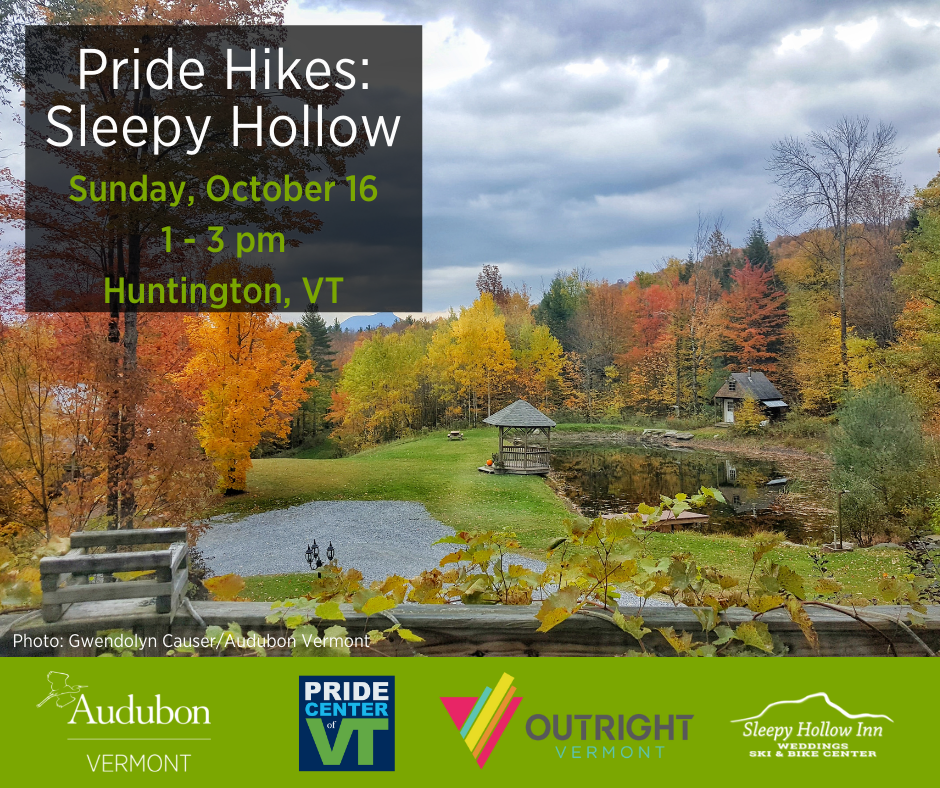 Location Details
Sleepy Hollow Ski and Bike Center
427 Ski Lodge Drive, Huntington, 05462, VT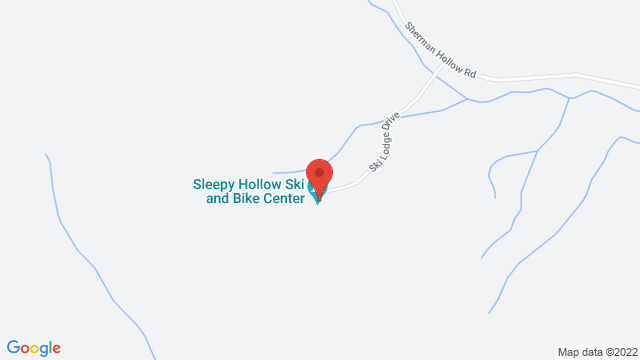 LGBTQIA++ hikers are venturing to the hiking trails of Sleepy Hollow to delight in some spectacular fall foliage. We will hike through the forest up to Butternut Cabin which has spectacular views of Camel's Hump and is a lovely spot for a snack and a rest.
Please register in advance for COVID contact-tracing purposes and to let us know your hiking preferences. Your information will be kept confidential and used only for COVID-19 tracing. All ages, allies, and families welcome! Youth under 18 years should be accompanied by a parent/guardian. To hold your spot please sign up here: CLICK HERE!
Questions? Contact Gwendolyn Causer at gwendolyn.causer@audubon.org
Pride Hikes are a collaboration between Audubon Vermont, the Pride Center of Vermont, and Outright Vermont. Pride Hikes have been happening every month since June of 2018 and go beyond being "welcoming to everyone" to creating a safe, affirming space for LGBTQIA++ community members.
Please wear weather-appropriate clothing, bring a mask (see more COVID details below), snacks, and plenty of water! Please bring anything else you will need to feel comfortable outdoors for a little over an hour or two, such as sturdy walking shoes, insect repellent, and sunscreen.
Dogs are very welcome and need to be leashed near the Inn and barn. Please pick up after your pooch.
Trail/accessibility information: Our walk will be at a slow (birding) pace and will cover approximately 2.5 miles. The trails are unpaved and we have two different routes/difficulty levels to choose from. We will check in with the group to see what's best for everyone on the day of the Pride Hike.
Longer Hike Option (2.5 miles): The longer hike starts in the parking lot and goes up the mountain bike trail called Skywalker, turns left onto X-wing trail, then right onto Balance Beam which takes us to the Butternut Cabin. The Butternut Cabin has a fabulous view of Camel's Hump and is a great place to stop for a snack/drink. We can follow the Skywalker Trail down from the cabin and back to the parking lot. If we want a longer option we can add on the Yoda trail. This longer hike option is entirely in the woods and the trails are narrow. The trails have rocks and roots that can get slippery if it has recently rained. It is generally intermediate hiking with hills to climb. You should be prepared with good shoes.
Shorter Hike Option (2 miles): A great beginner hike up the wider ski trail called Bishop which takes you to the Butternut cabin. The Butternut Cabin has a fabulous view of Camel's Hump and is a great place to stop for a snack/drink. We then can come down the Butternut Cabin Trail. The ski trails are more level and are mainly dirt and grass. The trail to the cabin is uphill for most of the way there and downhill back.
There is a gender-inclusive porta-potty in the parking lot and a a gender-inclusive outhouse at the cabin.
Explore Sleepy Hollow's trails online: https://www.trailforks.com/region/sleepy-hollow-ski--bike-center/
The trail fee is waived for this event, but if you bring your family and friends back, please be aware it is $8 to bike and $4 to hike per person.
If you require accommodations or have questions about accessibility, please contact Audubon Vermont at gwendolyn.causer@audubon.org
COVID Safety: We are committed to our community's health & safety. 
We understand that some people - even those who are vaccinated, or those who have health concerns, or those who might just feel more comfortable - may choose to continue to wear a mask even when outdoors and distanced. We wholeheartedly support their decision and ask all program participants to be respectful of their choice. We recognize that the decision to wear a mask and comfort levels could change for individuals, even over the course of an event. Program participants should feel comfortable to ask others to physically distance.
Please do not attend if you are sick or symptomatic (with fever, cough, and/or shortness of breath), if you have received a positive COVID-19 test result within the last 14 days, or if you have had contact with any other person who is diagnosed with COVID-19 within the last 14 days.  
We will be collecting COVID-19 contact tracing information from everyone when you register for the event. This information will be kept confidential and will be used only for COVID-19 tracing or to contact you should the event need to be cancelled or rescheduled.