LGBTQ
Pride Hikes: Shelburne Farms
Co-hosted by Audubon Vermont, Pride Center of Vermont, Outright Vermont, and Shelburne Farms
Saturday, November 12, 2022
1:00pm - 3:00pm Eastern Shelburne, Vermont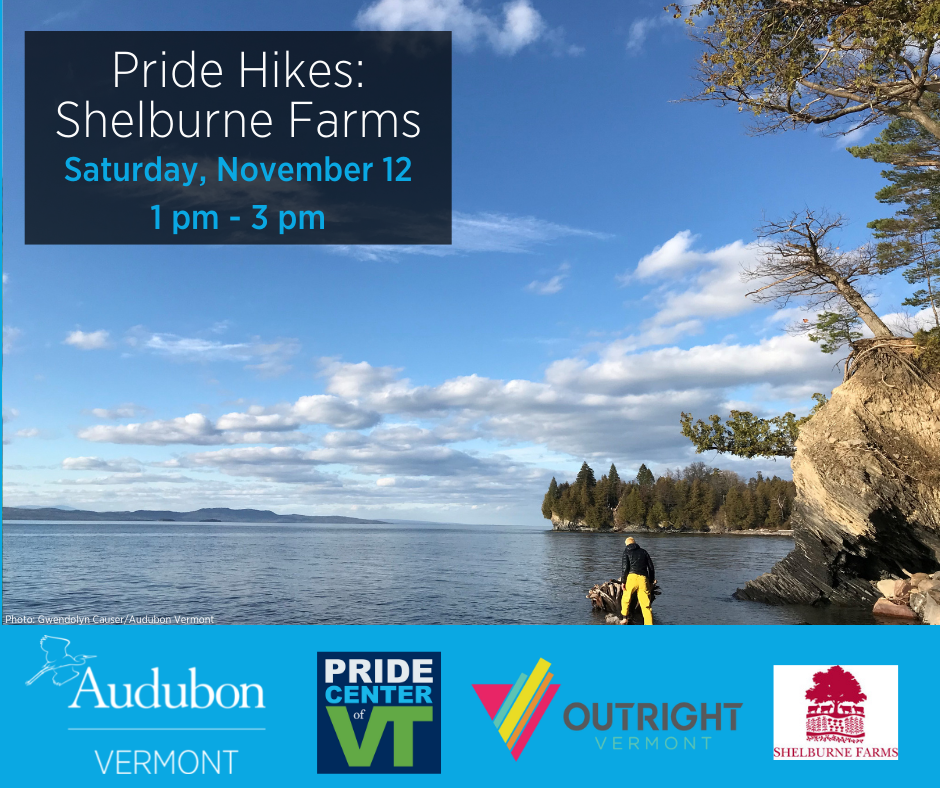 Location Details
Shelburne Farms
1611 Harbor Road, Shelburne, 05482, VT
We will meet in the parking lot at the Farm Barn. Please drive through the main entry gate at the farm, then follow the signs to the Farm Barn. Take the first left turn, then a gentle right to access the parking lot behind/above the farm.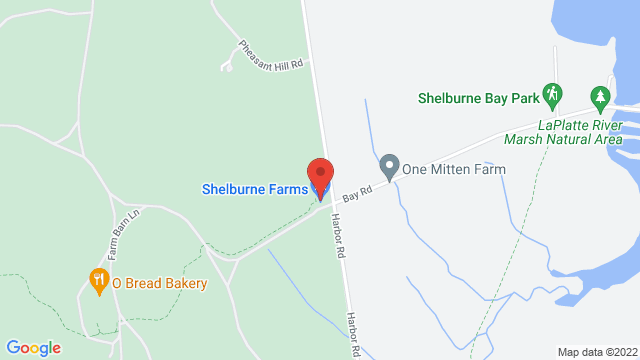 Experience the changing season during this fall outing at Shelburne Farms. The Shelburne Farms campus is a 1,400-acre working farm located on the unceded, traditional, and contemporary homelands of the Winooskik band of the Abenaki. Over 10 miles of walking trails are an integral part of connecting people to the land and fostering a sense of place, which are both central to their educational mission.
Please register in advance for COVID contact-tracing purposes. Your information will be kept confidential and used only for COVID-19 tracing. To hold your spot, email Gwendolyn Causer at Audubon Vermont: gwendolyn.causer@audubon.org.
All ages, allies, and families welcome! Youth under 18 years should be accompanied by a parent/guardian. Sorry, no dogs this time around.
Pride Hikes are a collaboration between Audubon Vermont, the Pride Center of Vermont, and Outright Vermont. Pride Hikes have been happening every month since June of 2018 and go beyond being "welcoming to everyone" to creating a safe, affirming space for LGBTQIA++ community members.
Trail/accessibility information: Our walk will be at an easy pace and will cover less than 2 miles. We are very flexible about the trails we choose based upon the needs of the group. Some trails are flat and wide and on a base of crushed gravel, grass or wood chips, while others are a bit more steep and uneven. Elevation gain is minimal. There are benches and sit spots available along the trail system. In the fall trails could be covered in snow, ice, or mud. Walking Trail map and more information: https://shelburnefarms.org/visit/walking-trails Learn more about the trails and scenic points on the Happy Trails blog.
Indoor, gender inclusive restrooms are available at the Farm Barn near the Children's Farmyard (our meet-up spot). Portolets are available at the Farm Store parking lot.
Please wear weather-appropriate clothing and bring snacks and plenty of water!
If you require accommodations or have questions about accessibility, please contact Audubon Vermont at gcauser@audubon.org.
COVID Safety: We are committed to our community's health & safety. 
We understand that some people - even those who are vaccinated, or those who have health concerns, or those who might just feel more comfortable - may choose to continue to wear a mask even when outdoors and distanced. We wholeheartedly support their decision and ask all program participants to be respectful of their choice. We recognize that the decision to wear a mask and comfort levels could change for individuals, even over the course of an event. Program participants should feel comfortable to ask others to physically distance.
Please do not attend if you are sick or symptomatic (with fever, cough, and/or shortness of breath), if you have received a positive COVID-19 test result within the last 14 days, or if you have had contact with any other person who is diagnosed with COVID-19 within the last 14 days.  
We will be collecting COVID-19 contact tracing information from everyone when you register for the event. This information will be kept confidential and will be used only for COVID-19 tracing or to contact you should the event need to be cancelled or rescheduled.