LGBTQ
Pride Hikes: Audubon Vermont
Co-hosted by Audubon Vermont, Pride Center of Vermont, and Outright Vermont
Saturday, July 16, 2022
1:00pm - 3:00pm Eastern Huntington, Vermont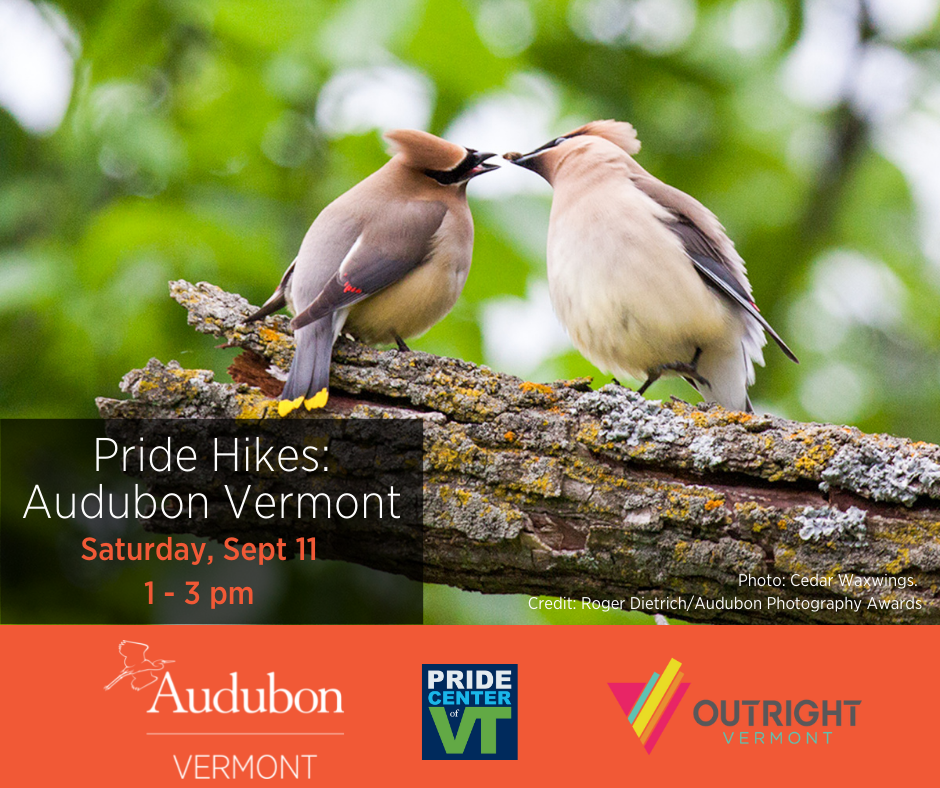 Location Details
Audubon Vermont: Green Mountain Audubon Center
255 Sherman Hollow Road, Huntington, 05462, VT
We will meet at the Audubon Vermont office building at 255 Sherman Hollow Road.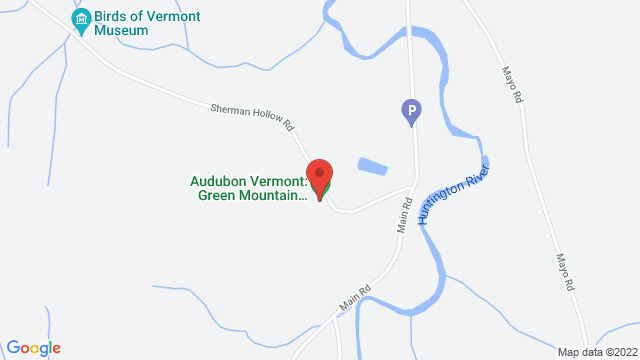 LGBTQIA++ hikers are returning to Audubon Vermont's Green Mountain Audubon Center for some birding and to explore the trails and enjoy the views.
We'll start on the Arboretum Trail, which loops through what was once an old field. Now a healthy young forest, this area hosts a diversity of young-forest birds. From there we'll head up to Lookout Rock, with stunning views of both Camel's Hump and Mount Mansfield. The Spear and Hires Trails will lead us back down through hemlock, maple, and oak stands of the forest.
There will be a post-hike creemee stop in Richmond.
Please register in advance for COVID contact-tracing purposes and to let us know your hiking preferences. Your information will be kept confidential and used only for COVID-19 tracing. All ages, allies, and families welcome! Youth under 18 years should be accompanied by a parent/guardian. To hold your spot please sign up here: CLICK HERE!
Questions? Contact Gwendolyn Causer at gwendolyn.causer@audubon.org
Pride Hikes are a collaboration between Audubon Vermont, the Pride Center of Vermont, and Outright Vermont. Pride Hikes have been happening every month since June of 2018 and go beyond being "welcoming to everyone" to creating a safe, affirming space for LGBTQIA++ community members.
Please wear weather-appropriate clothing, bring a mask (see more COVID details below), snacks, and plenty of water! Please bring anything else you will need to feel comfortable outdoors for a little over an hour or two, such as sturdy walking shoes, insect repellent, and sunscreen.
Dogs are welcome as long as they are leashed.
Trail/accessibility information: Our walk will be at a slow (birding) pace and will cover approximately 1.5 miles. The trails are unpaved - there are plenty of different trail routes to choose from and we can check in with the group to see what's best for everyone. There are indoor, all-gender bathrooms located inside the office building. Masks are required to enter the office building.
Explore Audubon's trails on our interactive storymap or download a trail map: https://vt.audubon.org/visit-us
If you require accommodations or have questions about accessibility, please contact Audubon Vermont at gwendolyn.causer@audubon.org
COVID Safety: We are committed to our community's health & safety. 
We understand that some people - even those who are vaccinated, or those who have health concerns, or those who might just feel more comfortable - may choose to continue to wear a mask even when outdoors and distanced. We wholeheartedly support their decision and ask all program participants to be respectful of their choice. We recognize that the decision to wear a mask and comfort levels could change for individuals, even over the course of an event. Program participants should feel comfortable to ask others to physically distance.
Please do not attend if you are sick or symptomatic (with fever, cough, and/or shortness of breath), if you have received a positive COVID-19 test result within the last 14 days, or if you have had contact with any other person who is diagnosed with COVID-19 within the last 14 days.  
We will be collecting COVID-19 contact tracing information from everyone when you register for the event. This information will be kept confidential and will be used only for COVID-19 tracing or to contact you should the event need to be cancelled or rescheduled. 
Audubon Vermont Land Acknowledgement: We pause to acknowledge and reflect upon the fact that the Green Mountain Audubon Center, located in present-day Huntington, Vermont, sits on land which has served as a site of sustenance, community, meeting and exchange among Indigenous peoples since time immemorial. The Western Abenaki [A-ben-A-kee] are the traditional stewards of these forests, lands and waters, which they call Ndakinna [in-DAH-kee-NAH], or "homeland." We respect their spiritual and lived connections to this region and remember the hardships they've endured - both past and present, including violence and forced displacement at the hands of colonizing peoples. Let us take a moment of silence to pay respect to the Abenaki people and to the indigenous inhabitants of these lands... We give thanks for the opportunity to share in the joys of this place and to protect it. We welcome all opportunities for Abenaki citizens and other Indigenous people to connect with their relations - including water, soil, plants, and animals - across Green Mountain Audubon Center grounds.