LGBTQ
Pride Hikes: Krusch Nature Preserve
Co-hosted by Audubon Vermont, the Pride Center of Vermont, Outright Vermont, and Cambridge Conservation Commission
Sunday, August 14, 2022
1:00pm - 3:00pm Eastern Jeffersonville, Vermont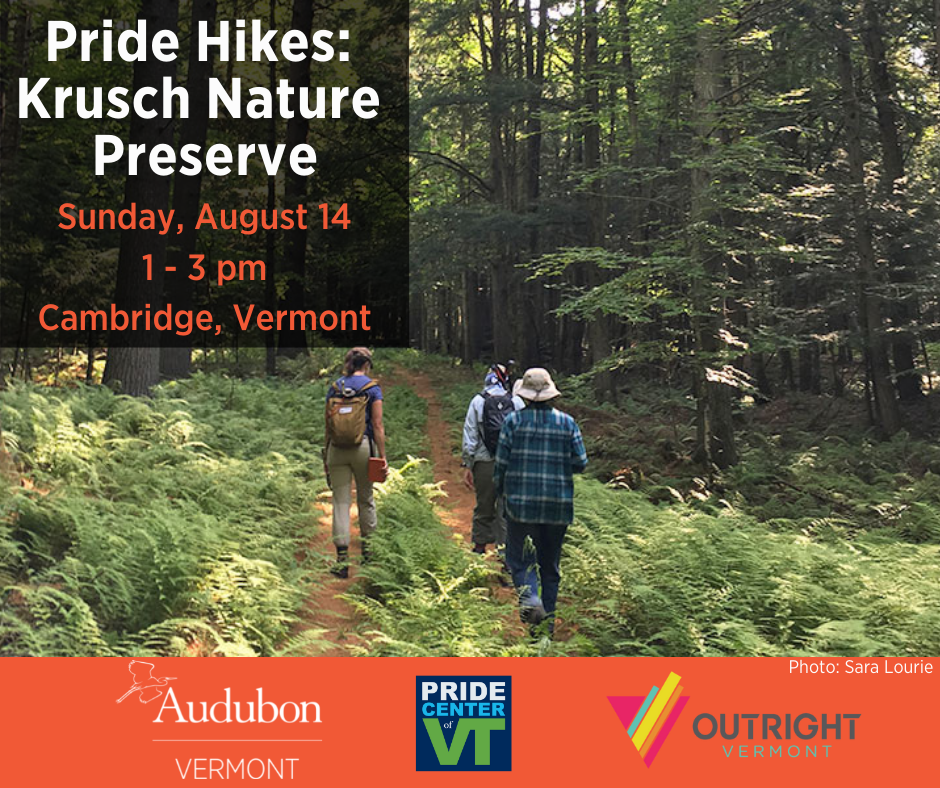 Location Details
Krusch Nature Preserve
316 N Cambridge Road, Jeffersonville, 05464, VT
Krusch Nature Preserve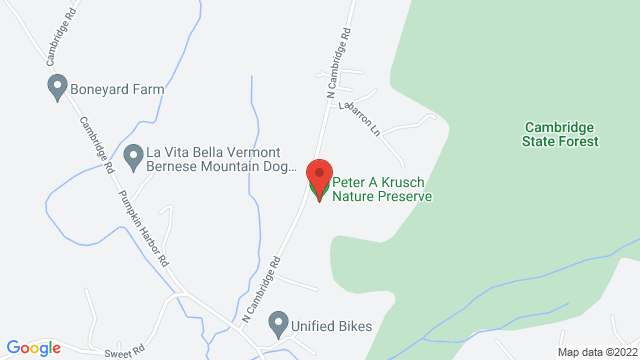 We're gathering our LGBTQIA++ community to hike the Krusch Nature Preserve to the Cambridge Pines State Forest - one of Vermont's few patches of old growth forest. The land is a compelling mix of forestland, open meadow, streams, wetlands, ravines, and waterfalls – a surprising diversity of habitats in such a small geographical area.
Explore more about the Krusch Nature Preserve: click here
Please register in advance for COVID contact-tracing purposes and to let us know your hiking preferences. Your information will be kept confidential and used only for COVID-19 tracing. All ages, allies, and families welcome! Youth under 18 years should be accompanied by a parent/guardian. To hold your spot please sign up here: CLICK HERE!
Questions? Contact Gwendolyn Causer at gwendolyn.causer@audubon.org
Pride Hikes are a collaboration between Audubon Vermont, the Pride Center of Vermont, and Outright Vermont. Pride Hikes have been happening every month since June of 2018 and go beyond being "welcoming to everyone" to creating a safe, affirming space for LGBTQIA++ community members.
Please wear weather-appropriate clothing, bring a mask (see COVID details below), snacks, and plenty of water! Please bring anything else you will need to feel comfortable outdoors for a little over an hour or two, such as sturdy walking shoes, insect repellent, and sunscreen.
Dogs are welcome as long as they are leashed.
Trail/accessibility information: Our walk will be at a slow (birding) pace and will cover approximately 2 miles. The trails are unpaved and hilly, with incline grades of over 5% in some areas. Trail map available here: https://kruschnaturepreserve.org/the-nature-trail/
No bathroom facilities are available on site.
If you require accommodations or have questions about accessibility, please contact Audubon Vermont at gwendolyn.causer@audubon.org
COVID Safety: We are committed to our community's health & safety. 
We understand that some people - even those who are vaccinated, or those who have health concerns, or those who might just feel more comfortable - may choose to continue to wear a mask even when outdoors and distanced. We wholeheartedly support their decision and ask all program participants to be respectful of their choice. We recognize that the decision to wear a mask and comfort levels could change for individuals, even over the course of an event. Program participants should feel comfortable to ask others to physically distance.
Please do not attend if you are sick or symptomatic (with fever, cough, and/or shortness of breath), if you have received a positive COVID-19 test result within the last 14 days, or if you have had contact with any other person who is diagnosed with COVID-19 within the last 14 days.  
We will be collecting COVID-19 contact tracing information from everyone when you register for the event. This information will be kept confidential and will be used only for COVID-19 tracing or to contact you should the event need to be cancelled or rescheduled.