The education team at Audubon Vermont has added a new offering to our program menu: Watershed Wonders!
Watershed Wonders
PATTERNS, CAUSE AND EFFECT, SCALE, SYSTEMS, ENERGY AND MATTER, STABILITY and CHANGE
Where does the water go when it falls from the sky as rain or washes down our drain? Students will gain an understanding of how water moves throughout different land surfaces in the watershed and the interconnectedness of all waterways in the Lake Champlain Basin through a series of experiments. Assess the water quality of the Sherman Hollow Brook and be inspired to take action on water quality in your community.
Audubon Vermont's education programs, designed according to a best-practices framework, are outdoors, science-based, interactive and inquiry-based, and personal, leading participants to age appropriate conservation action. This framework helps Audubon Vermont reach its organization-wide conservation outcomes. Audubon's youth education programs specifically aim to get students excited about the scientific process by offering opportunities to explore, observe, discover, play, and use scientific tools like hand lenses, field guides, and kick nets. Students should leave a program with an understanding of the connectedness of all water systems, an issue affecting the health of local water sources, and be armed with conservation actions they can take to improve the health of the lake.
Groups who attend Watershed Wonders spend time with our naturalists learning what a watershed is by reading maps, playing games to understand the watercycle, and getting their hands in the mud. Of course, a trip to Audubon isn't complete without visiting the water, so we do that too!
We excitedly taught this program all summer and loved having students engage in activities focused on understanding their watershed while they visited the Audubon Center. Many students came from one program in particular, Burlington's summer enrichment program, SOAR. This program also took advantage of scholarship funding. We encourage everyone to let us know if program fees would be prohibitive to their attendance. Click here for more information about scholarships. Upon returning to school, students made artwork and wrote about what they saw and heard on their field trip, and mailed it to our office, our educators' favorite type of mail! Take a look at their work below.
The development of this program was made possible by funding through the Lake Champlain Basin Program. To schedule this or any of our programs, take a look at our education page and program details.
This project has been funded wholly or in part by the United States Environmental Protection Agency under assistance agreement (LC00A00605) to NEIWPCC in partnership with the Lake Champlain Basin Program.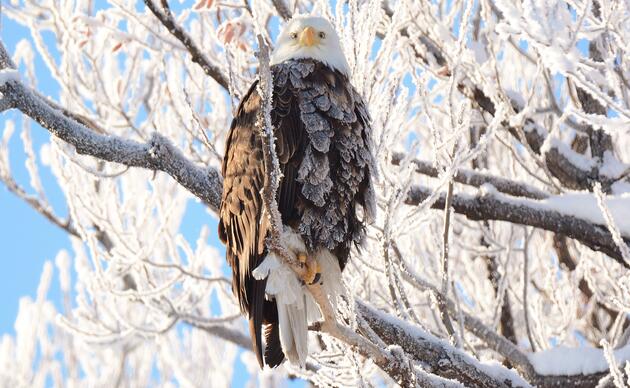 Where did you see that eagle?
We need your eagle eyes! The official 2022 Winter Bald Eagle Survey is happening from January 5 - 19. Tell us where and when you see eagles in Vermont.