Friday, May 7th
We had a bright, sunny Friday together. We started the morning by searching for 30 laminated bees around the garden that Ciara and I hid before playschoolers arrived. We tried to hide them in places that bees find food or live, including ground nesting bees. Some were near flowers and others by mud and wood. Then, we stopped to count and see how many were left.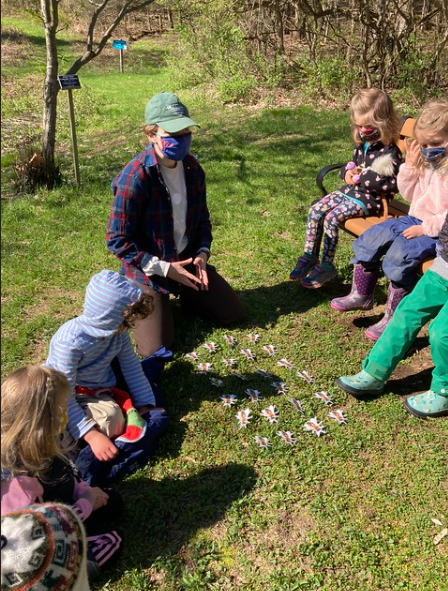 Once we found all of our bees, we had Morning Meeting in the backyard.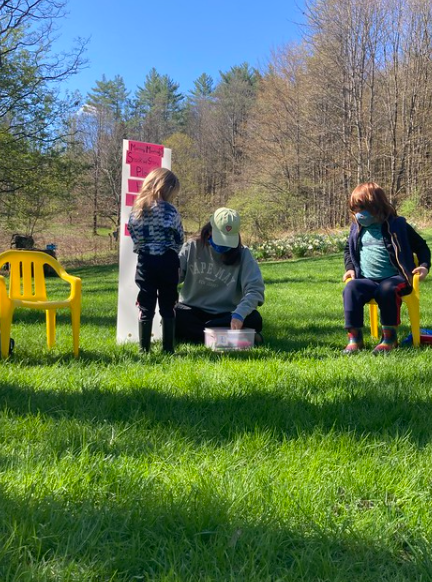 After Morning Meeting, we had snack and listened to a story about the feeling of belonging. We talked through each page of the book and how the author used different colors to show emotions of the characters. We didn't take pictures because of feet were busy running around the yard, but after snack we played a few rounds of What Time is it Mr. Fox? Then, we grabbed our backpacks and hiked down to Peeper Pond to explore the field and play some games. We also had a picnic lunch down in the field!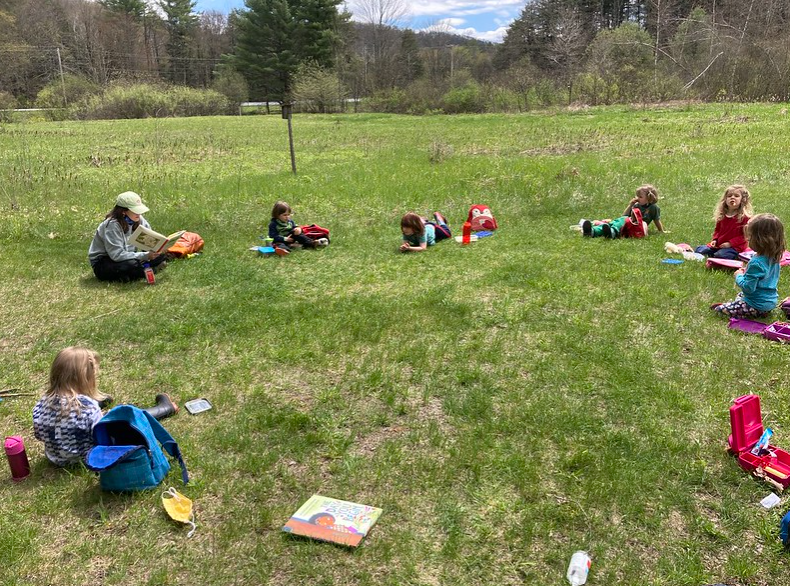 We didn't have much time to hike back up before adults arrived. But, we made it just in time!
Monday May 10th Beaver Pond Hike
We had an incredible day for Forest Playschool, the sun was coming out and the birds were singing.
To begin our day, Ciara and I hid 30 fake bees around the garden for us to find. We all put on our detective hats to find them all. The first 20 we were quick to find, but the last 10 were hiding really well. Some were in flowers, in trees, near bright colors, pretty much any place a real bee would like to be! As we searched for bees we found a different friend on a walk, a red eft! We all got a chance to see if and we made sure that we put it our friend back where we found him.
After all this excitement we headed to Forest Camp to see who our Morning Meeting Leader would be and what plan they had in store for us. They planned a busy day, so we got right to snack and story. We read a silly book, Diary of a Worm, it made us all laugh and chuckle.
Once we wrapped up snack it was time for our adventure. We had a big hike ahead of us, all the way down to Beaver Pond! On our hike down we enjoyed seeing all the ferns unfurl, all the green grass grow back, and the leaves of the tree start to pop out too.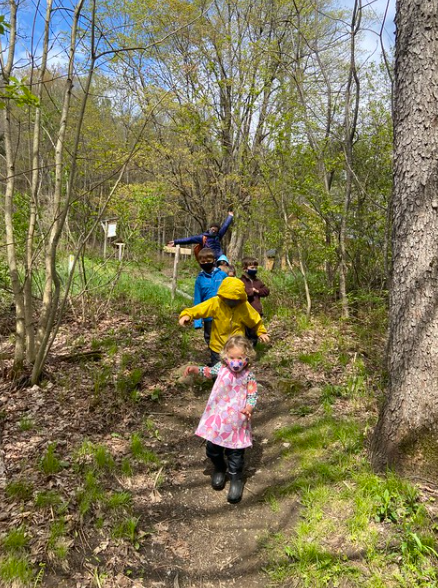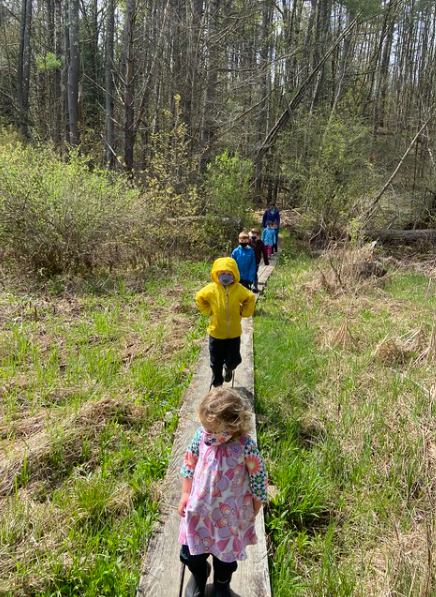 As we got closer to Beaver Pond I told everyone something super special, near by the pond there is a fox den with at least 4 fox kits! We were sure to be quiet as we got closer to the pond to not scare the foxes. We spend a few moments looking, at a distance, at the den, but the fox kits weren't out and about today yet. We explore the pond, got our hands muddy and found a little baby painted turtle too!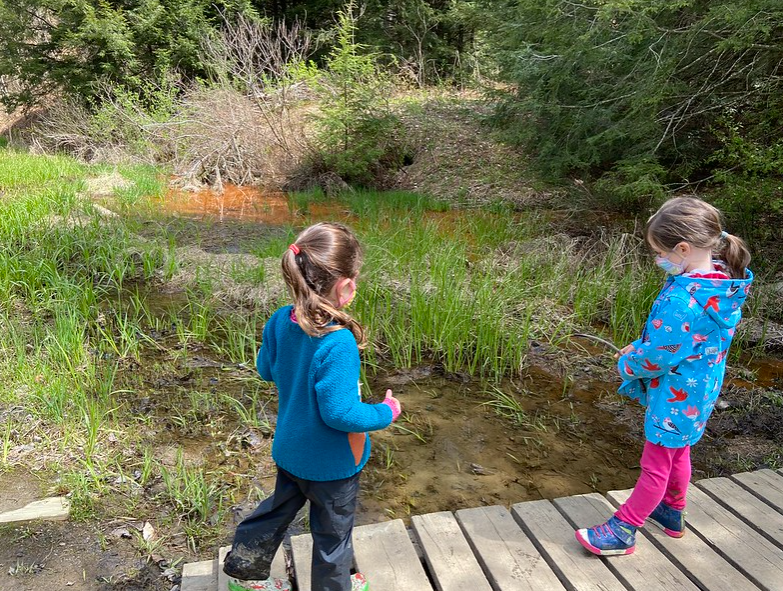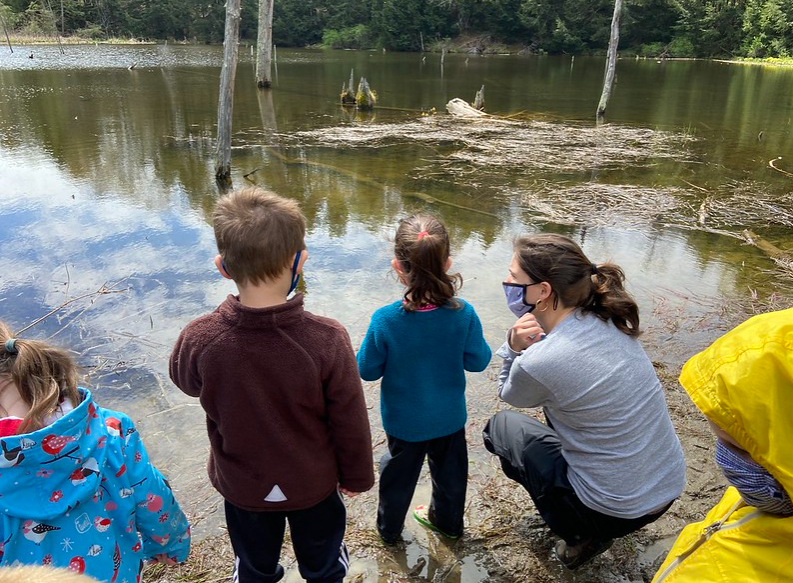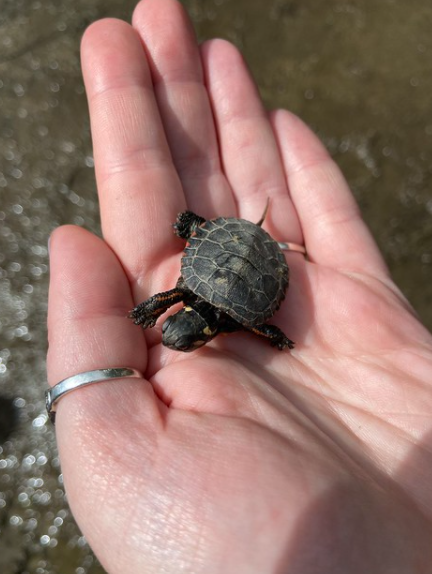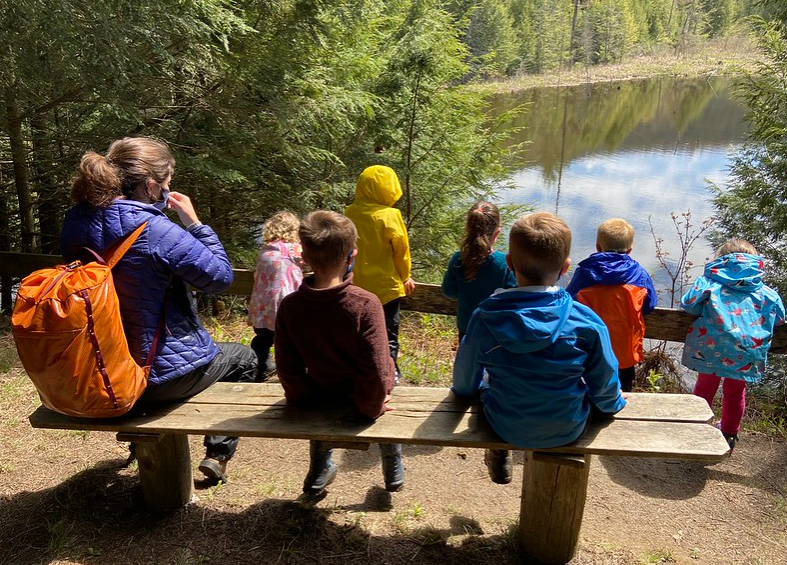 It was almost lunch time and we needed to hike back up to Forest Camp where our lunch boxes where. Before we did this, we took a moment in silence to listen to the nature around us. Many of us heard birds singing, the wind blowing, cars on the road, or the trickling water from the pond.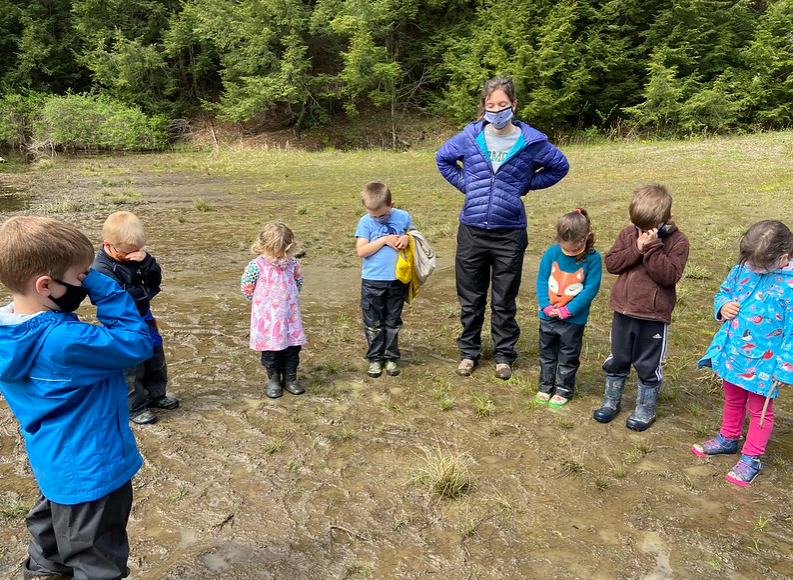 We got back up to the Barn and on this lovely day decided to eat lunch in the grass with the sun warming us up!