A Maple Morning
A few weeks ago the stars finally aligned for me to tag along with Audubon Vermont's Conservation Biologist Steve Hagenbuch for a Bird-Friendly Maple sugarbush assessment. Chaska Richardson and Matt Menard of Couching Lion Maple Sugar Farm run a sweet sugaring operation high in the hills of Huntington. They already manage their forest to enhance wildlife and were enthusiastic to learn more about how to make a commitment to manage their sugarbush to intentionally enhance bird conservation through Audubon's Bird-Friendly Maple Project.
My interest in tagging along was two-fold: 1) an opportunity to take some pictures and tell the story of what a sugarbush assessment is all about, and 2) a chance to build my assessment skills so I could better incorporate sugarbush assessment into Audubon's Education Programs for school groups.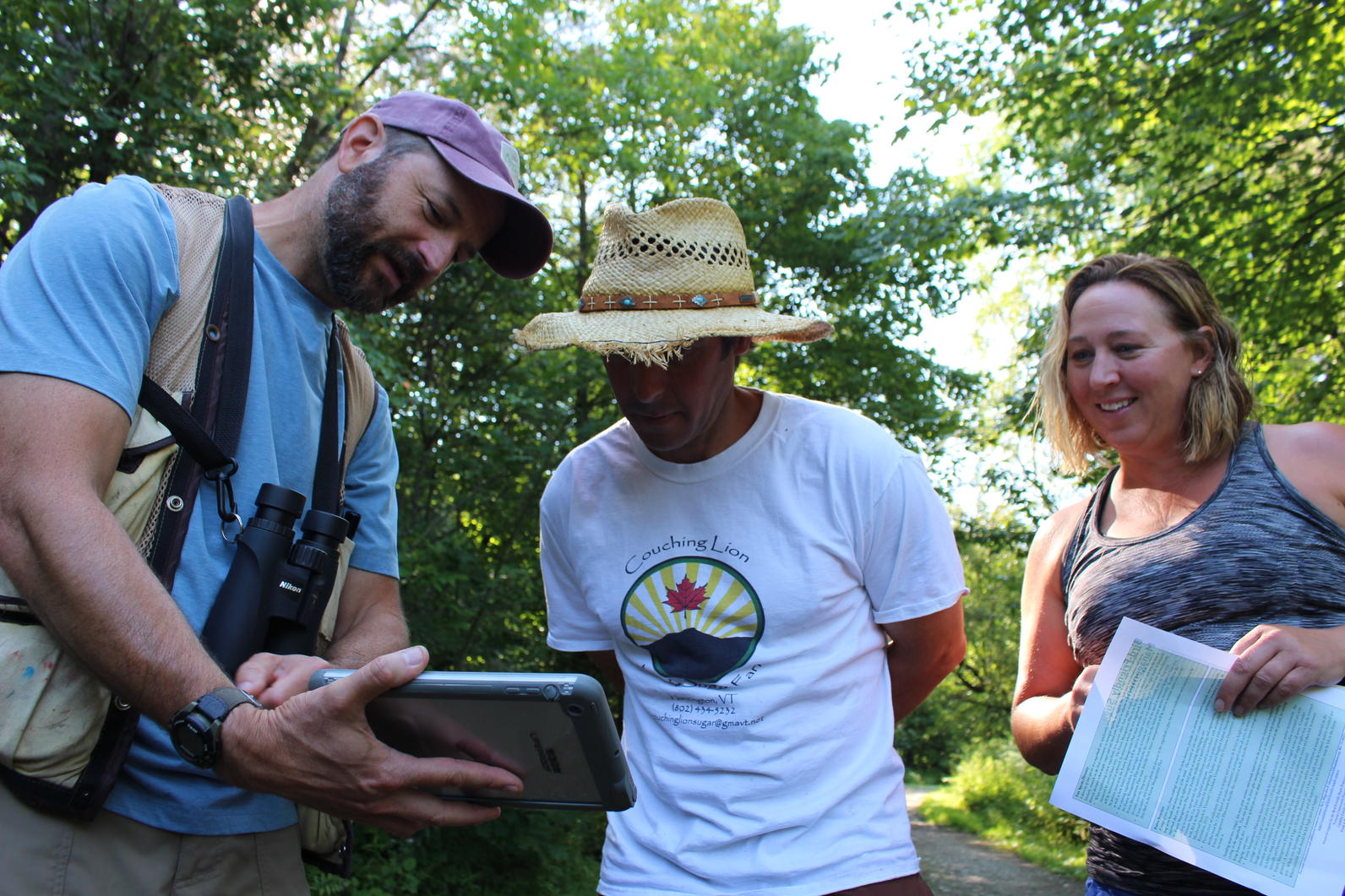 The Assessment in a Nutshell
As described in our Bird-Friendly Maple Project Brochure, a bird-friendly sugarbush is managed for the following features to offer great places for birds to forage, hide, and raise their young:
A diversity of tree species: more than just maple
Layers of vegetation: from small seedlings on the forest floor, to saplings and shrubs, to the canopy overhead
Standing dead trees and live trees with cavities, the bigger the better
Logs and branches on the forest floor
Birds singing!
The Language of Sugaring
I quickly realized that while I was well-versed in forestry, birding, and conservation terms, Steve and Matt spoke an entirely different language of sugaring. Conversations about non-vacuum sap tubing, pan specifications, and fuel efficiency flew past me while I immersed myself in plant and bird identification.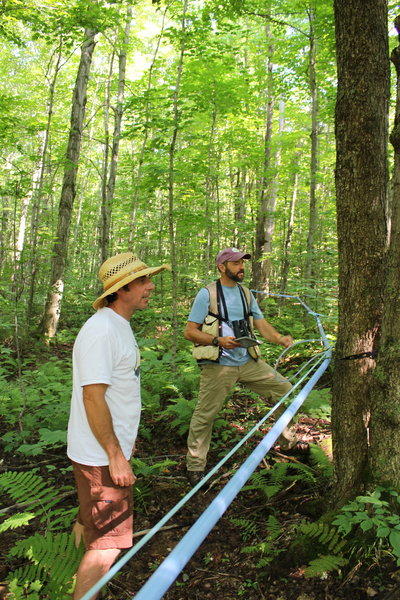 More Than Just Maple
Steve was able to use data from Couching Lion's forest management plan to map out where to take our data plots and to determine the overall diversity of tree species currently in the sugarbush. It's enticing for sugarmakers to focus on growing only sweet-sap-producing sugar maples, but encouraging a diversity of tree species at all layers of the forest ensures the long-term health of the woods in the face of potential insect and disease pests as well as from challenges brought about by changes in our climate. Growing more than maple also provides a wider variety of food sources, nesting habitat, and protective cover for birds.
We visually estimated % cover in three layers of the forest: the canopy, the midstory, and the understory. In addition to a healthy population of sugar maple seedlings, we noticed plenty of young ash, black cherry, serviceberry, and beech. It was a bit like fortune-telling for the future of the forest.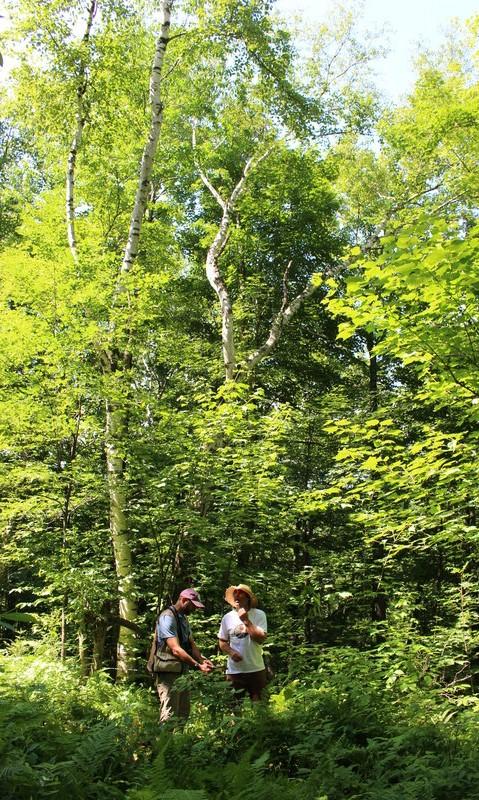 Surveying the Snags
Standing dead and dying trees, otherwise known as snags, provide habitat for cavity-nesting birds such as the Yellow-bellied Sapsucker, as well as a wide range of other species. To get a handle on the snags, we got to pull out the forestry tools! Over the years, Steve has explained to me a handful of times how to use a wedge prism for "variable-radius plot sampling" but it's never really "stuck" (for a Wikipedia explanation click here). But hearing Steve explain prism to Matt and actually using the prism for the assessment made the difference: a true testament to the power of hands-on educational opportunities for students coming to Audubon!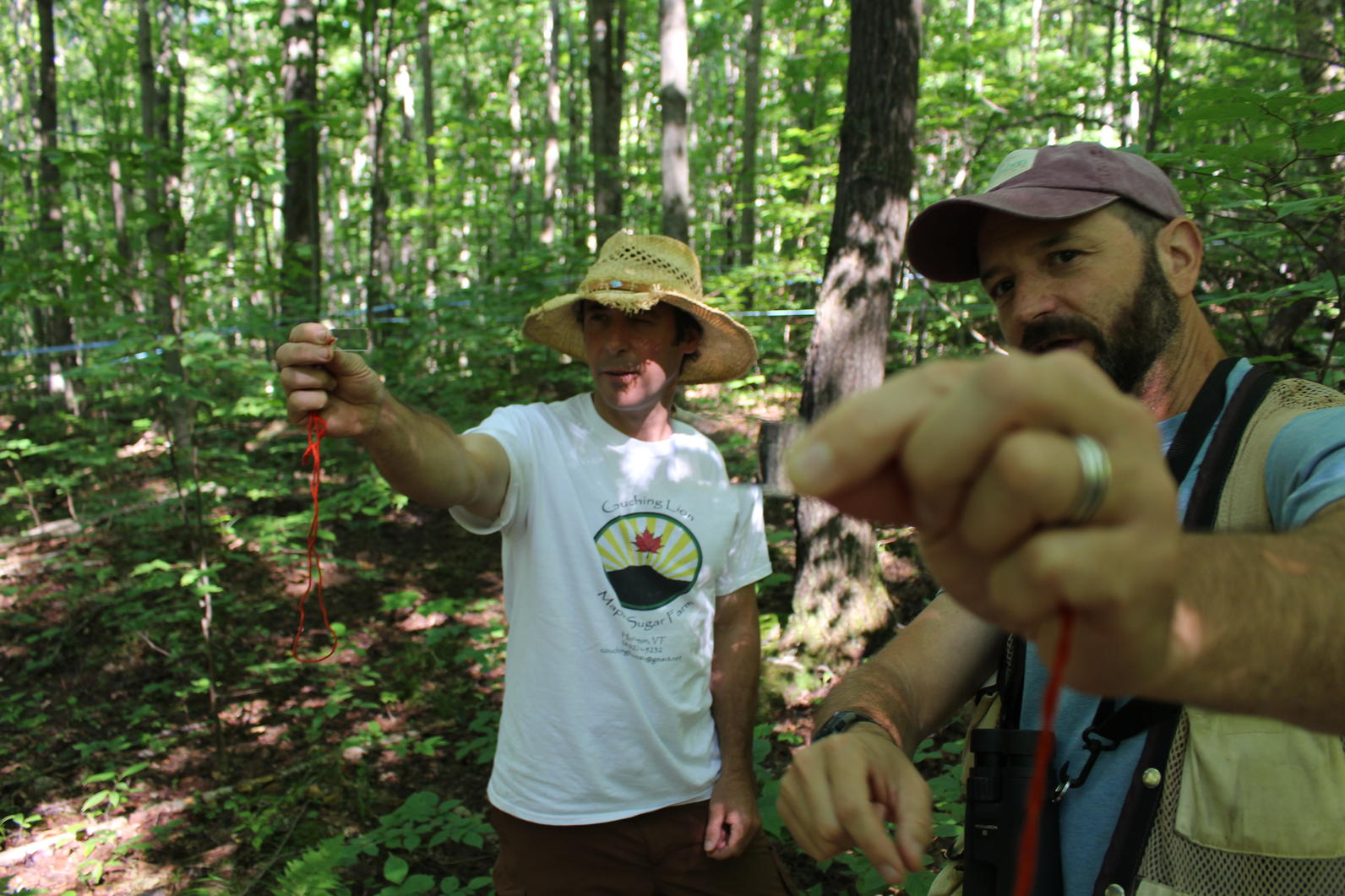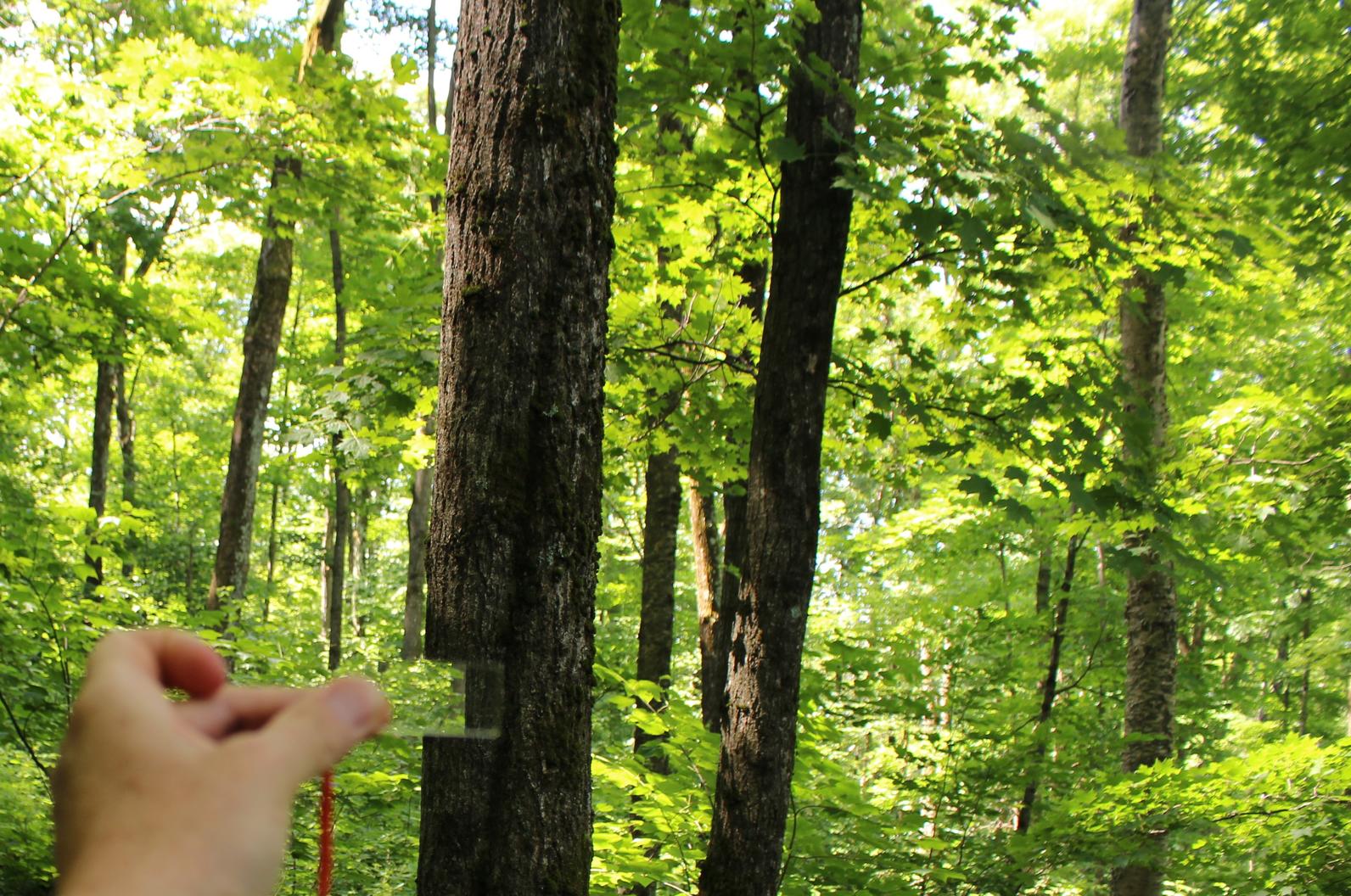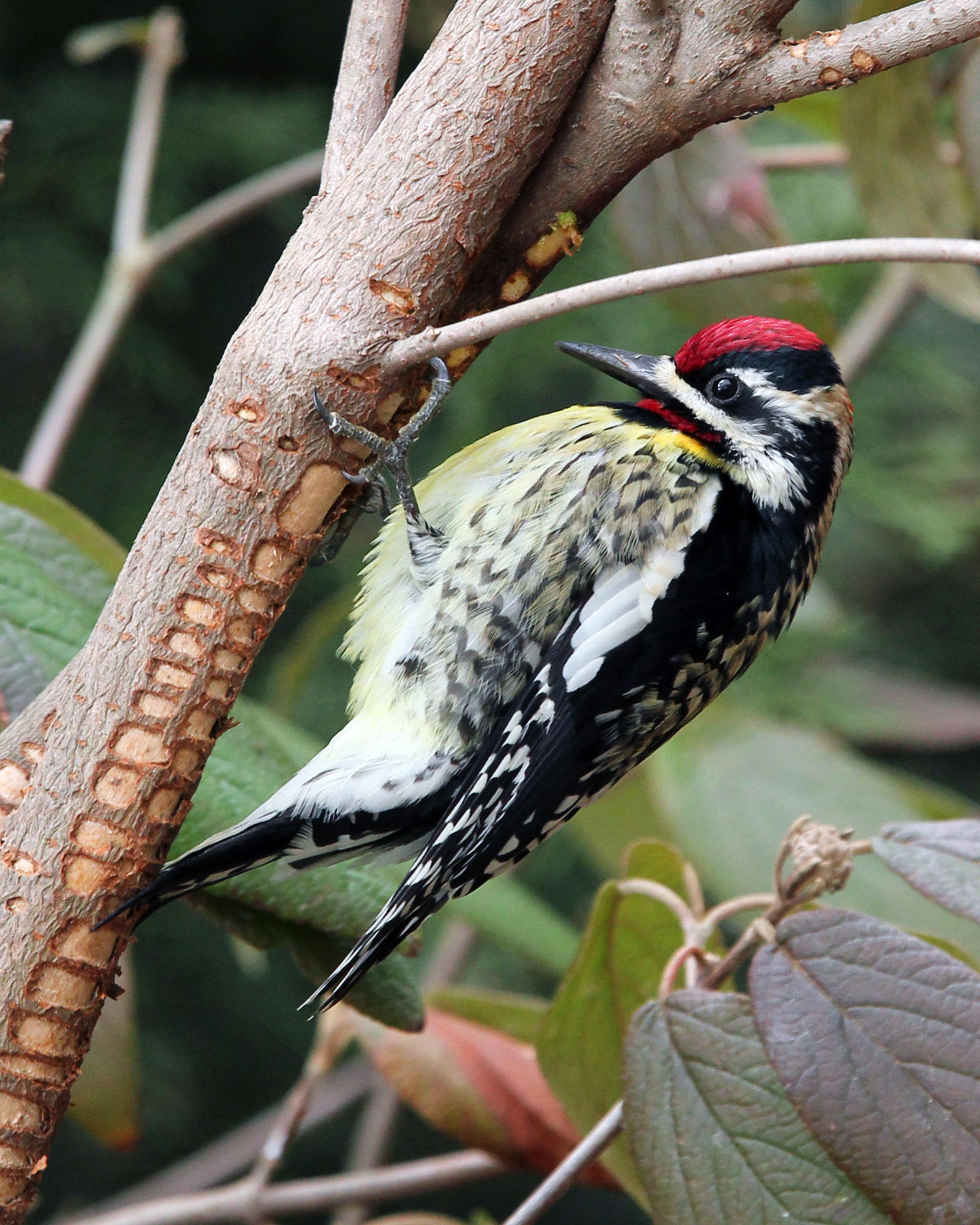 Messy = Well-Managed
Nestled in the slopes of Camel's Hump, Couching Lion Maple Sugar Farm experiences frequent high-wind events, resulting in blow-downs in the sugarbush. The tangle of coarse woody debris is perfect habitat for both ground-nesting and ground-foraging birds. It also provides excellent protective cover for wildlife and cycles nutrients back into the soil as the trees decompose. A park-like sugarbush doesn't provide all of these benefits. Matt was pleased to have the science to back up his management decisions, especially to explain that a well-managed sugarbush might look messy.
Birdsong and Lunch
By August, the forest becomes much more quiet as birds are done with mate-attracting courtship songs and are keeping their nesting locations secret. Steve's spring and early-summer sugarbush assessments are able to tally longer lists of birds as he identifies their songs. We heard a small flock of Cedar Waxwings (attracted to the fruit of the black cherry and serviceberry) but the woods were otherwise silent.
Around noon both Matt and I needed to return to other work duties. Steve remained to finish up the assessment. The next big step in the process will involve Couching Lion Maple Sugar Farm making a commitment in their forest management plan to manage their sugarbush intentionally for the benefit of birds. They will then join Audubon's growing community of Bird-Friendly Maple Sugarmakers.
Look for the label!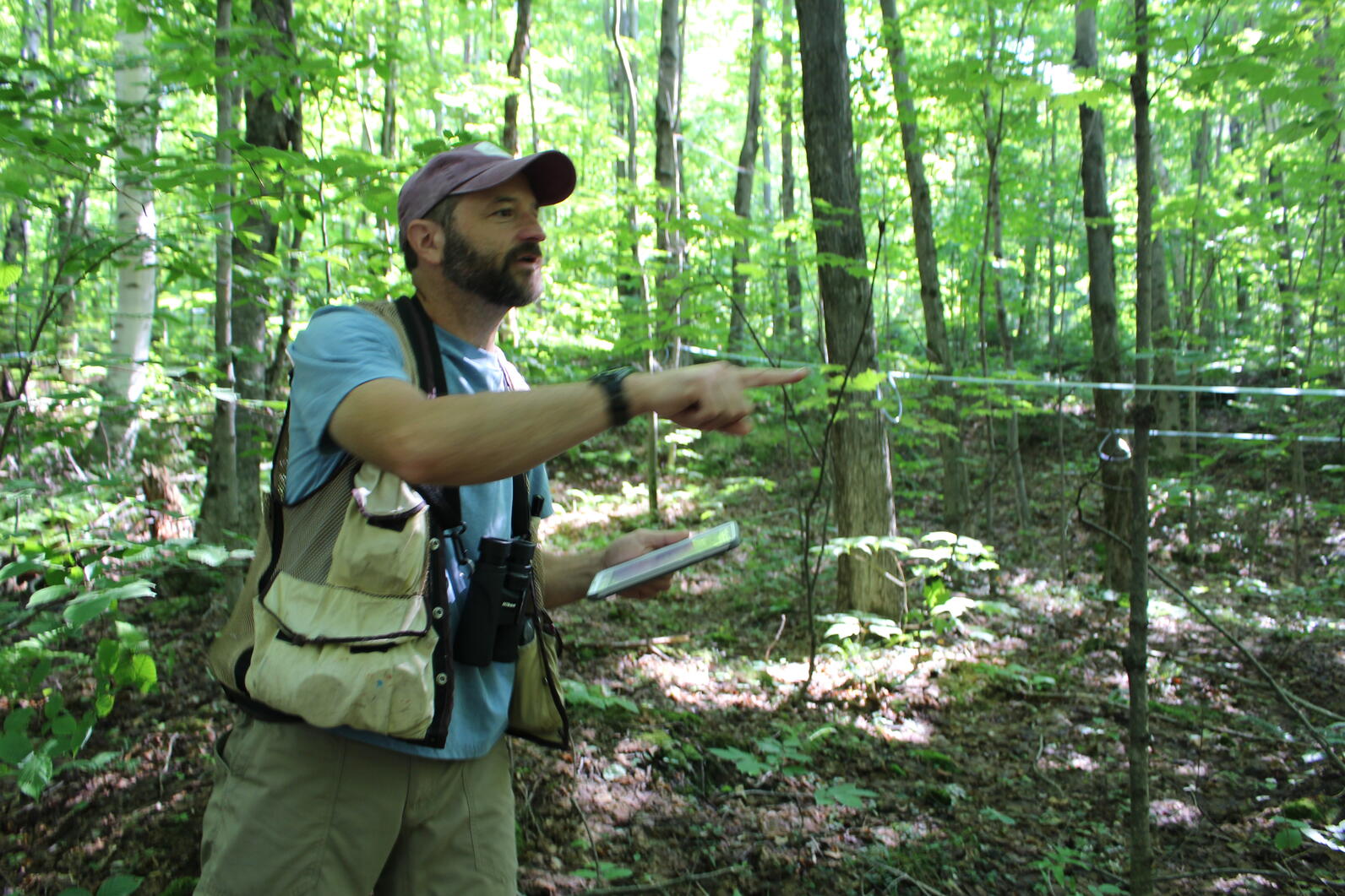 What Can You Do?
Look for the label! To recognize and support participating maple producers for their good work, look for maple syrup containers with the label indicating the syrup was produced in a Bird-Friendly forest habitat. Maple sugarbushes are inherently good for birds, but forests that are intentionally managed with birds in mind are even better!
Learn more about how specific sugarbush habitat features benefit different bird species.