Audubon Vermont hosts AmeriCorps members every year. Their writing provides a unique perspective on the exciting and important work being done by Audubon Vermont every day. Samantha Beck is our Community Science and Chapter Engagement AmeriCorps Member for 2021/22.
This year marks the 122nd Christmas Bird Count (CBC), the nation's oldest community science project for birds. The CBC began in the year 1900 when conservation was in its beginning stages and many observers and scientists were becoming concerned about declining bird populations. Ornithologist Frank M. Chapman, proposed a new holiday tradition—a "Christmas Bird Census" that would count birds during the holidays rather than hunt them.
This year marks my very first Christmas Bird Count. Materials I packed for my first ever Christmas Bird Count included, binoculars, extra layers of clothing (very important for birding all day in northern New York), a small folding chair, a notebook, pens, a Christmas Bird Count Checklist, and plenty of snacks to fuel this excursion.
I participated in the CBC in Plattsburgh, New York. The 15-mile circle was divided into 8 units with 18 total individuals participating in the survey. My unit had about a 4-mile radius and was divided among myself and another individual, whom I did not cross paths with. Our unit mostly encompassed a small town south of Plattsburgh called Peru, New York. Peru is known for its apple orchards and extensive fields, which provided a few good birding "hot spots" that I frequented over my 8-hour shift.
When I began birding at around 7:30am, the bird activity was generally low. I spent most of this time traveling alone within my unit to scope it out. After about two hours of birding activity started picking up. In the morning time period I saw a few Dark-Eyed Juncos, Black-capped Chickadees, Blue Jays, and a small group of American Goldfinches. By far the most common bird I came across were American Crows.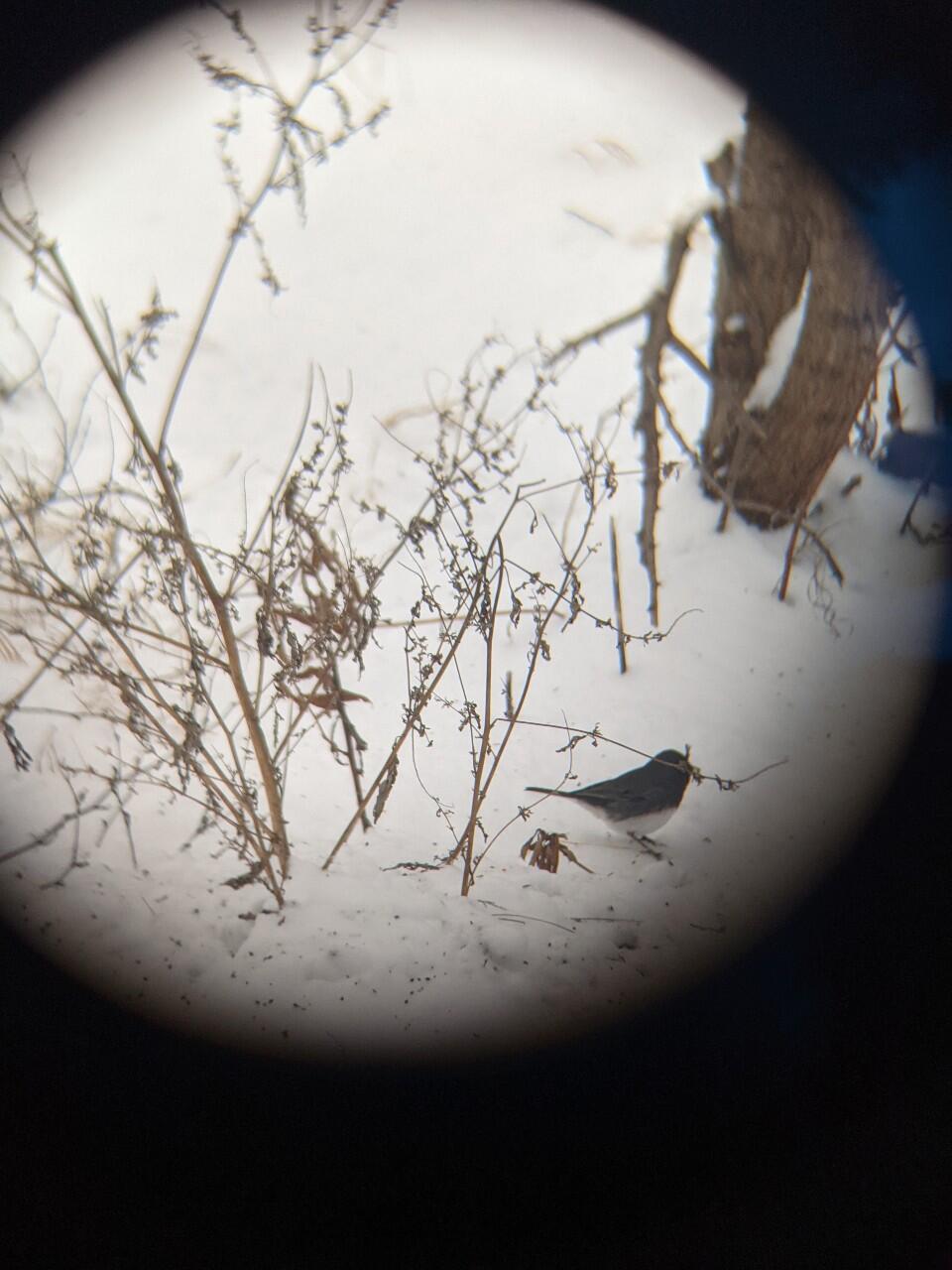 After this spurt of activity, another bird lull started around noon and I did not see any birds at all for quite some time. Around 3 o'clock, when the sun started to dip low in the sky in the North Country, bird activity picked up again. During the afternoon burst, I saw a few Mourning Doves, Northern Cardinals and another small group of American Goldfinches hopping and flying right in front of my car. Most of the birds I observed were in a tree line/shrubby habitat between a field and a road – good places for birds to take shelter from the winter winds.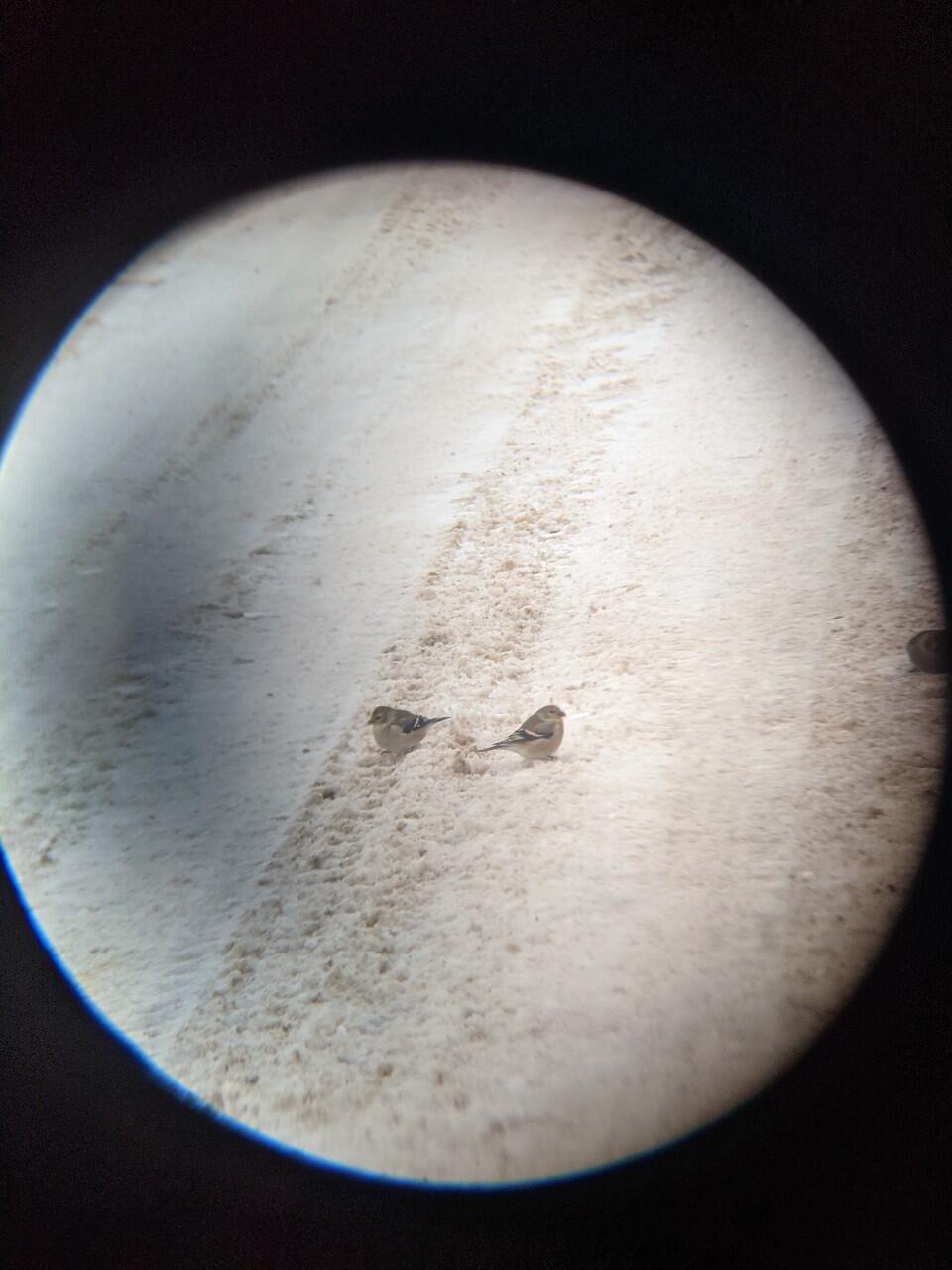 By the end of the day, I had tallied about 90 birds in total representing eight different species of birds. Not bad for a beginner birder participating in their first Christmas Bird Count. This data will help scientists analyze the larger picture of bird migration over the years and how our changing climate affects it. Overall, I found this experience to be fun and engaging other than the longer lulls in bird activity. My participation in this survey has shown me the value of patience and knowledge that plays a role in birding and it's a new hobby that I am excited to share with others.
###
The Christmas Bird Count occurs December 14 to January 5 every year. Sign up to receive information and results about all of Audubon's community science programs through American Birds, our newsletter by email.
To join a Christmas Bird Count in Vermont this year, check our list of circles and reach out to the contact listed: click here.
Answers to your top questions about the Christmas Bird Count: click here.
Learn more about Audubon's Christmas Bird Count: click here.