This week the weather held out for Monday's group, but we were rained on all day last Friday. Rain or shine, we still have an awesome time!
We started our mornings differently this week. Instead of meeting in the backyard to search for laminated critters, we began our day at Forest Camp. We brought the mud kitchen, an assortment of kitchen utensils, out to Forest Camp since we finally had some rain. Playschoolers loved making mud cakes, brownies, milkshakes and all sorts of creations!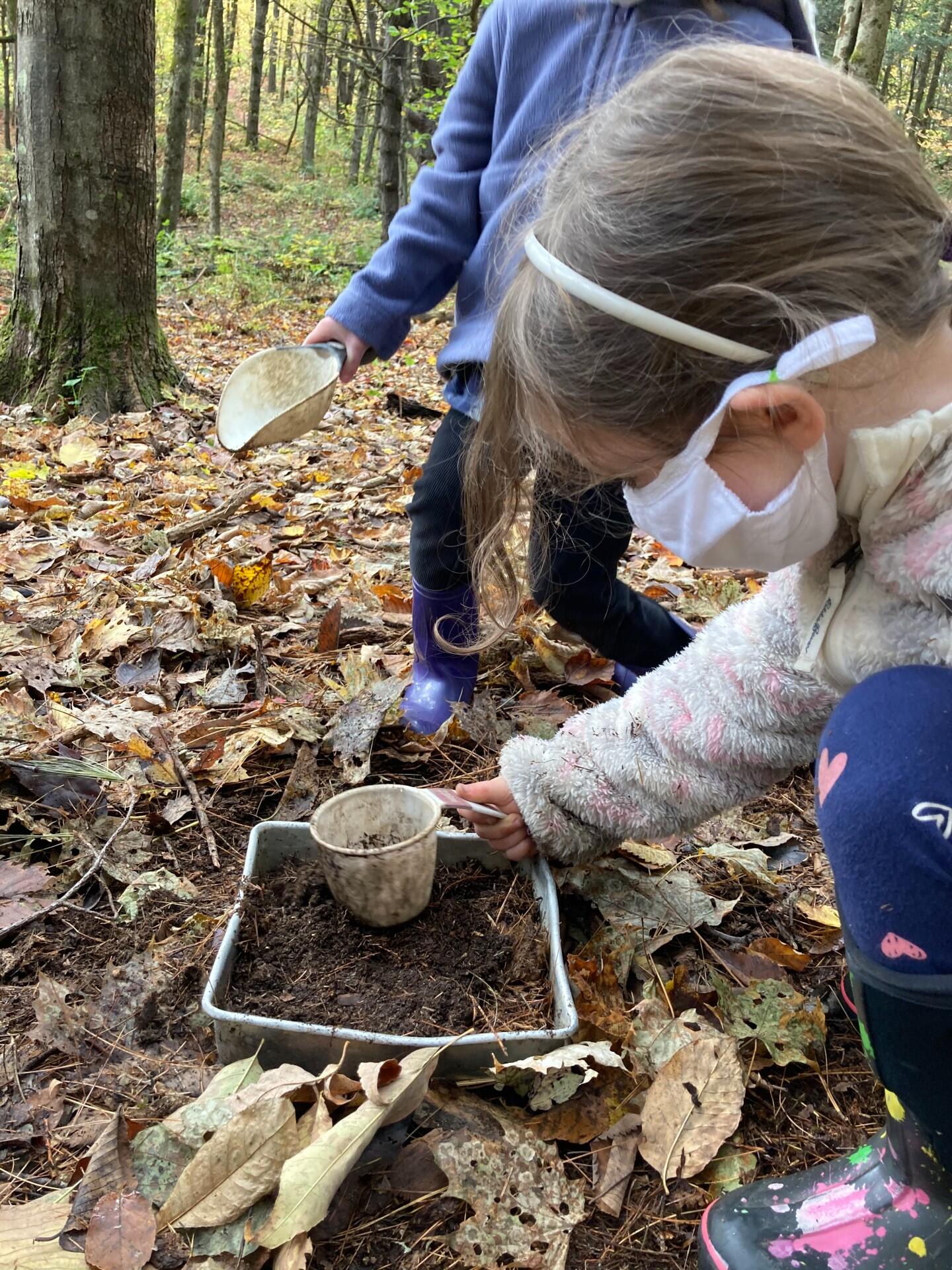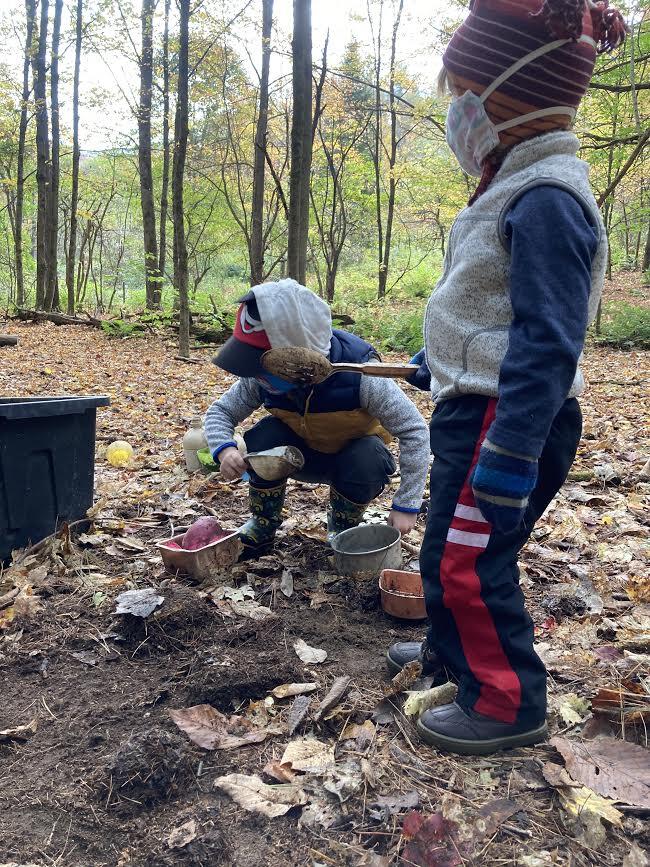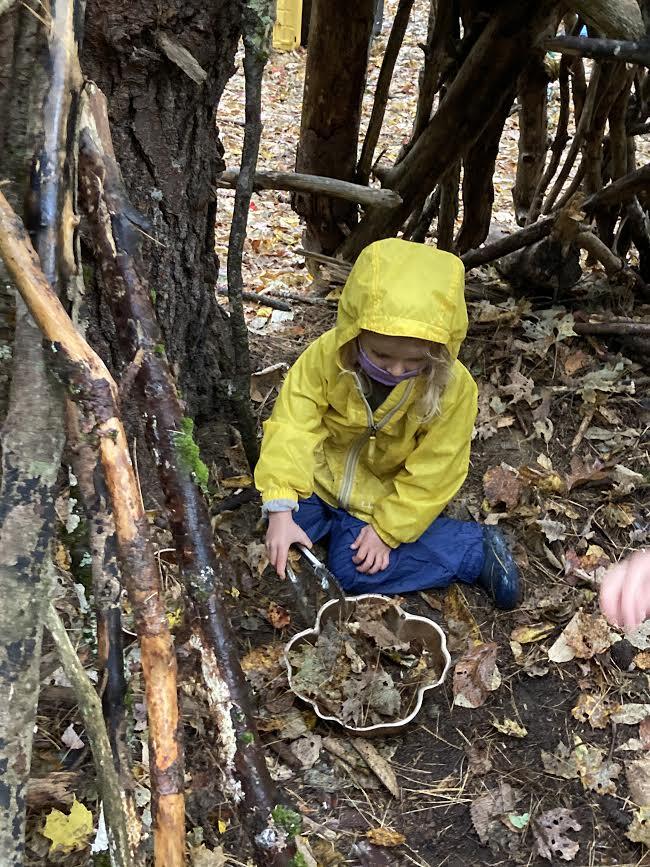 We also looked for salamanders under logs and rocks! Both groups were able to find a few.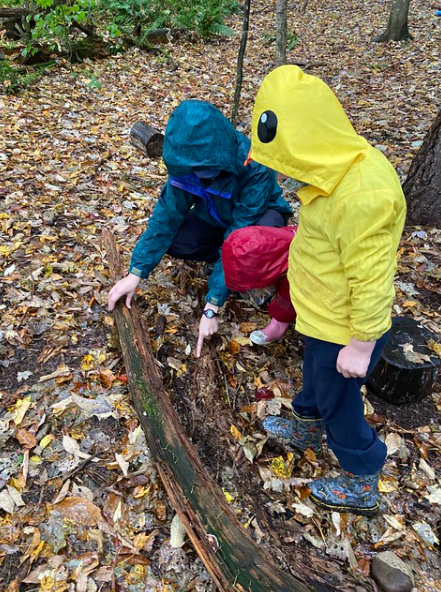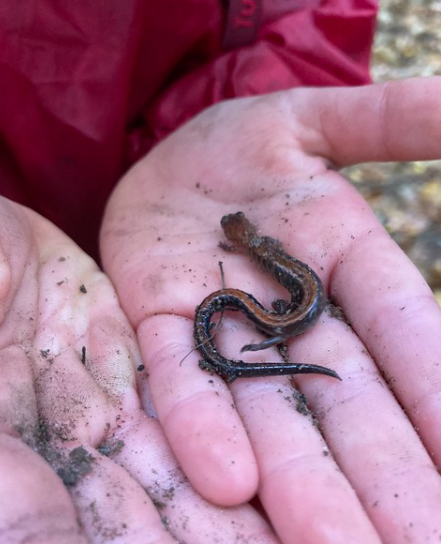 After some free explore time we met around the fire circle for morning meeting! The morning meeting leaders from Friday and Monday both chose to go on a hike. However, one hike was very rainy and the other brought us to an open, sunny field.
Friday 10/2
Our morning meeting leader decided he wanted to do a big hike along the entire Hires Trail. It was a rainy hike, so we all bundled in our rain gear, hopped onto the Noodle Train and started up the hill. The Noodle Train not only allows us to take our masks off so we can breath better while hiking, but it also helps teach pacing, communication and control over the body.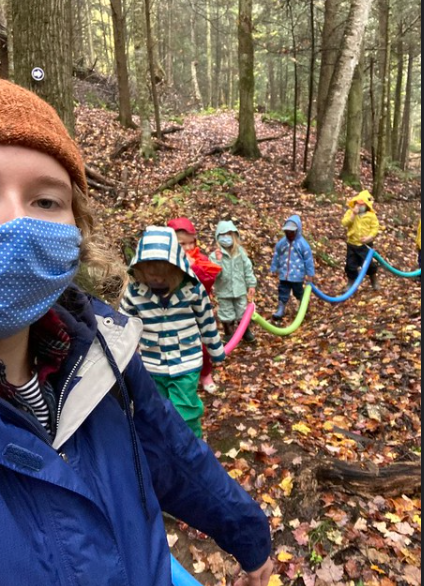 While we walked we tried to predict whether or not we would be able to see Camel's Hump or Mount Mansfield. A lot of the playschoolers thought we would still see them despite the rain storm, which gave us the chance to talk about how weather and clouds can obscure the distance you're normally able to see.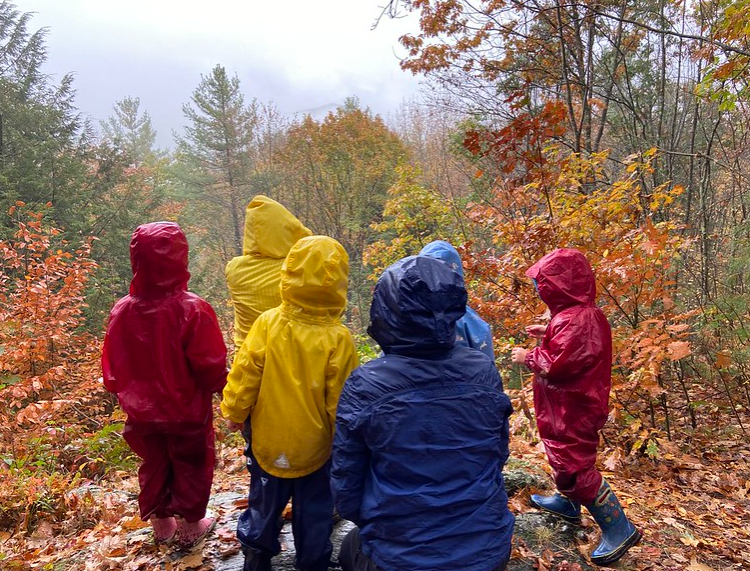 We also talked about what direction the mountains would be in and how they can be used as landmarks to help us understand where we are. We are west of Camel's Hump and southwest of Mansfield. He headed back down the hill to go eat lunch - because of the weather we ate our snacks and lunch inside the education barn. After lunch, the playschoolers went back to Forest Camp to end with free play until adults arrived.
Monday 10/5
What a gorgeous day we had! MUCH better weather than last Monday when we were huddled beneath our shade tent. We held morning meeting around a fire at Forest Camp. Similar to Friday's group, our morning meeting leader chose a big hike down to Peeper Pond meadow. Before leaving, we had snack and a story around the cozy fire.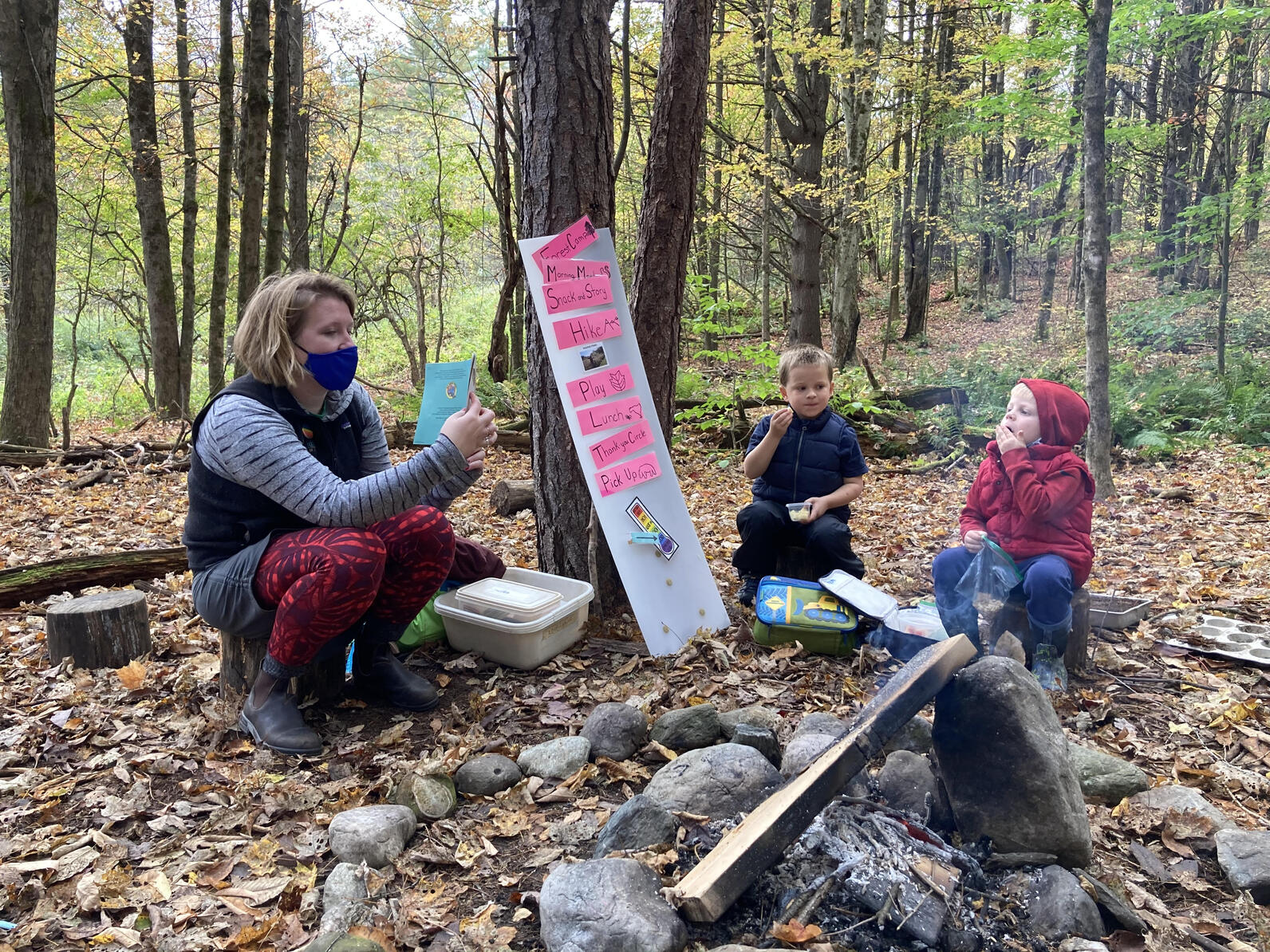 Then, we hopped on the Noodle Train and headed downhill toward Peeper Pond.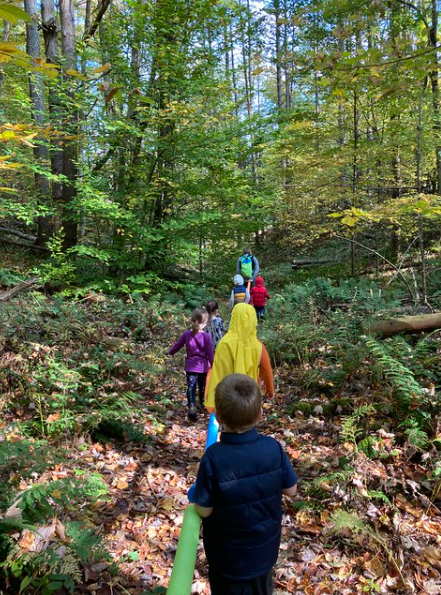 There is a little boardwalk as you cross Pepper Pond that we always stop in front of and ask for the "troll toll", or a joke. My favorite joke from this week came from our morning meeting leader who said: "How do mountains see? They peak!"
Once we were in Peeper Pond meadow we spread milkweed seeds, looked for bugs and took advantage of having open space and sun.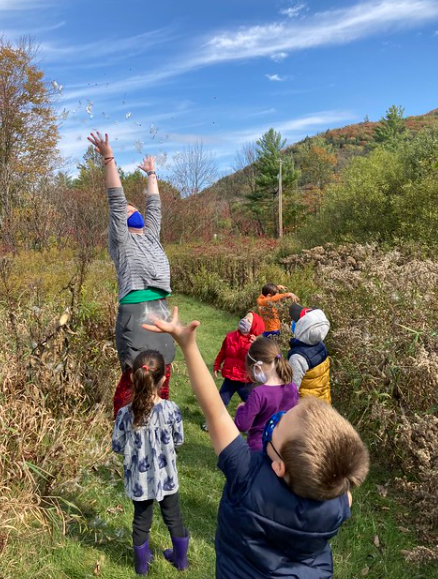 We found a grasshopper!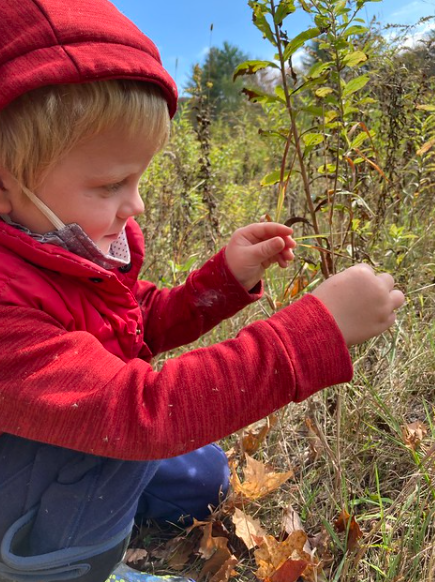 And we rolled around in the grass.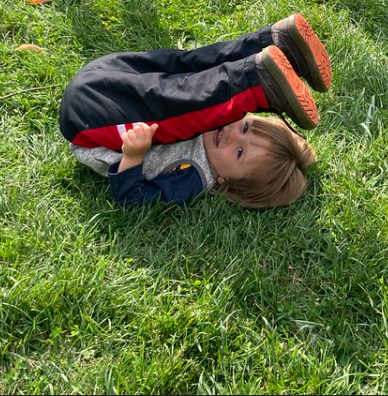 It was such a fun time! Soon though, it was time to say goodbye to the meadow and go back up for lunch. At lunch, we read two stories and finished the day by sharing our favorite part.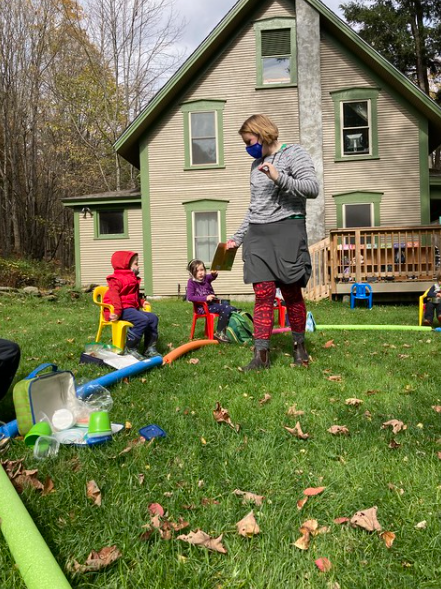 There is no Friday Playschool this week (10/9) so we will see all of our friends again next week! See you soon!