The City of Burlington is planting 1,500 native trees and shrubs this year in order to restore natural areas of Burlington. These plantings protect Lake Champlain, offer beneficial habitat for birds and pollinators, and enhance public spaces.
Working in partnership with the University of Vermont, Audubon Vermont, and hundreds of volunteers, the City of Burlington will have planted more than 4,600 trees and shrubs over the four years of this program by the end of the 2019 season.
Audubon Vermont co-hosted a press event this week with The Mayor's Office and Burlington's Department of Parks, Recreation and Waterfront, to celebrate the fourth year of this planting program.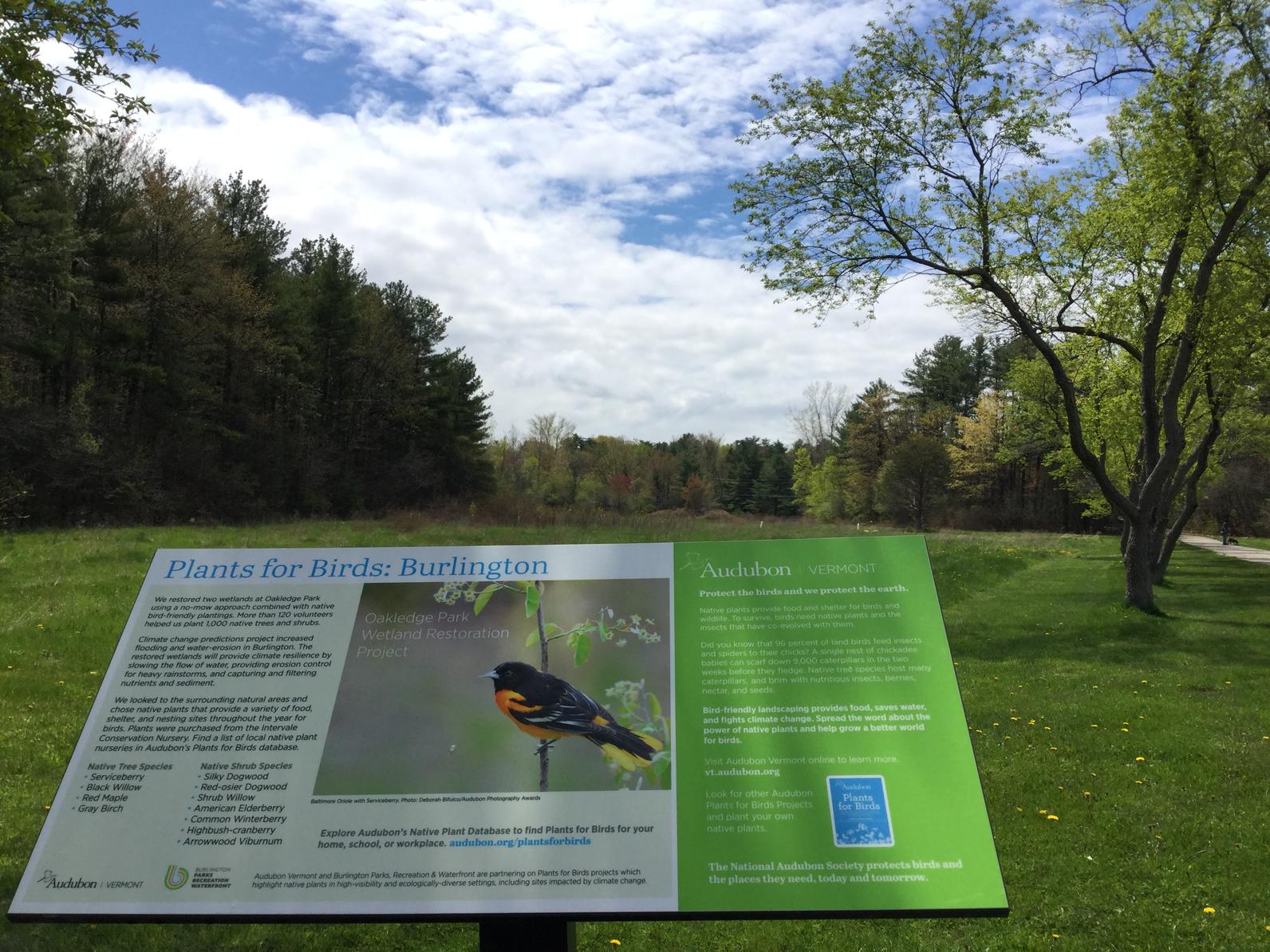 "As a result of these restoration plantings, today, the formerly eroding bluff at 311 North Avenue is being held in place by new root systems; formerly soggy meadows at Oakledge Park are being restored as class two wetlands to help filter stormwater runoff and provide new habitat; and silver maples are helping to rebuild the floodplain forest and stabilize the soils at McKenzie Park. Throughout, the City is also managing for invasive species, altering mowing practices, protecting and enhancing pollinator-friendly habitat, and taking other steps to ensure the vitality of these natural areas," states the City. The plants that the City sources for this program are native species that are locally grown at the Intervale Conservation Nursery, a program of the non-profit Intervale Center.
This work has relied upon the volunteer effort of many community partners. Audubon Vermont is focused on engaging the many diverse, vibrant communities of Burlington in these restoration plantings. We're connecting with kids and adults who are "unlikely conservationists" and who don't see themselves represented in the conservation movement. We're helping to close the "adventure gap" and empower folks to take action in their own neighborhoods with their communities.
Our partners include: the University of Vermont, Community Coalition, RETN, VCAM, Champlain College, Intervale Conservation Nursery, Leadership Champlain, Branch Out Burlington, King Street Center, Intervale Center, Pride Center of Vermont, Outright Vermont, UVM Prism Center, Burlington Wildways, Winooski Valley Park District, Conversation Board of Burlington, Rock Point, City Council of Burlington, City Market, and Burlington High School.
"It's incredible to see a community effort like this come together, especially when the objectives offer so many benefits to Burlington," said Dan Cahill, the City's Land Steward. "Restoring our vital natural areas creates a ripple effect that will enhance our community for hundreds of years."
"Audubon Vermont is excited about this terrific partnership with the City of Burlington to restore natural areas with native plants," said David Mears, Executive Director. "Our shared work is empowering community members across a spectrum of backgrounds and interests in Burlington and beyond to unite in support of protecting birds and the places they need to thrive."
"The partnership between my class at UVM and the City has provided real world, hands-on learning opportunities that have been invaluable for our students," said Bill Keeton, Professor of Forest Ecology and Forestry at the University of Vermont. "Working with the City, we've planted more than 2,100 trees just in the past four years, removed invasive species, reintroduced American Chestnut to City parks, and helped stabilize river banks. Dan Cahill and all the staff at the City Parks Department have been absolutely instrumental in making all of this happen."
Thank you to our local news stations for helping us to spread the word about this important work: