This week brought chilly mornings and sunny afternoons. The roads were lined with frosty goldenrod, jewelweed and aster on my way to the Audubon office. In order to stay warm, we started our day a new way - rather than coloring and having cold fingers, we began by searching for butterflies in the garden. The butterflies were big, small and all different colors. Some butterflies were hidden along the ground, while others camouflaged a bit more in the tall plants.
Once all the butterflies were collected we laid them out to count together. 34 in total! Next, we arranged the larger butterflies by size. Sometimes we needed to check the size of the butterflies by laying one on top of the other.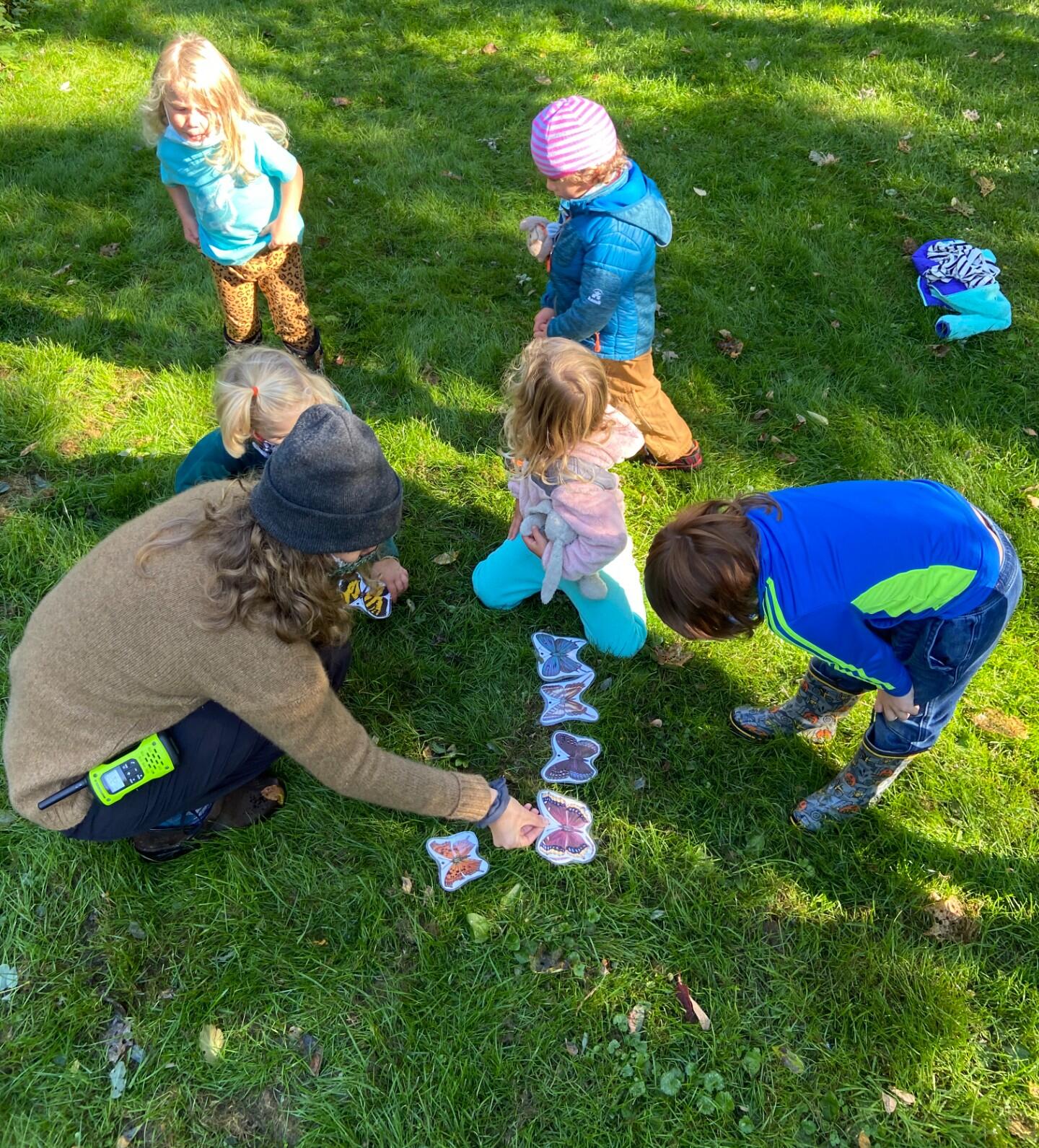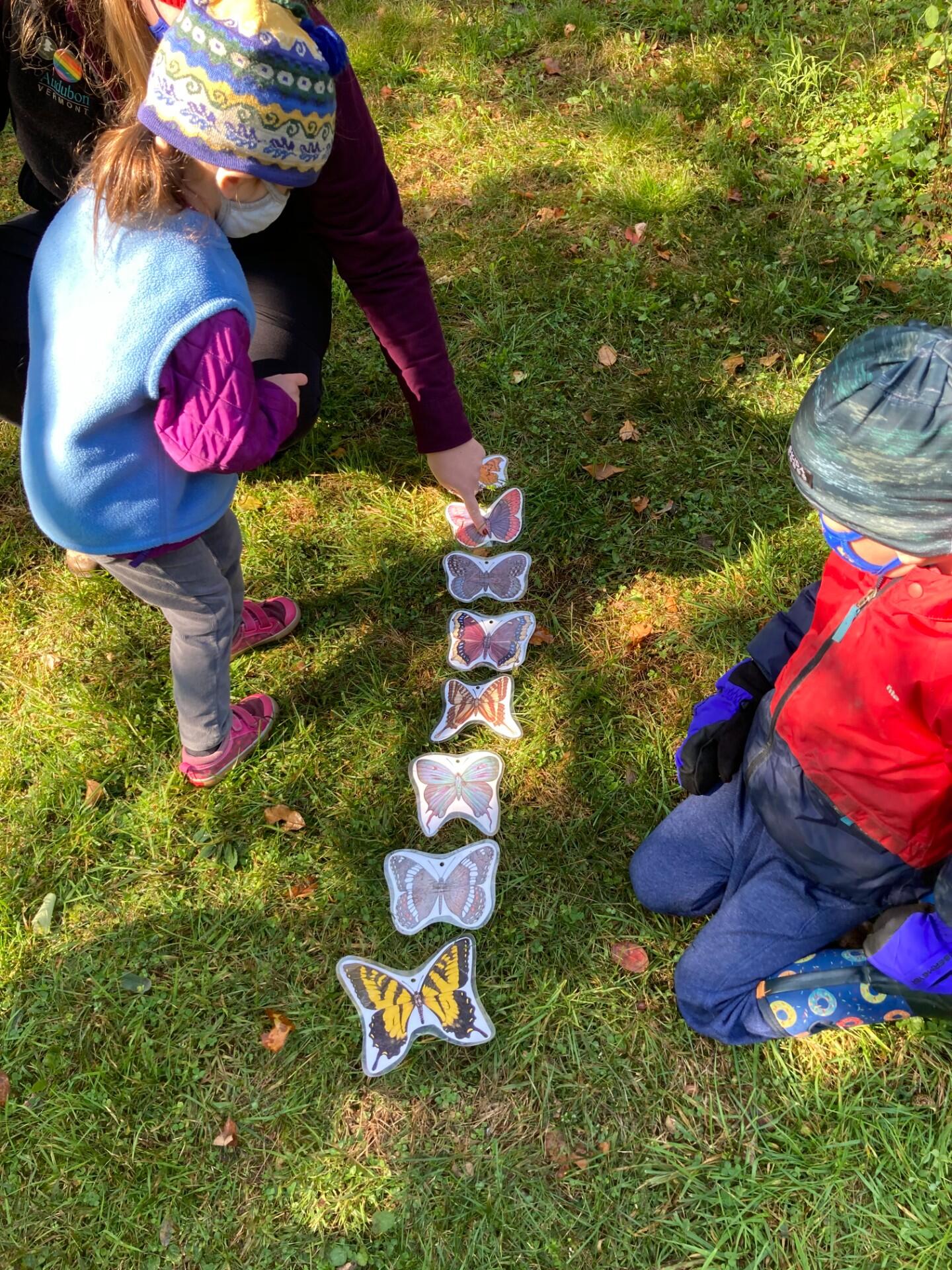 Then we turned our attention to the smaller butterflies, many of which have an identitical match. So, we asked the playschoolers to take a moment to study the butterflies and see if they could identify a pair. One by one, we went around and picked our matches.
Friday
On Friday our playschoolers started their day with a different activity before butterflies...a leaf hunt! The previous day had been rainy and brought down a lot of new leaves. We laid out a tarp and chose leaves that we enjoyed the color, shape, patterns or holes of. This early in the year, there aren't many brightly colored leaves on the ground. So, our collection was mostly comprised of maple leaves that had started to change, maple leaves with Maple Leaf Cutter holes in them and the compound leaves of the black locusts towering above us.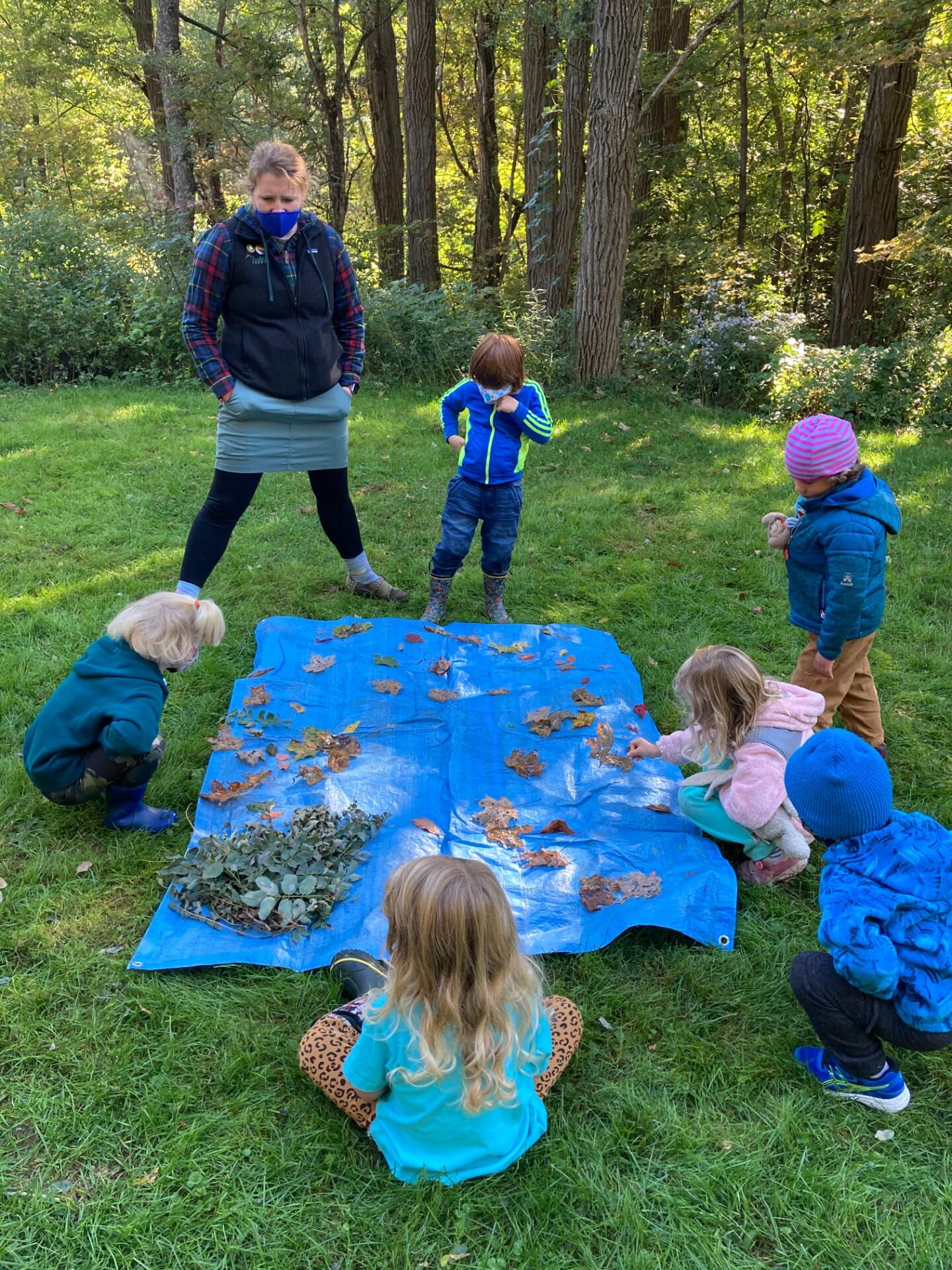 After admiring our collection, we started morning meeting and had a playschooler lead for the first time this season! She was eager to move and play, so she chose to hike up to Lookout Rock and have free-play time in Forest Camp. To fuel up for our hike, we ate snack, drank water and read a story. Then, we hopped on the Noodle Train and started up the trail!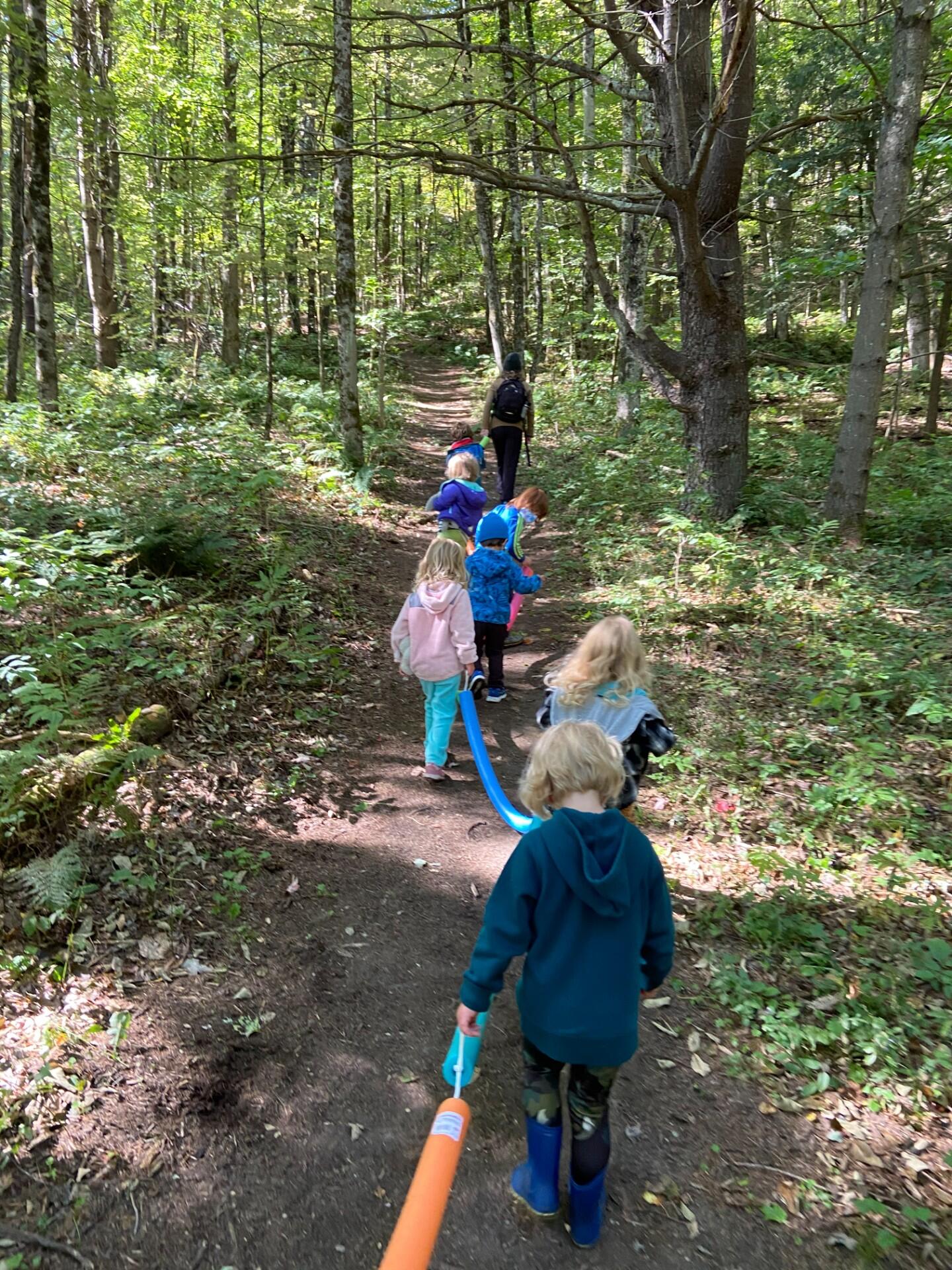 We are still learning to walk with our noodles, so we had to stop often for dropped noodles or to correct pace. Overall, everyone did an awesome job! We made it to Lookout Rock and had a beautiful, clear view of both Camel's Hump and Mt. Mansfield.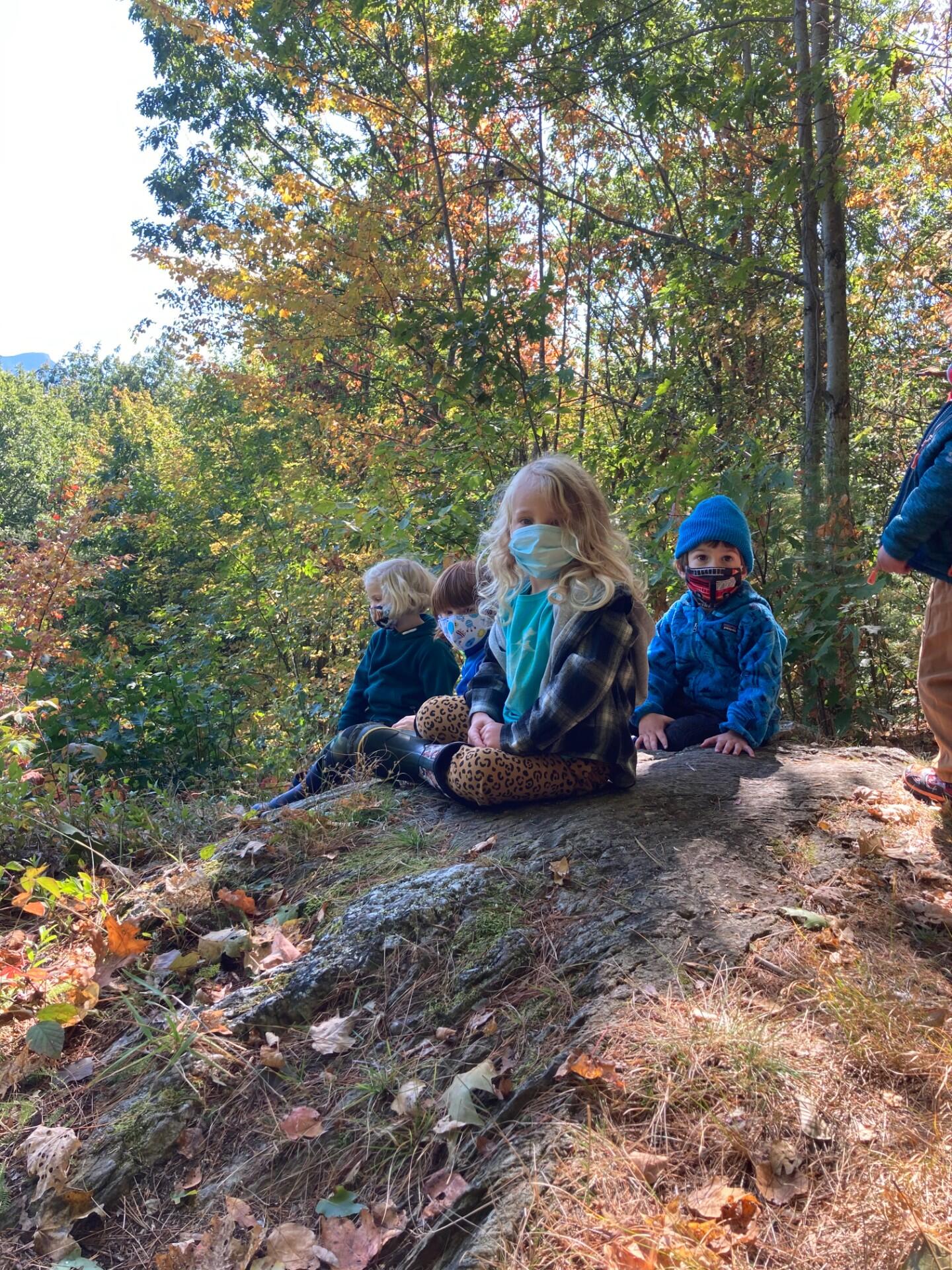 We stayed at Lookout Rock to build fairy houses and have some imaginary playtime. The playschoolers found the perfect fallen tree to be a horse! They all mounted it and took it for a spin.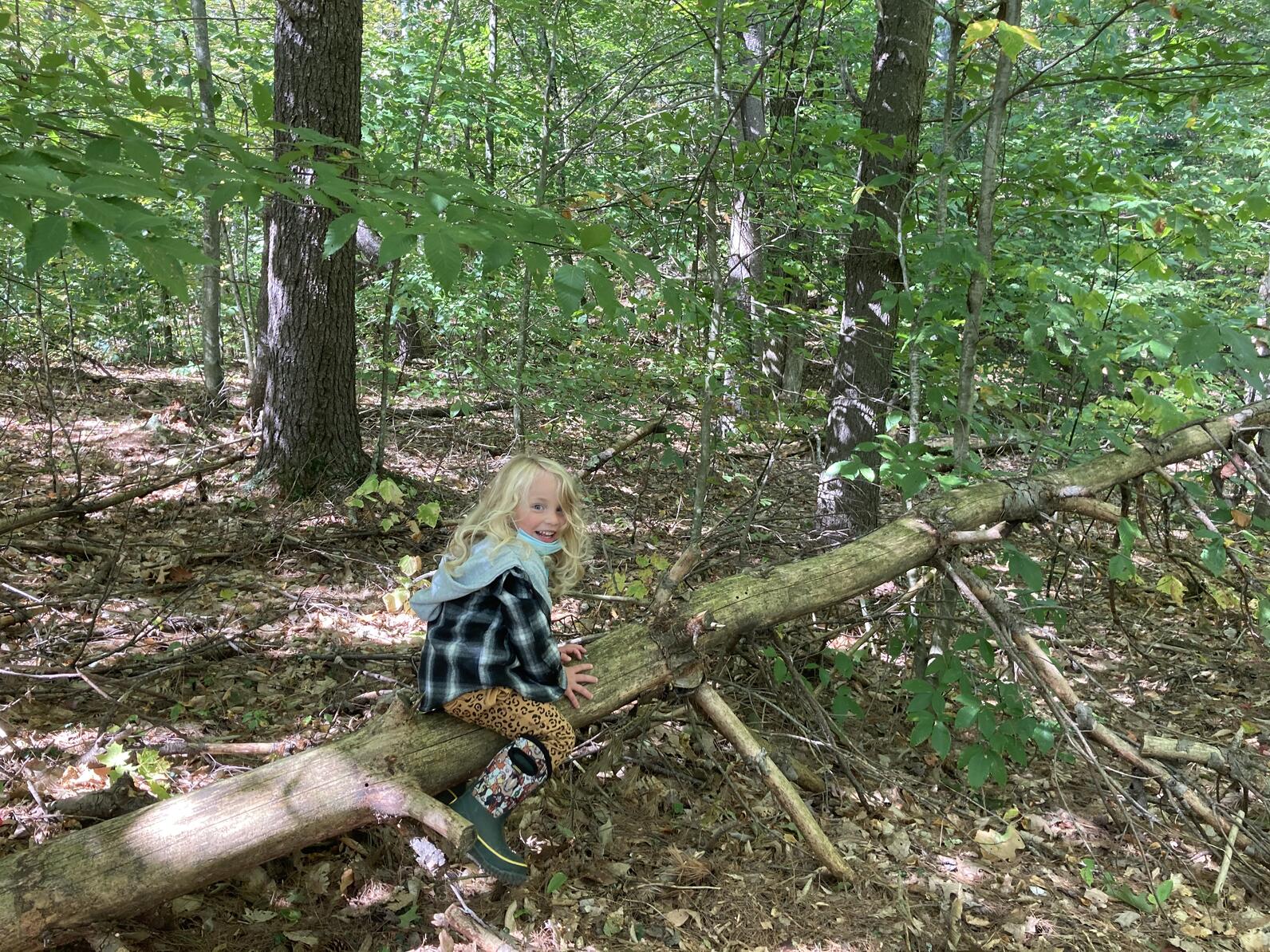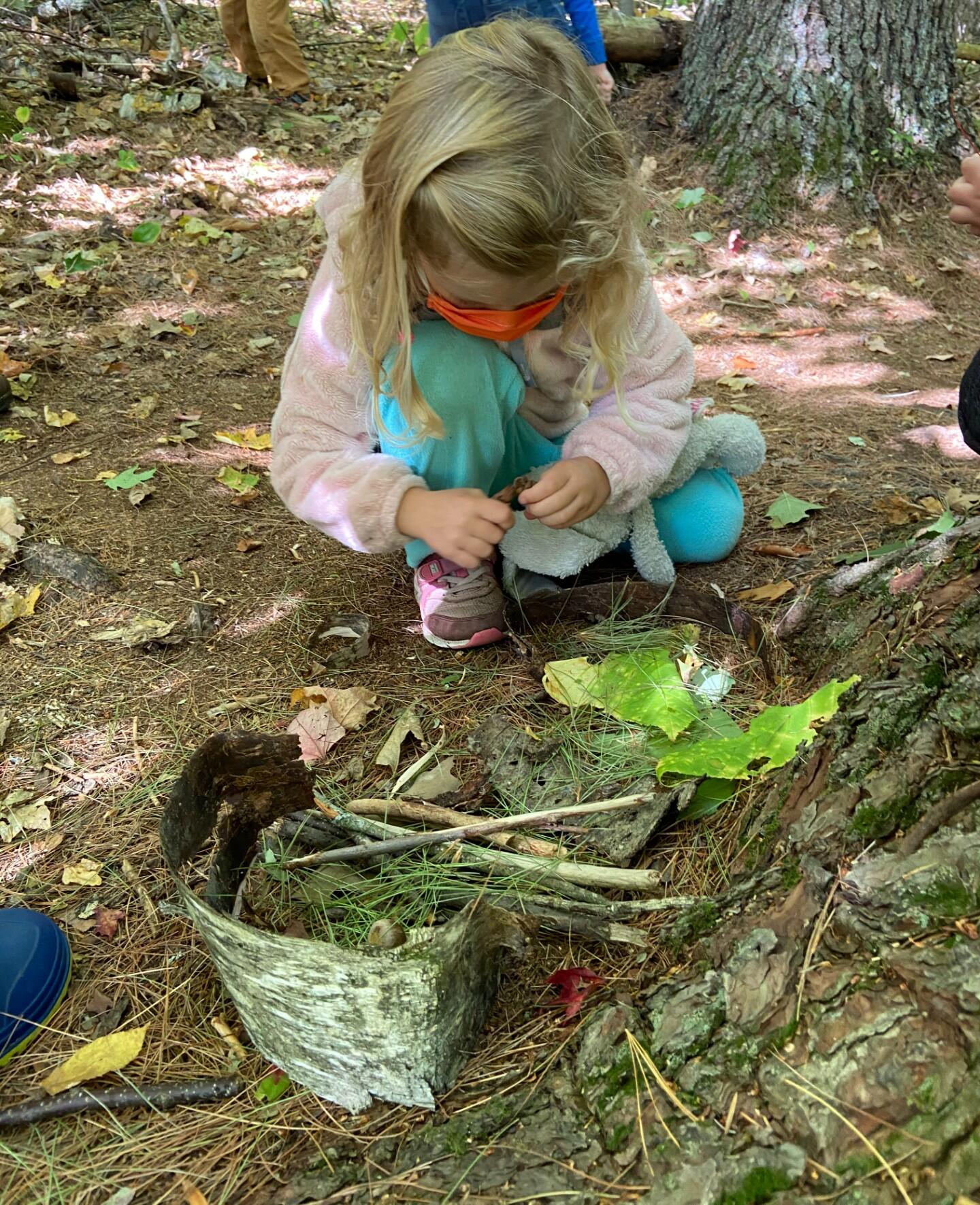 We ended our day with lunch around a fire and free play at Forest Camp.
Monday
We skipped the leaf hunt with Monday's group because there wasn't much variety and it was cold enough that jumped right into searching for butterflies to keep our bodies moving. Once we found and sorted our butterflies, we grabbed our backpacks and walked to Forest Camp to have Morning Meeting around a fire. Last week I planned our day and this week Emily is taking a turn to provide examples of what our day can look like. We planned to stay at Forest Camp again to explore a bit more and recognize it as our homebase.
After snack and story, it was time for free play. Emily stayed by the fire incase some friends needed to come back and warm up while I focused on the fort. I had a crew of about four playschoolers helping me deconstruct and build the (at least) five year old fort at Forest Camp. Some helpers collected sticks to replace the broken and rotten ones while others 'swept' the inside of the fort out and looked for decorations.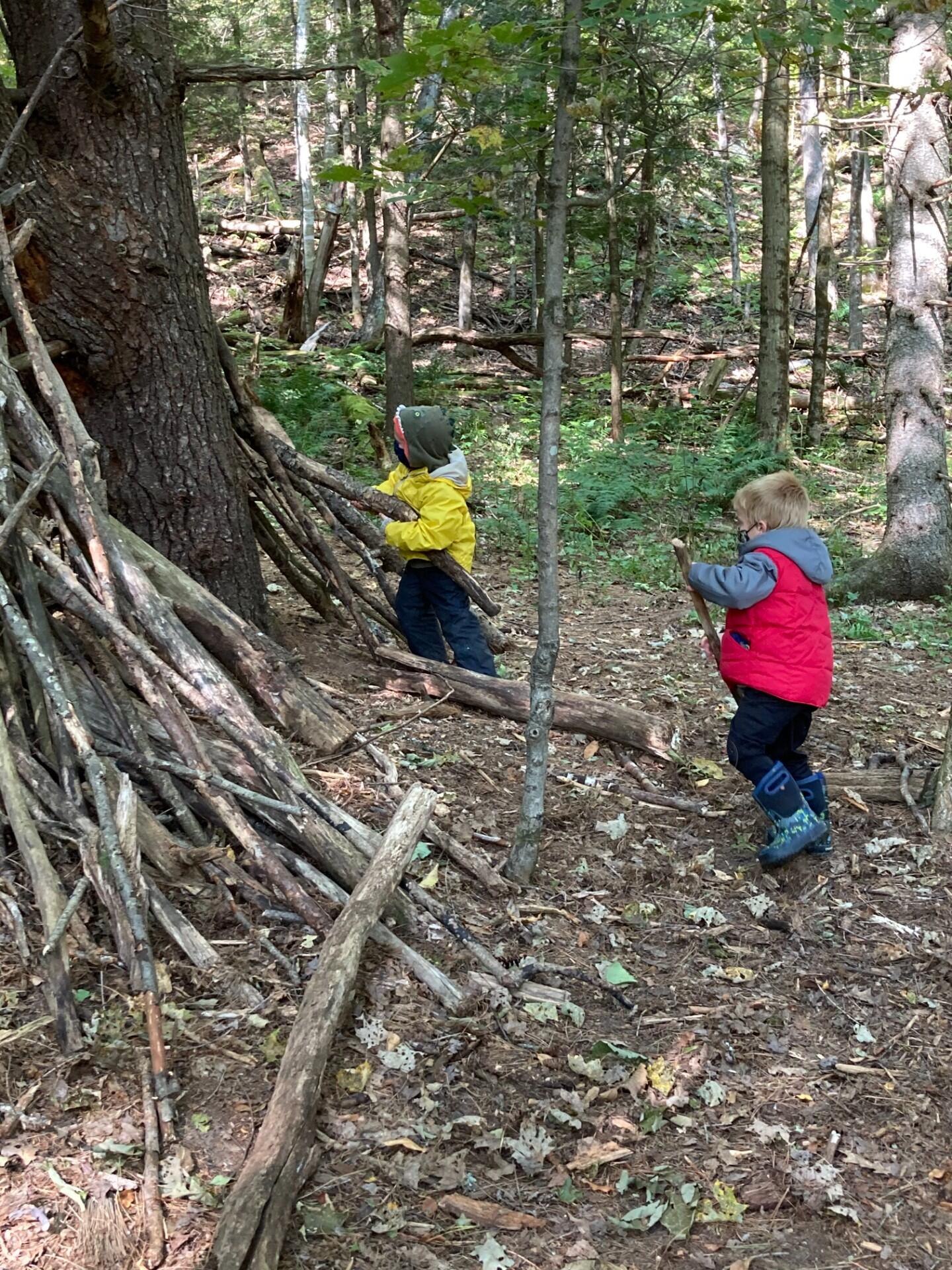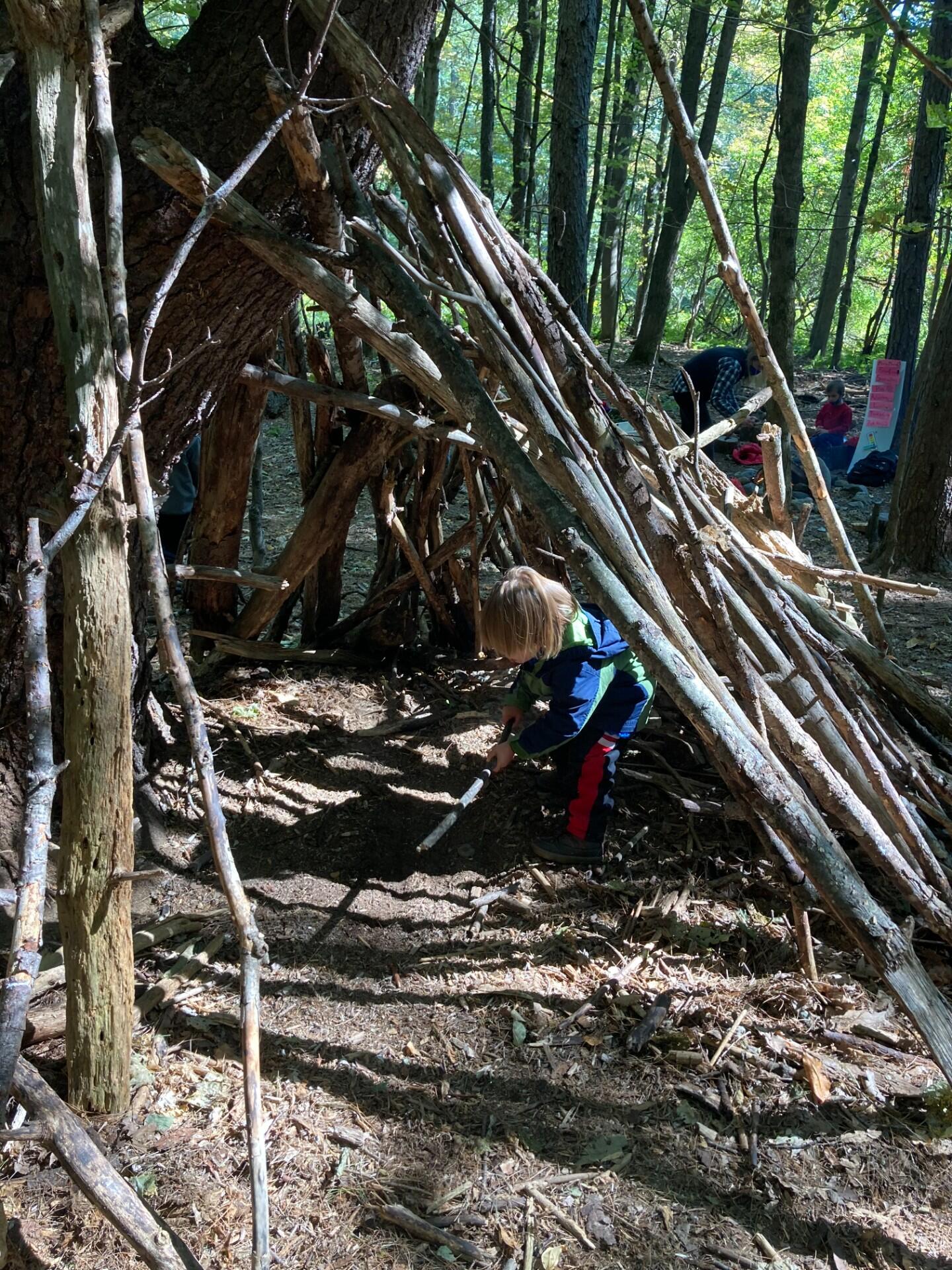 We redid the entryway, made a secret back entrance that only a playschooler could fit through and added some stumps to sit on. It looks awesome! This was a great activity for this group because it had them communicating with each other to achieve a goal, which will help us get more comfortable with each other.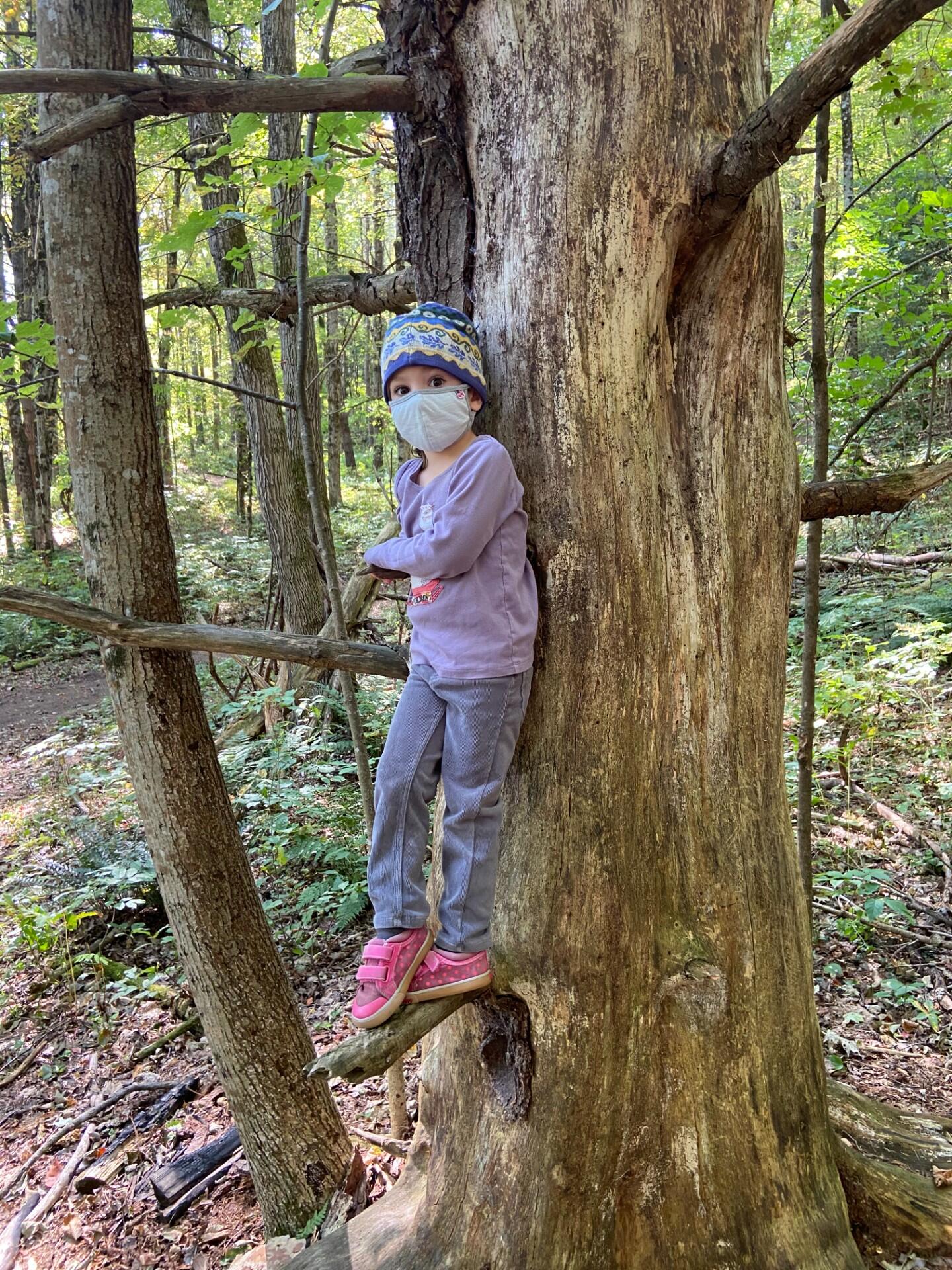 Soon it was time to gather by the fire for lunch. We read a book called Bugs For Lunch.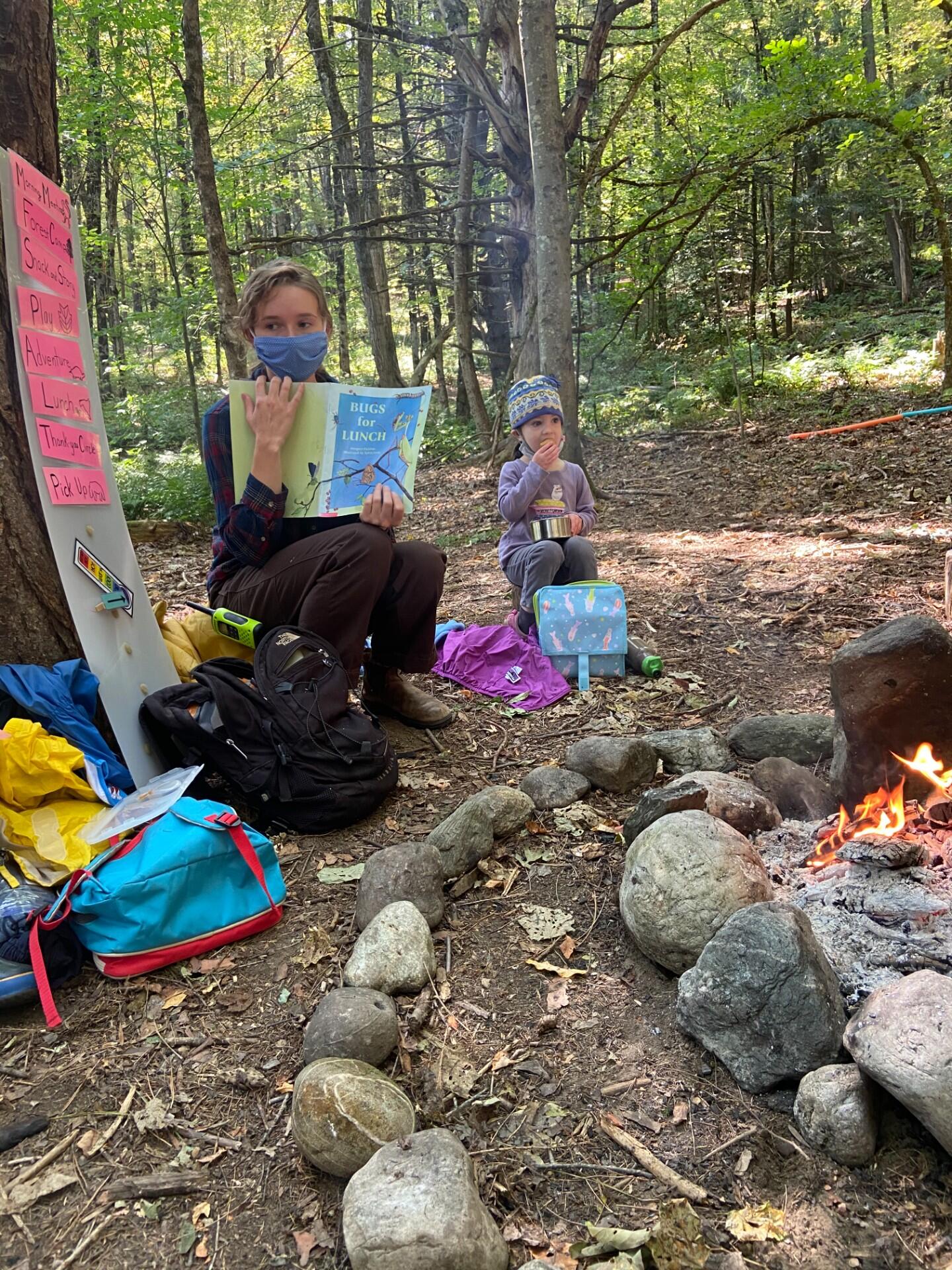 After lunch, we gathered our belongings and went back to our cubbies. The day was almost over so we sat for Thank You Circle to share our favorite parts of the day. Then, adults arrive and we said goodbye to the playschoolers until next week!