I don't know about you, but I am so excited to see our Green Mountain state blanketed in snow this past week. If we have to endure a six month winter it might as well look like a winter wonderland!
What are you most excited about this winter?
One of my favorite things to do at the beginning of any season is to search for the changes - subtle and dramatic - that the new season brings.
What are some clues in nature that let you know it's wintertime? Make a list! Here's mine:
The leaves have fallen (stick season)
Chickadees, woodpeckers and tufted titmice become my most popula visitors at my bird feeder
The ground is slick
The smell of snow
The drop in temperature
The ground is frozen
No more bug bites
Snow
And so many more!
Today we'll use a scavenger hunt to explore the signs of wintertime and some of the plants and animals that endure it with us.
You will need:
A pencil
Winter Scavenger Hunt sheet (PDF attached at bottom of article)
A sense of wonder and curiosity!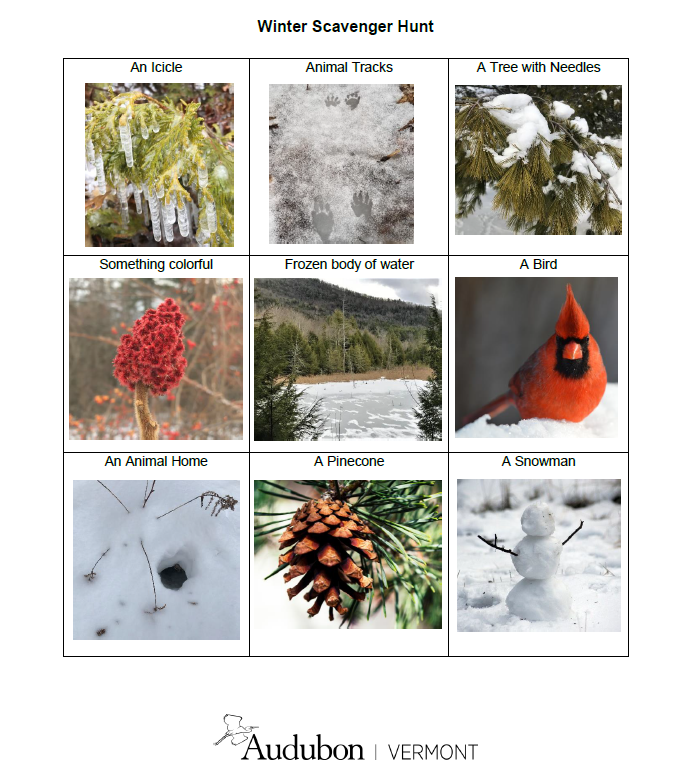 Work your way through the scavenger hunt, don't worry if you don't find everything in a day - this activity can take as long as you'd like.
Show us what you find! Tag us @AudubonVermont on Facebook or Instagram.