There's a new garden at the Green Mountain Audubon Center! Our center already boasts two beautiful Plants for Birds gardens on the upper half of our property, but we wanted to add some magic to the lower half of the property in our Sugarhouse Field. This garden was completely planned, constructed, and planted by youth ages 8-17.
What are Plants for Birds?
Plants for Birds is a National Audubon Society initiative that encourages folks to grow native plants in their green spaces. Native plants are beneficial because the are adapted to local percipitations and soil conditions, do not require chemical fertilizers/pesticides, and provide food and shelter for all kinds of wildlife, especially pollinators - not to mention, native plants are beautiful!
Why are Native Plants Better for Birds?
The National Audubon Society writes: "To survive, native birds need native plants and the insects that have co-evolved with them. Most landscaping plants available in nurseries are exotic species from other countries. Many are prized for qualities that make them poor food sources for native birds—like having leaves that are unpalatable to native insects and caterpillars. With 96 percent of all terrestrial bird species in North America feeding insects to their young, planting insect-proof exotic plants is like serving up plastic food. No insects? No birds." Native plants also provide high-quality habitat for birds to nest and can help birds adapt as the climate changes. Read more about why native plants are best for birds.
Sugarhouse Field Plants for Birds Garden: The Process
Back in April, our Junior Conservation Technicians (JCTs) perused Audubon's Plants for Birds Databse, a tool that allows you to look up native plants local to your region by type of plant, type of bird(s), and plant resource (nuts, seeds, nectar, caterpillars, etc.). When you click on the plant you'll be taken to a page of local nurseries carrying that species as well as online options. JCTs looked through the lists and picked out: Common Milkweed, Canada Goldenrod, Rudbeckias, Beebalm, and Joe-Pye-Weed. They also chose a few non-native, beneficial plants: Red Clover, Lupine, Lavendar, and Dahlias.
After choosing our plants, we mapped out a full-sun space by the Sugarhouse Field Kiosk with flagging tape and started digging! This spot is perfect as it already has a bat box stationed behind it (bats are pollinators and love nectar and insects) and we'll be adding a bird nesting box as well. Digging was not for the faint of heart - we encountered many rocks and roots.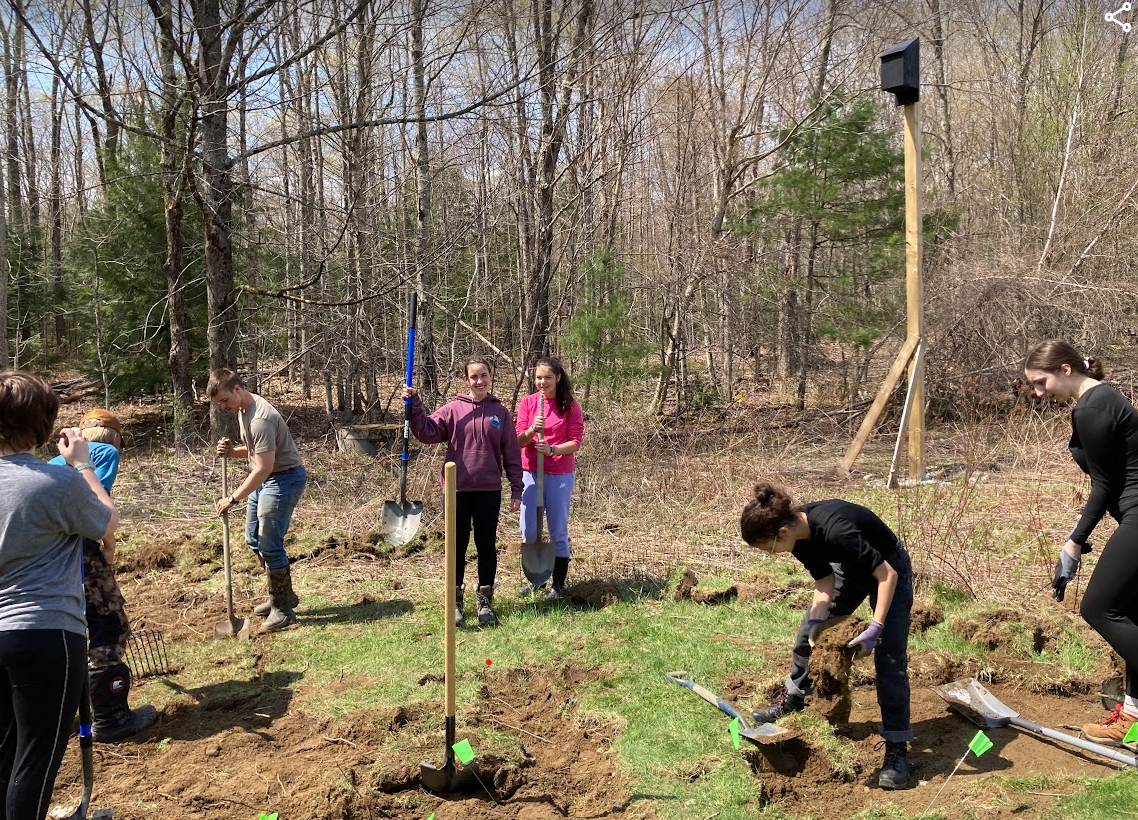 In June, the next step for JCTs was adding compost to the newly formed bed to add important nutrients to the soil that will allow our young plants to grow into healthy adults!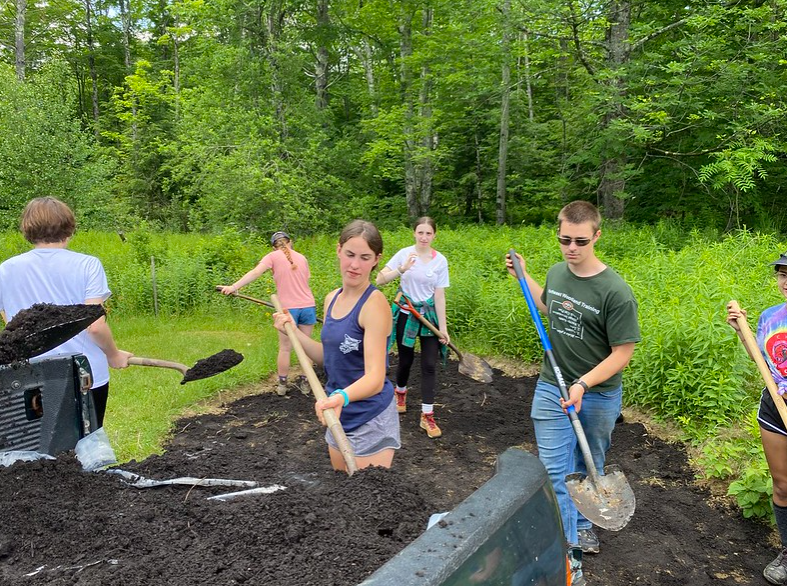 Once the compost was laid down, JCTs joined our Ecology Day Camp, themed "Junior Conservation Crew" to lead campers in a Plants for Birds lesson, invasive species pull, and finally, the planting. Campers ages 8-12 explored the difference between native and invasive plants, discovered the connection between birds and native plants, and then set out to pull invasive Morrow's Honeysuckle and Common Buckthorn, two woody invasives whose berries act like dieretics for birds and low branches make nesting birds vulnerable to predators.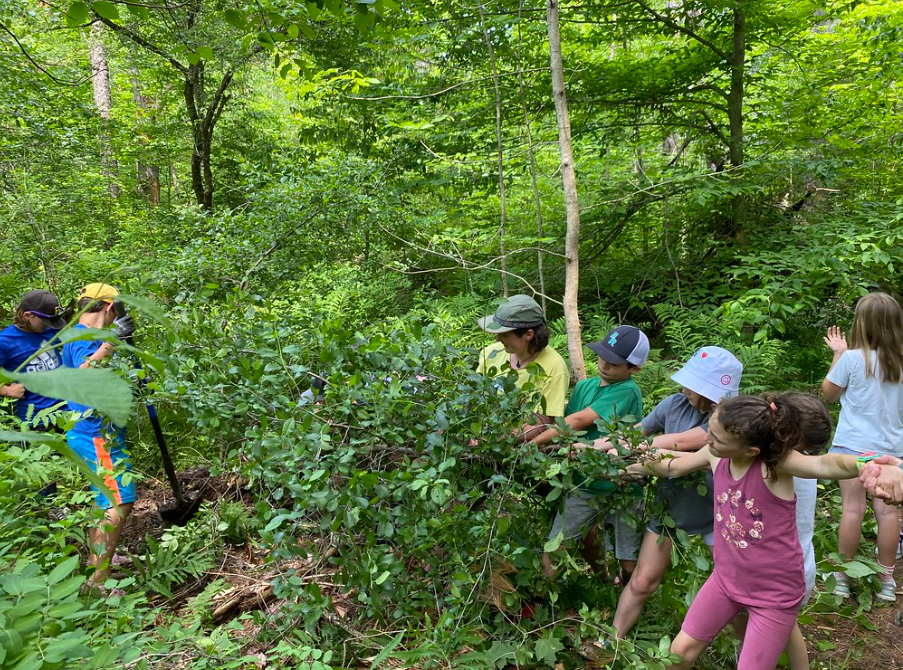 Before planting natives, campers were able to make some native seed bombs for their own yards and local green spaces. Seed bombs are a simple combination of mud and native seeds rolled into a ball, then you take them home and toss them into the space you hope for them to grow! Campers filled with seed bombs will seeds from Asters, Black-eyed Susans, Sunflowers, and other native flowering plants.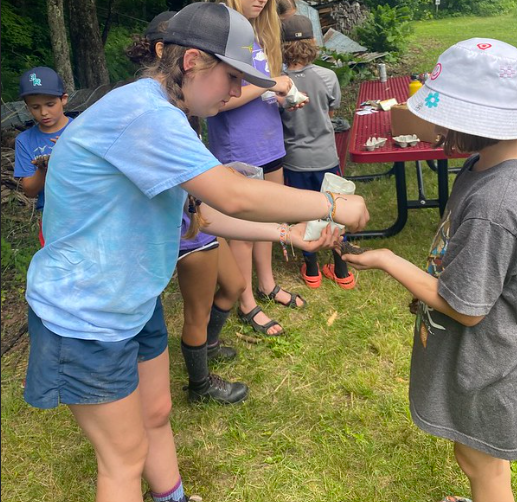 Before planting natives, campers collected medium sized rocks from the Huntington River and painted them to be a natural barrier around the garden. Some were abstract others had birds, names, and messages on them. At the end of our week, we had closing circle with the campers and their parents by the garden. Campers shared their favorite part of our week and then placed their rock around the garden. They were excited about completing a project that they can come back and visit or track the progress of. We look forward to the garden growing throughout the season!
Special shout out to our community partners for donating plants and seeds: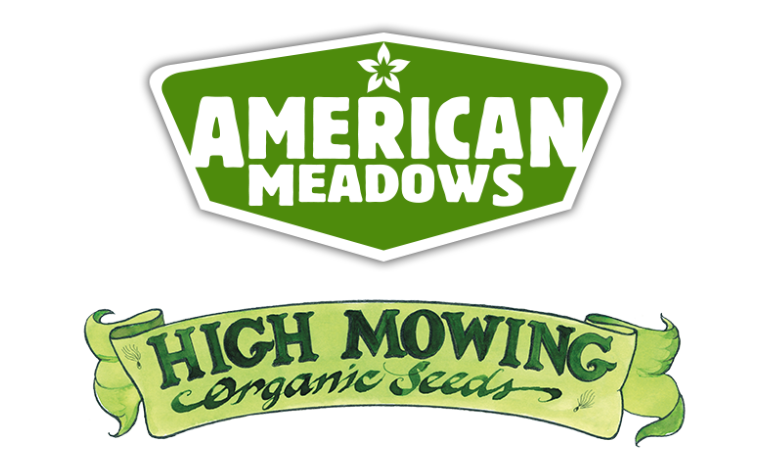 American Meadow Resources: