Audubon Vermont has received a $2,970.39 grant from the Vermont Community Foundation's Spark! Connecting Community grant program.
The grant will help Audubon Vermont work to close the Adventure Gap by getting students from the King Street Center outside and exploring the green spaces and wildlife in their neighborhood. Funding will support our afterschool enrichment with the King Street Center in the Fall of 2018 and also fully fund six summer camp scholarships for King Street kids this summer.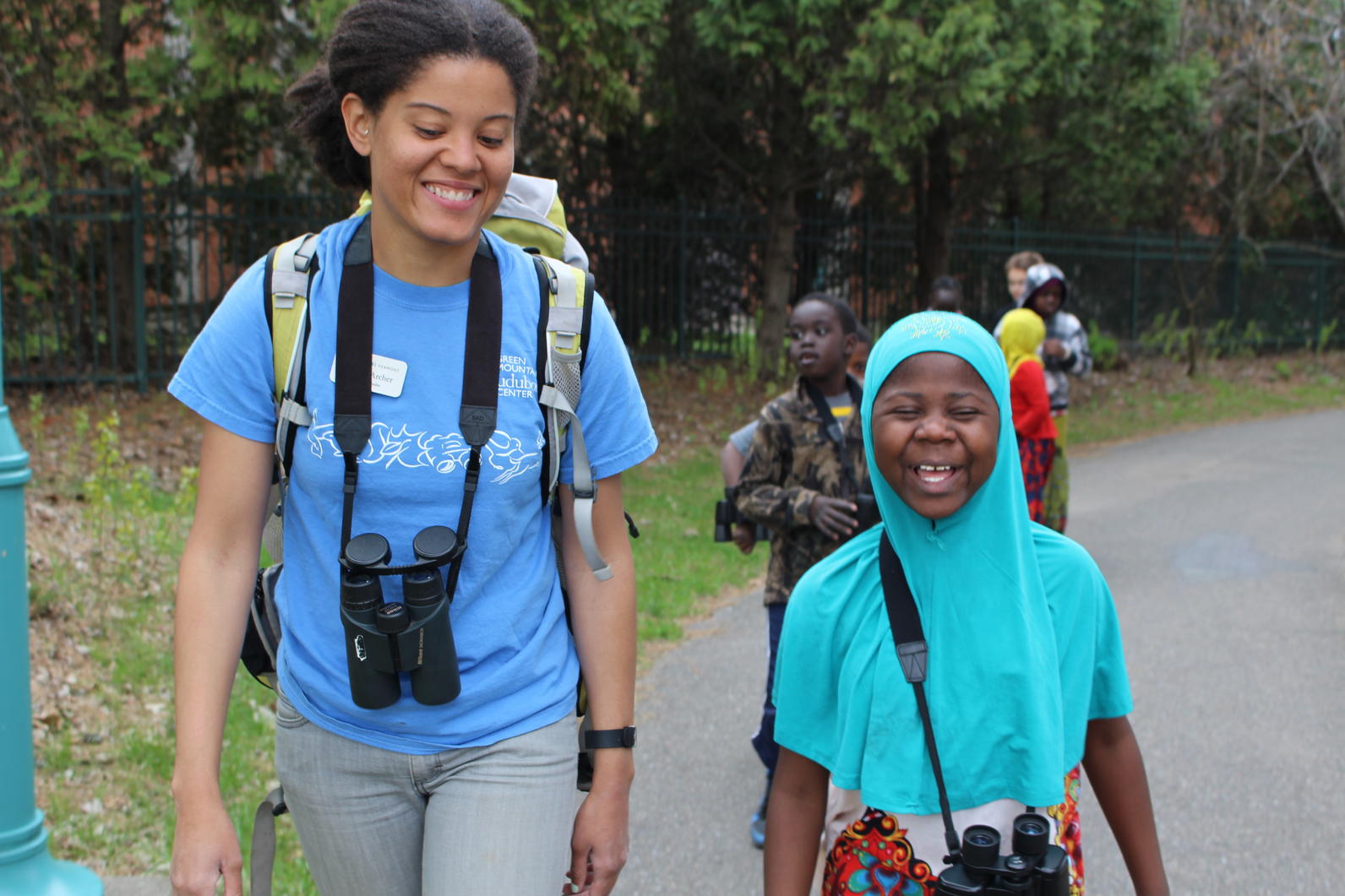 "By giving children the opportunity to discover nature where they live, we hope to reduce the adventure gap and inspire kids to become outdoor ambassadors to their wider community," Debbie Archer, Audubon Vermont's Education Program Coordinator.
"By inspiring curiosity in the outdoors, we hope to inspire kids to become ambassadors to their wider community, by helping them along a continuum from appreciation, to understanding, to stewardship of nature."
What will success look like for our Audubon Adventures at King Street Center?
Success is kids asking questions about plants, insects, and birds.
Success is kids deciding which park we hike to and explore.
Success is kids spending time outside, every week no matter what the weather.
Success is kids showing curiosity about the urban flora and fauna in their neighborhoods.
Success is kids engaging in play and exploration in a green space, with no playground equipment.
Read about Audubon Adventures at King Street: read the article.
The Spark! Connecting Community grant program puts building and nurturing community front and center. The Foundation aims to support the work happening throughout Vermont's 251 towns that builds social capital. These grants—where a small amount can make a big difference—are intended to light the spark that keeps Vermonters healthy and happy.
###
Audubon Vermont's Mission is to protect birds, wildlife and their habitat through engaging people of all ages in education, conservation, stewardship and action.
King Street Center's mission is to promote personal and social wellness through education, recreation, and social programs. Their afterschool program serves about 50 students daily, mainly from Edmunds and Champlain Elementary schools in Burlington. King Street, where the Center is located, remains a working class neighborhood with one of the highest concentrations of subsidized housing units in Vermont. The neighborhood is also one of the most culturally diverse in Vermont, and dozens of immigrant and refugee families now call it home.
The Vermont Community Foundation inspires giving and brings people and resources together to make a difference in Vermont. A family of hundreds of funds and foundations, we provide the advice, investment vehicles, and back-office expertise that make it easy for the people who care about Vermont to find and fund the causes they love.
The heart of the Community Foundation's work is closing the opportunity gap—the divide that leaves too many Vermonters struggling to get ahead, no matter how hard they work. We are aligning our time, energy, and discretionary resources on efforts that provide access to early care and learning, pathways to college and career training, support for youth and families, and community and economic vitality. We envision Vermont at its best—where everyone has the opportunity to build a bright, secure future.

Visit vermontcf.org or call 802-388-3355 for more information.