Before the onset of Covid-19, Audubon Vermont and its partners were able to get some important habitat work done. As many of our feathered friends are heading back to Vermont, Audubon is busy making sure they have good breeding habitat to return to this spring in the Champlain Valley. Audubon Vermont and its partners have a number of projects underway to enhance breeding habitat for birds that rely on shrublands and young forest. Working with the Vermont Fish and Wildlife Department, Audubon Vermont has been using funding from the department's successful Habitat Stamp Program for winter management activities. The National Fish and Wildlife Foundation's New England Forest and Rivers Fund provided support for Audubon Vermont's technical assistance efforts
At Lewis Creek Streambank Wildlife Management Area in Monkton invasive plant species are being removed and riparian buffers of native plants for birds will be planted this spring. This work supports habitat for priority shrubland species like the Golden-winged Warbler and American Woodcock. Habitat Stamp money is also being used at Geprags Community Park in Hinesburg, one of the valley's premier birding spots for Golden-winged and Blue-winged warblers and home in the past to the state's lone Hooded Warbler. With additional funding from the Hinesburg Conservation Commission management was undertaken this winter to enhance habitat and maintain trails and the parks scenic views.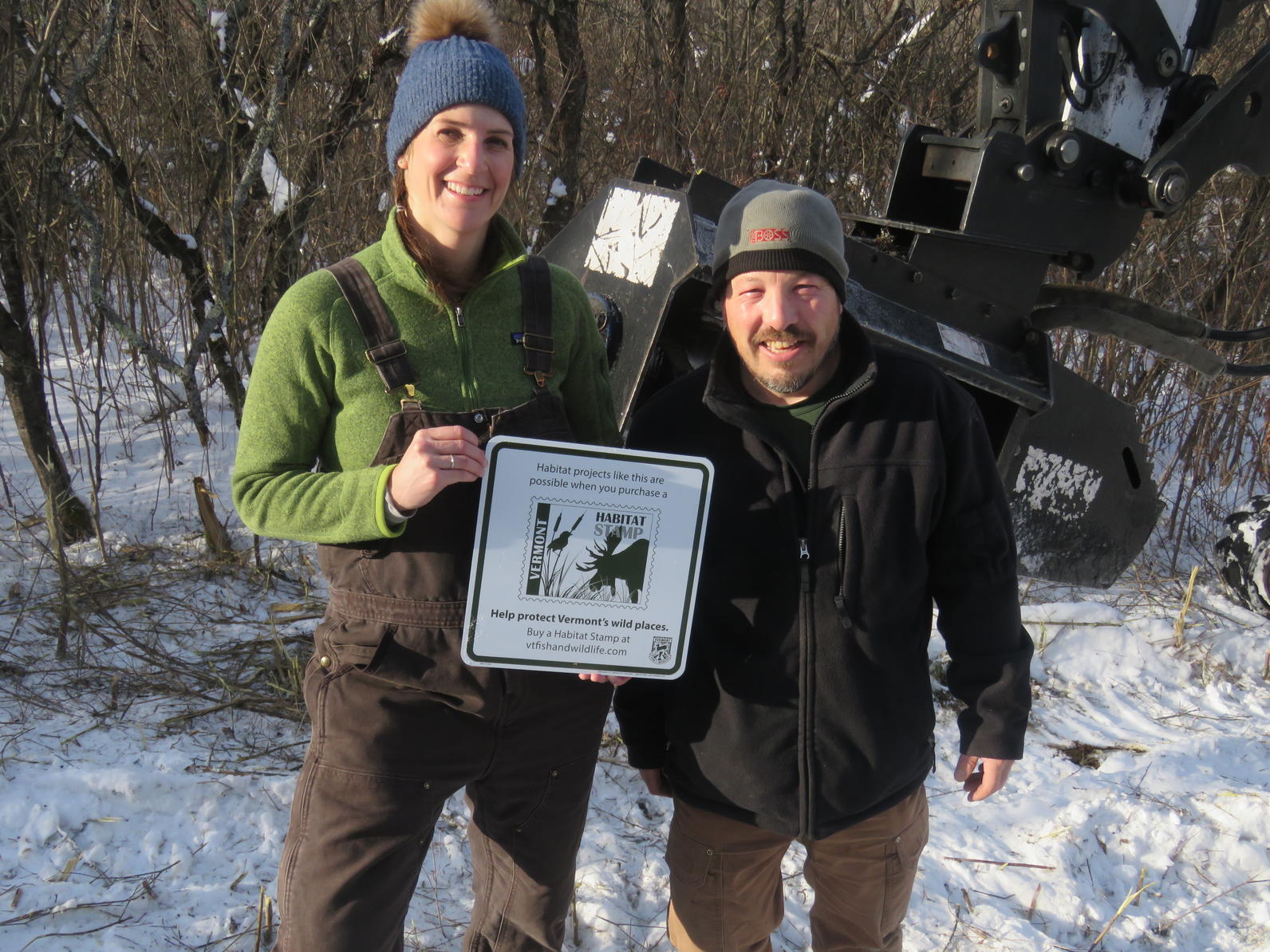 Audubon Vermont and The Nature Conservancy (TNC) continue to collaborate at TNC's Helen W. Buckner Preserve at Blad Mountain in West Haven. Home to the largest concentration of Golden-winged, Blue-winged and Prairie warblers, The Buckner Preserve has incorporated invasive plant species removal and native plantings into their management practices over the past five years. In 2020, with Audubon Vermont's help they plan to transition fallow hayfields into even more shrubland and young forest habitat for birds.
With education in mind Audubon Vermont partnered this fall with the Hannaford Career Center, the Middlebury Area Land Trust, and Otter Creek Audubon Society to conduct management activities at Wright Park in Middlebury. Students removed invasive plant species and practiced their chainsaw skills to promote good shrubland habitat at the park. The work was integrated into their curriculum as students took what they learned and built it into management recommendations for the park.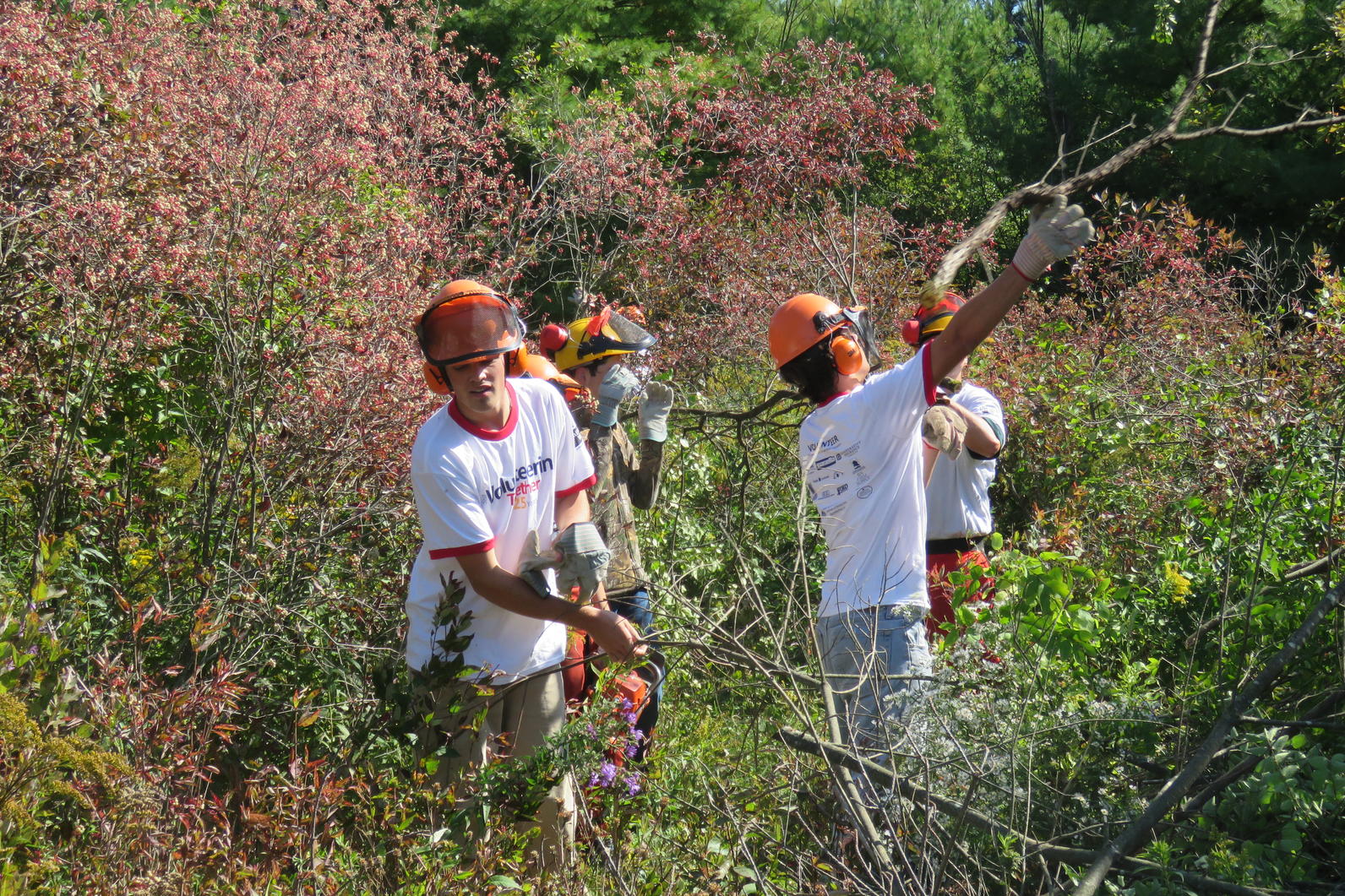 At Champlain Valley Union High School in Hinesburg, students and staff have helped manage their campus for priority bird species. Students assisted with bird banding and monitored of a portion of the campus that was managed with funding from the US Fish and Wildlife Service Partners Program. Additional habitat management occurred this winter for Golden-winged Warbler and other shrubland bird obligates.
In addition, 26 public and private properties received bird habitat assessments from Audubon Vermont. Several properties will receiving funding from the Natural Resources Conservation Service Environmental Quality Incentive Program to enhance shrubland and young forest habitat in the coming year.
Although winter may seem like a slow time for birds, it is the perfect time to work on maintaining and creating shrubland and young forest habitat that supports an important suite of priority birds. Now that the birds are returning Audubon Vermont and its partners will continue to move forward on work that will benefit many of these declining species. For more information on what you can do at home visit Audubon's Plants for Birds website or contact Makr LaBarr at Mark.LaBarr@audubon.org.