Time is flying by!
It sure is fall, this morning we had what seems like our first frost of the year. We were all bundled up, but ready to have an amazing day!
We enjoyed some free explore time as everyone came in this morning. We played keep away, built forts, and everyone moved their bodies to stay warm. Once we all arrived Ciara and I had a mission, there were forts up in the woods that we needed to take down and spread out the sticks in the woods to make sure people leave no trace.
We all gathered for morning meeting and for a fun questions, today everyone shared what their favorite costume was, or what they wish one day they can dress up as. It was fun to hear the overlap of ideas and costumes. We warmed up with a few rounds of Park Ranger in the field before we moved on to our first activity.
Today we were working on our final fire structure, the teepee. This structure is challenging because it does use a lot of balance and skill. You want to make sure you build in a large mound of tinder and then build you teepee around it. All groups built wonderful structures, but with the humidity it was a challenge to lite the matches. All groups got their fires goings and kept them going for a while, even when it was snowing/raining.
We enjoyed lunch and our book Hoot around a fire to stay warm. We finished our day with playing a round of camouflage and Thank you Circle.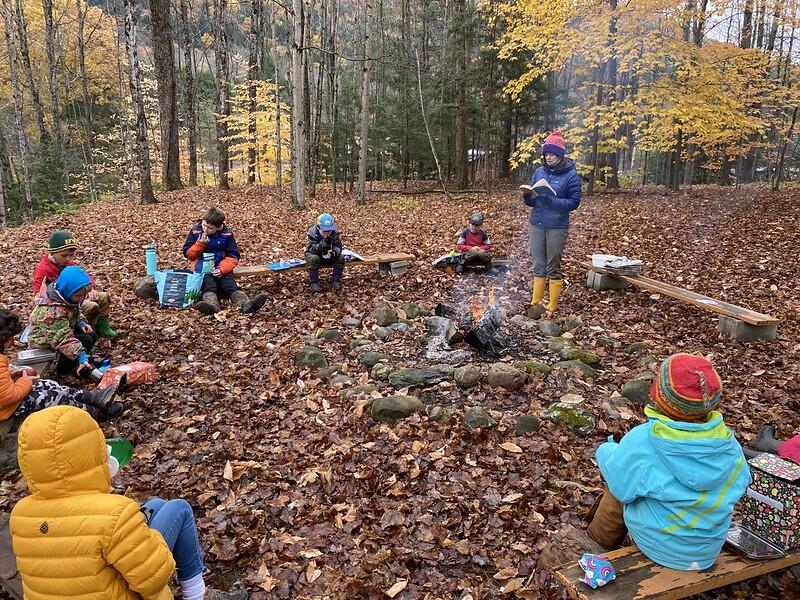 Only 2 more weeks left, just enough time to put our fire building skills to the test!