Written by Environmental Education Intern Carter Larsen.
This summer I have been working at Audubon Vermont as an Environmental Education Intern. One of my favorite activities has been building miniature homes with children. This summer I have worked with field trips from schools and camps, Audubon's Preschool and Ecology day camp, and outreach programs hosted by Audubon Vermont, including a new Birding Kids Club in Burlington at Fletcher Free Library which I started. We've built fairy house, bird nests, newt homes, and even fort cities.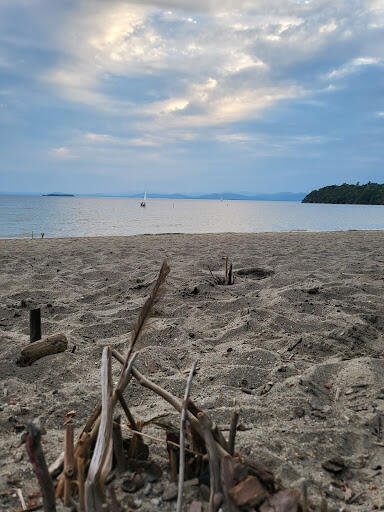 Education as Conservation
A different kind of building project I worked on this summer was putting up a new story walk along the trails of the Green Mountain Audubon Center. I chose the book Dear Children of Earth: A Letter From Home by Schim Schimmel. Through beautiful, worldly illustrations our readers learn that we are Nature and a part of Mother Earth's Children. The main message of the book is to care for our Earth, who cares for us. What we know about, we care for and that is a most radical way of enacting meaningful change in our behaviors. For all people (and especially children) education and interaction are key in protecting "birds and the places they need, today and tomorrow," Audubon's mission.
Fairy Houses: Asking Questions
Free Nature Playgroup (ages 0-5)
What are these acorn tops for? Where is the fairy going to sleep? What's this room?
Free Nature Playgroup is a program hosted by Audubon to create a space for young children (ages 0-5) and their families to be in community, to grow comfortable in the woods, and to develop social interactions in toddlers. One day at Nature Playgroup we built fairy houses.
Kiddos search the forest floor and grow their imagination to build small homes for fairies. I ask questions of the kids to guide them in imagining details of smaller worlds and the different things they can use to build their home. Here is a photo of one fairy home that we left for the spiders to take over once the fairies flew away.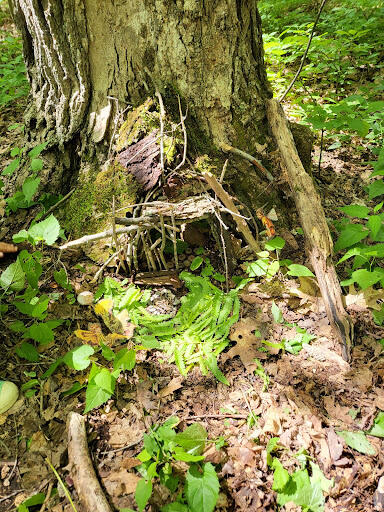 Newt Homes: Fundamentals of Social Interactions
Preschool Nature Camp (ages 3-5)
Find a dead branch for a four year old and they will sweep any place in the forest. While working at Preschool Nature Camp during critter week, we found two newts in the space between the root of a tree and the ground so we decided to build a house around them. Three children and I worked together on a task that helped to scaffold social interactions. In the small space, we had to make sure each camper had a job. One camper painted the house, dipping a paint brush in water. Another child collected water and forest scraps for the kitchen. And the third collected moss for a lawn and twigs to line the path. Other campers came in and out, finding treasures to add to our newt home.
The key to engagement is in the details. Asking questions is great for developing a perfectly detailed house for newts.
Questioning often sustains the curious nature of children as they grow into the world around them. Creating spaces in which children can play with each other and work through differences is fundamental to their development, especially for children who have spent much of their lives socially isolated in COVID-19 era. Through building tiny homes and searching for newts, our children make friends and develop a personal connection to the little creatures of Earth.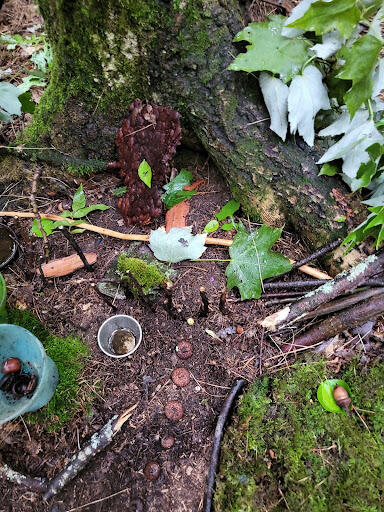 Bird Nests: Place-Based Education
Audubon Field Trips (ages 5-13)
Audubon is a wonderful place for kids to connect with and learn about nature. Working here beautifully combines my love for birds and children. One reason I wanted to work as an Environmental Education Intern at Audubon was to get more experience in Place-Based Education (PBE). PBE is learning lessons within a naturally occuring environment. It is often more equitable because learning is hands-on and draws on the variety of abilities students bring to our classroom without walls. PBE is inherently inquiry based - children learn to ask questions of the world closest to them.
Audubon's program All About Birds includes an activity where students learn about different bird nests. They get to observe real bird nests in colorful wooden boxes that we lay out on the ground. We prompt students to notice the shapes, sizes, and materials found in each of the nests. Afterwards they go off to collect materials "dead, down, and on the ground" to build their own nests for birds. Some kids just need the chance to play with mud - it's the simple things that are important.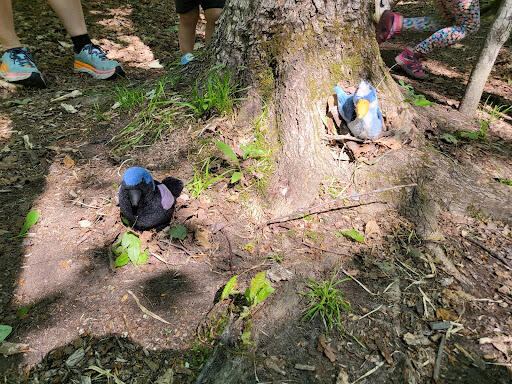 Fort Cities: Creating Camp Community
Ecology Day Camp (age 6-10)
Each week Ecology Day Campers have time to build human-sized shelters in the woods behind the clubhouse. One week, Counselor Lucas had an idea for the campers to build their forts in a smaller area, making it a true fort city. Summer counselors gave out land permits, road permits, and even had city currency called "schmeckles" - which were the tops of acorns I gathered.
Kids worked in small groups balancing large sticks and limbs between tree forks. Over the week they developed a sense of community - full of trade, teamwork, and some problem solving. Fort families designed their own flags to represent their teams.
Counselor Sharon was especially great at making small things into celebrations. All the campers gathered around in a crowning ceremony as Sharon and Lucas called out groups to step up and receive their freshly laminated flags. On a Thursday night during "Hooting and Howling" week of camp, some brave overnight campers decided to sleep in their fort with only a tarp and a sleeping bag between them and the forest floor.
Children of all Ages Grow and Learn Through Imaginative Play
All of these buildings required children to look for materials, develop imagination, and be creative as they make beds for newts, fairies, and even themselves. This summer has been full of hands-on learning experiences for the children and myself. I have been lucky to find joy in building small homes, stacking rocks, and learning with children out in the woods.