LGBTQ
Pride Hikes: Button Bay State Park
Co-hosted by Audubon Vermont, Pride Center of Vermont, and Outright Vermont
Saturday, July 24, 2021
1:00pm - 3:00pm Eastern Ferrisburgh, Vermont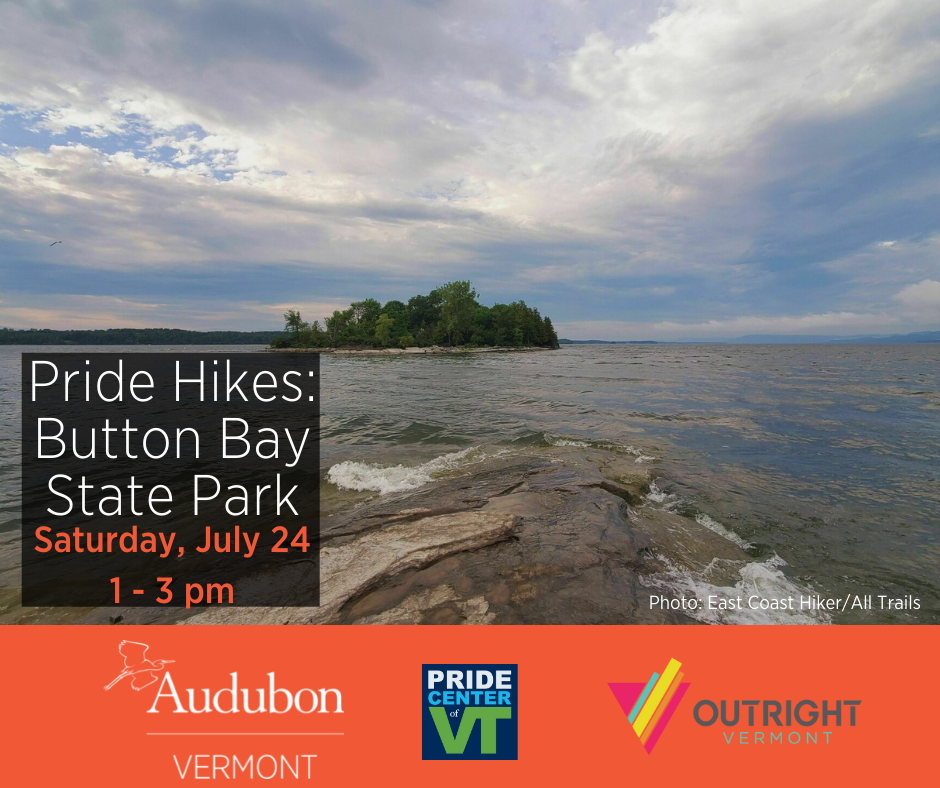 Location Details
Button Bay State Park
5 Button Bay State Park, Ferrisburgh, 05491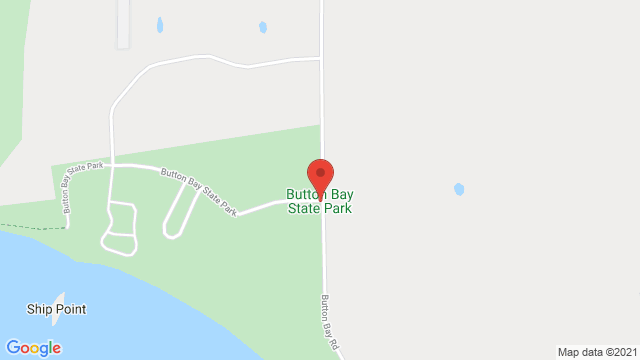 LGBTQIA++ hikers are gathering for some birding and to explore the trails of Button Bay State Park in Ferrisburgh, Vermont. The lovely 253-acre park, is located on a bluff along the shores of Lake Champlain. The trails wind through Button Point Natural Area, a small mature hardwood forest and feature spectacular views of the lake and the bay. The park is named for the button-like concretions formed by clay deposits found along the shoreline.
Yes! There will be a post-hike ice cream stop at lu•lu in Vergennes.
Please register in advance for COVID contact-tracing purposes. Your information will be kept confidential and used only for COVID-19 tracing. To hold your spot, email Gwendolyn Causer at Audubon Vermont: gwendolyn.causer@audubon.org.
Pride Hikes are a collaboration between Audubon Vermont, the Pride Center of Vermont, and Outright Vermont. Pride Hikes have been happening every month since June of 2018 and go beyond being "welcoming to everyone" to creating a safe, affirming space for LGBTQIA++ community members.
All ages, allies, and families welcome! Youth under 18 years should be accompanied by a parent/guardian.
Please wear weather-appropriate clothing, bring a mask (see more COVID details below), snacks, and plenty of water! Please bring anything else you will need to feel comfortable outdoors for a little over an hour or two, such as sturdy walking shoes, insect repellent, and sunscreen.
Dogs are welcome as long as they are leashed.
Trail/accessibility information: The trail system is under two miles total, with no substantial elevation gain. It is partially on a wide, flat gravel path and partially on natural terrain with roots and rocks, and has a few optional opportunities to get closer to the lakeshore via stairs. There is an ADA accessible all gender restroom in the camping area, as well as additional restrooms by the trailhead, which are ADA accessible and designated "men's"/"women's."
Entrance fee/financial accessibility: There is a $3 per person entrance fee at the gate to the park. You may either choose to pay the entrance fee, or The Pride Center of Vermont can cover the cost - just let the park staff know that you're there for the Pride Hike and they'll keep a tally.
COVID Safety: We are committed to our community's health & safety.
Following CDC guidance, masking and physical distancing for fully vaccinated Vermonters is no longer required. The mandate remains in place for those who are unvaccinated or partially vaccinated, including children who are not yet eligible for a vaccine.
We understand that some people - even those who are vaccinated, or those who have health concerns, or those who might just feel more comfortable - may choose to continue to wear a mask. We wholeheartedly support their decision and ask all program participants to be respectful of their choice. We recognize that the decision to wear a mask and comfort levels could change for individuals, even over the course of an event. Folks should feel comfortable to ask others to physically distance and/or wear a mask.
Please bring a mask to this event. If you do not have one, please reach out to staff and we will provide one for you.
Please do not attend if you are sick or symptomatic (with fever, cough, and/or shortness of breath), if you have received a positive COVID-19 test result within the last 14 days, or if you have had contact with any other person who is diagnosed with COVID-19 within the last 14 days.
We will be collecting COVID-19 contact tracing information from everyone when you register for the event. This information will be kept confidential and used only for COVID-19 tracing.