Friday (10/15): Peeper Pond and Pumpkins
This Friday was all about Pumpkins and Peeper Pond! As our friends arrived in the morning, mini pumpkins were hidden throughout the front yard. After we found and counted all the pumpkins that were hiding, we practiced sorting them into groups by color and size. We even (unsuccessfully) tried to make a pumpkin pyramid.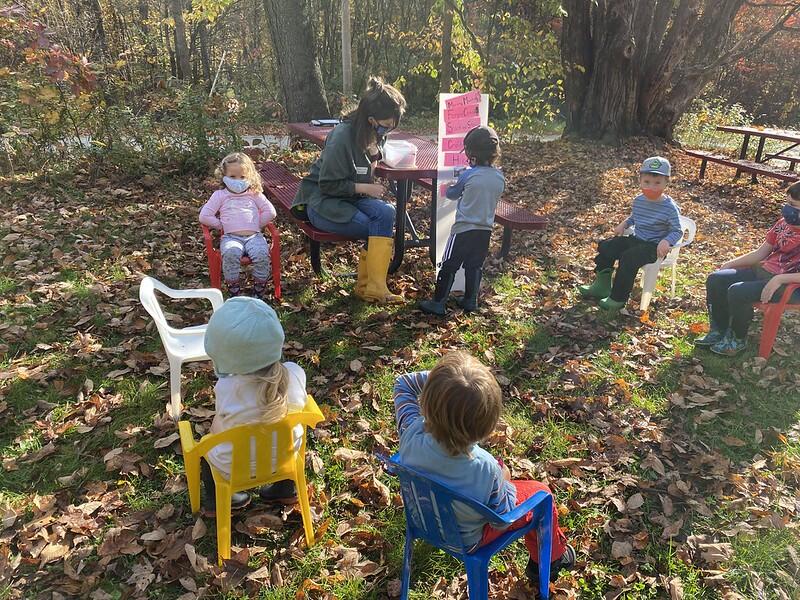 After Morning Meeting and snack we got to move onto our next pumpkin activity of the day—carving! We split into two groups to design and carve our pumpkins. In groups we decided what shapes we wanted on our pumpkins for our eyes and noses. We had to decide if we wanted our pumpkins to be smiling and how many teeth we wanted to be seen in their smiles. One of our groups even gave their pumpkin eyebrows!
After we designed the pumpkins, everyone got the chance to scoop out pumpkin goops. This goop was the inspiration for one of our pumpkin names—Gloppy. The other pumpkin was aptly named Creepy.
Once our pumpkins were carved and displayed on the steps of the barn, we got ready to hike down to Peeper Pond. At Peeper Pond, we worked together to disperse milkweed seed and to search for even more seed pods. We had so much fun making it look like "snow" with all the milkweed fluff in the air.
Before we hiked back for lunch, we also got to play a round of "What Time is it Max the Fox?". It was a great day of fall fun and we are so excited for the new jack-o-lanterns decorating the Audubon Center!