On Friday we were reminded just how quickly spring can fool us! After a few 60-degree days, we came to a snowy Green Mountain Audubon Center on Friday. It seemed like a belated April Fool's joke. By Monday, all the snow had melted and the earth was dry again. What a rollercoaster! Nonetheless, we had two great days.
Friday 4/2
On Friday the playschoolers arrived bundled in all of their snow layers and had the opportunity to play in a few inches of spring snow. We even broke the sleds and snow kitchen out. Some of us had an absolute blast rolling down the snowy hill in the garden. There were also some adorable snow castles built for the stuffies our playschoolers brought.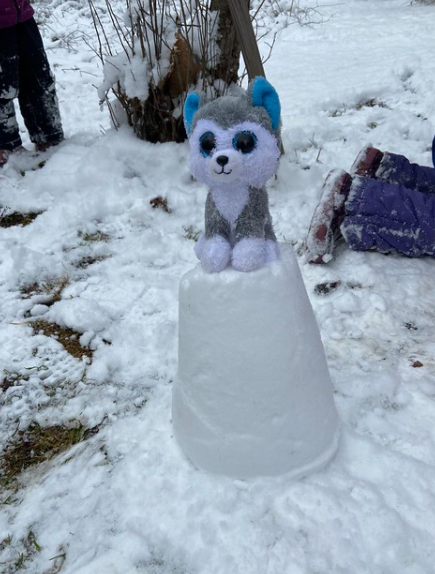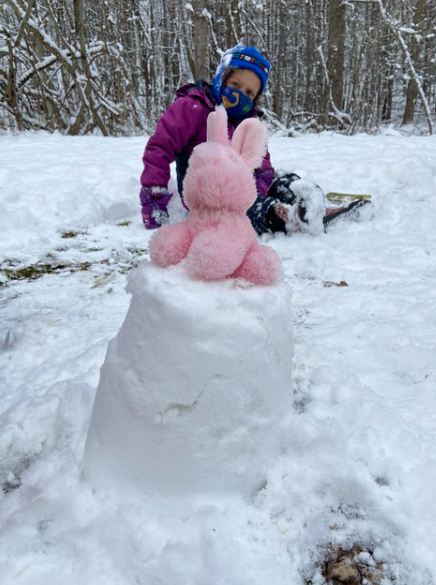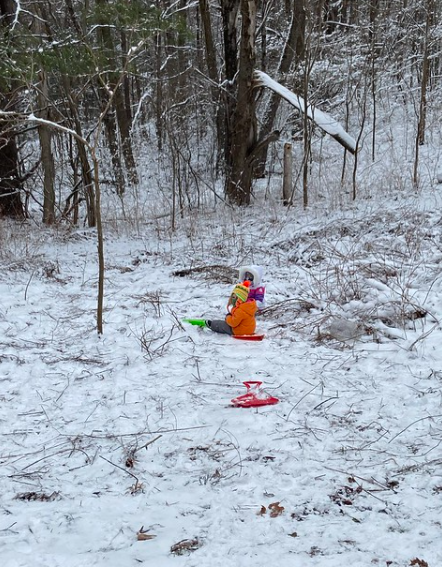 After some free play, we gathered our snacks and headed to Forest Camp to start Morning Meeting. Today was the first day that we chose a playschooler to be our Morning Meeting Leader and she did such a great job! She decided we'd go on a tracking hike up to Lookout Rock after snack, then look for hidden (laminated) bears around Forest Camp, have some lunch and end our day playing.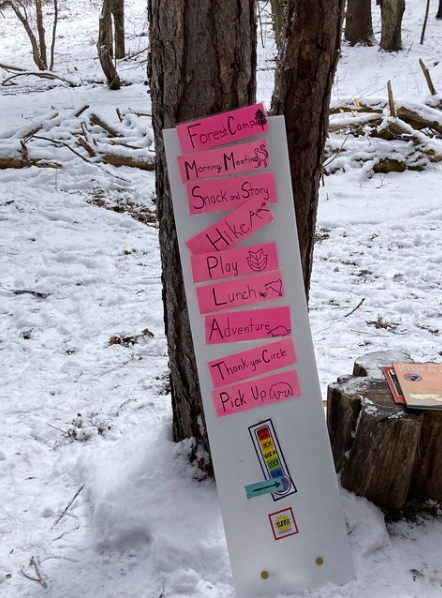 We had snack around a fire and tried our best to keep mittens on because it was chilly!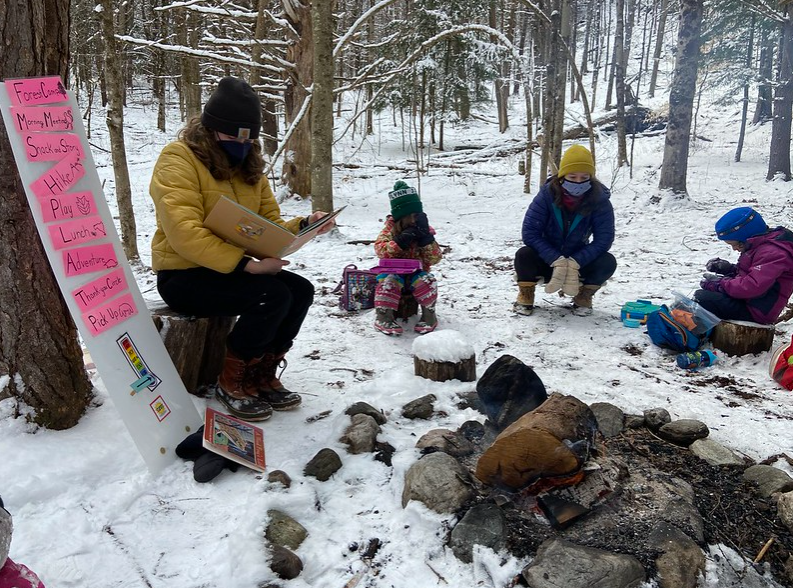 After snack, we started on our hike up to Lookout Rock. We tried to find some tracks along the way, but the snow was too fresh to find anything clear.
It was so beautiful up at Lookout Rock! The evergreens were covered in snow and everything was so fresh. After our hike we went back down to Forest Camp to find the hidden bears.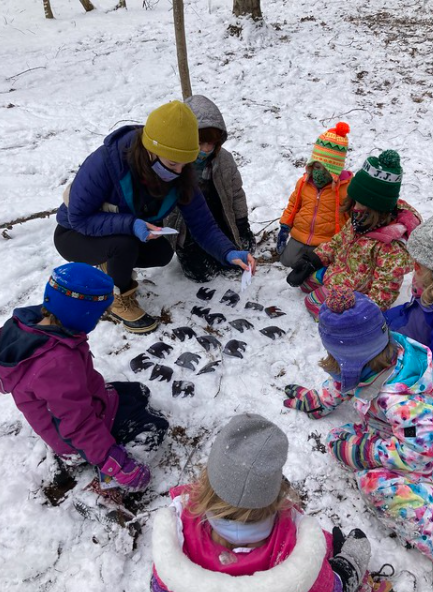 We ended our day with lunch and some free play around Forest Camp. We climbed, cooked in the snow kitchen and played in the fort.
See you next Friday!
Monday 4/5
We started our day in the backyard looking for bunnies.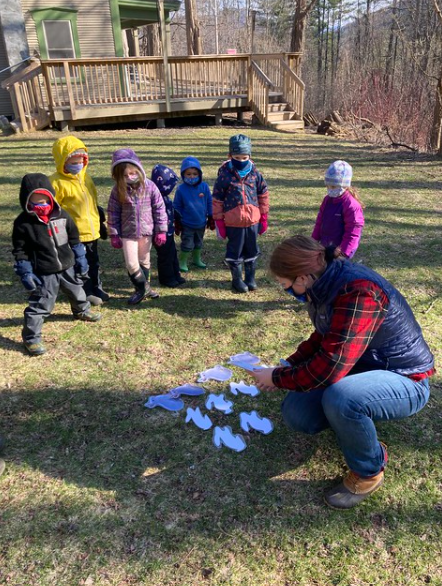 Then we did a little stretching and yoga poses in the sunshine.
Soon, it was time for Morning Meeting and snack. So, we grabbed our lunchboxes and walked over to Forest Camp. Today we chose our first playschooler to be the Morning Meeting leader! During the winter when weather made planning less flexible Emily or I would usually plan the day, but now it's getting warmer so it's time for our playschoolers to have a go.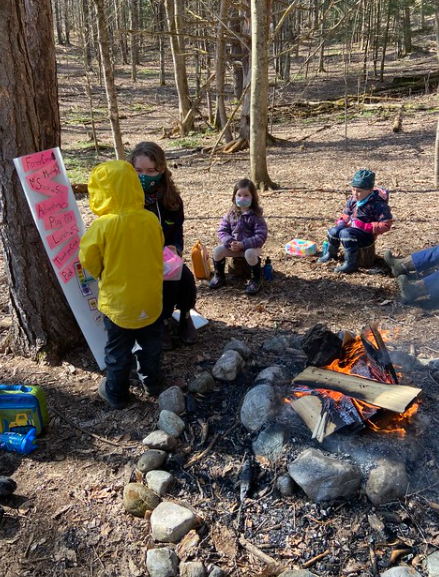 We planned to go on a spring scavenger hunt after snack, have freeplay, eat lunch and then our day would be over! Before our spring scavenger hunt we talked about some signs we look for to know winter is over and spring is coming. We came up with leaves and the color green, flowers, amphibians and more. We did our scavenger hunt in the garden. Rather than give each playschooler their own scavenger hunt card we decided to call out different signs and have the playschoolers run all over the garden to find them. It was so much fun! We found new green shoots, green grass, singing birds and swollen tree buds.
After we found all of the things we could on our scavenger hunt, we went back to Forest Camp for free play.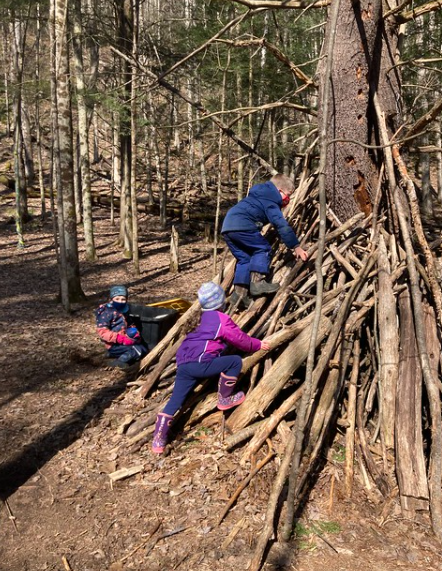 Finally, it was time for lunch. We heard two stories and then brought our belongings back to our cubbies. We played in the backyard until adults arrived.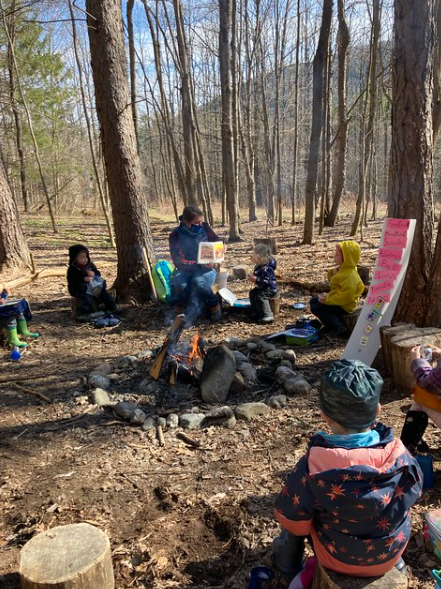 See you next week!