Written by Environmental Conservation Intern Grace Yaros.
It's a beautiful morning in early August at Audubon's bird banding station, sunny but not too hot under the shade of the forest.
Ovenbirds are easily one of my personal favorite warblers. Unlike most of the other members of their family, they are not especially colorful, but their plumage is subtly beautiful, with a bright orange crown that pops against their unique greenish-brown body feathers. The adult Ovenbird in my hand, however, is admittedly looking a bit scruffy. She's finished breeding for the summer, and now that her chicks are fending for themselves, she's started molting her feathers in preparation for migration. In addition to her new feathers that are currently coming in, she's just received a shiny new band on her leg. This band isn't just for show—this bird has just become part of a 33-year-long bird population monitoring project.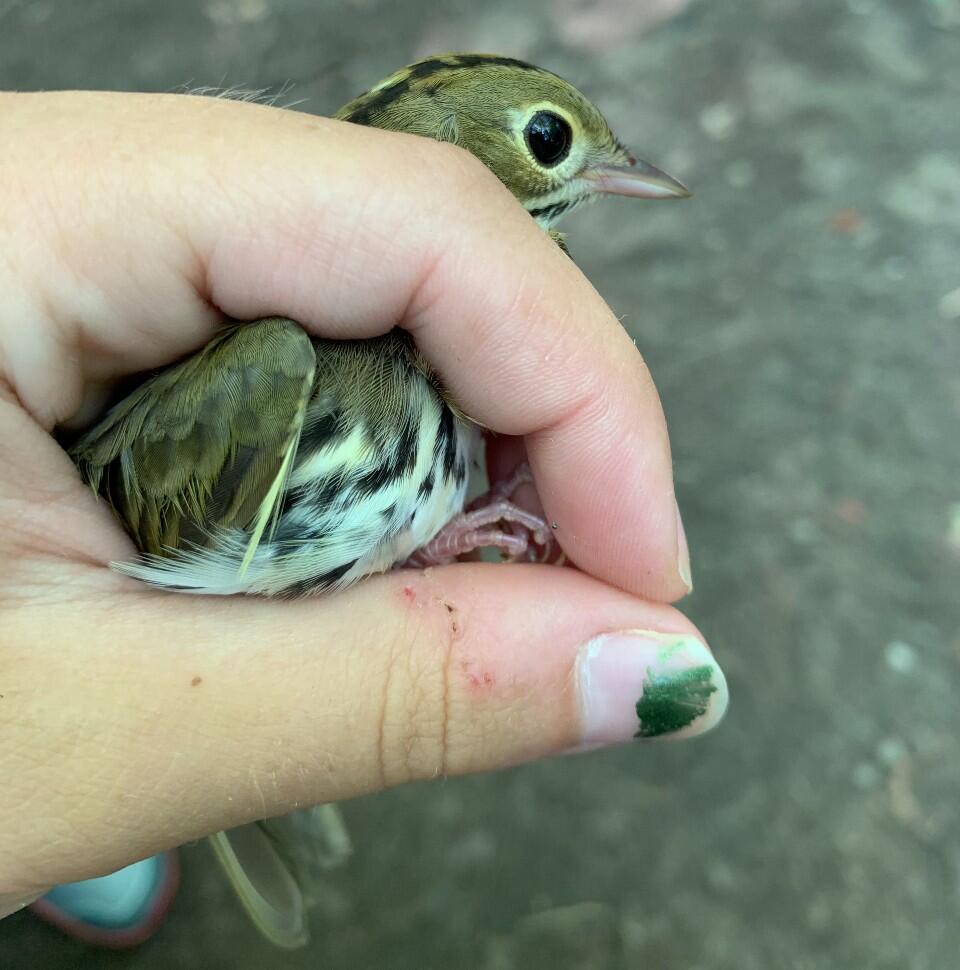 The Green Mountain Audubon banding station, located at the Green Mountain Audubon Center, is part of the MAPS (Monitoring Avian Productivity and Survivorship) Program. This program, started in 1989, is organized and managed by the Institute for Bird Populations. In compliance with the Migratory Bird Treaty Act, the MAPS banding station at the Green Mountain Audubon Center is operated by a USGS-licensed Master Bander, Mark LaBarr. The program operates throughout the United States and Canada, and there are currently hundreds of active banding stations. MAPS analyzes the data that they receive from the banding stations to estimate recruitment, productivity, and survival of a particular species— essentially, how many individuals are added to a population over a period of time, and how many individuals in a population are surviving from one time period to the next.
The station at the Green Mountain Audubon Center has been operating since 1997. In addition to reporting the data we collect back to MAPS, data from the station are also sent to the Bird Banding Laboratory, a program managed by the United States Geological Survey.
To catch the birds, special nets called "mist nets" are set up. These nets are lightweight mesh nets that are hung taut between two poles. The nets are designed so that they are not easily visible to birds, so birds fly into them and become harmlessly caught. Once we remove a bird from the net, they're brought back to the banding station. This is where we give the bird an aluminum band on their leg (if they don't already have one). Each band has a unique string of numbers engraved on it so that individuals can be easily identified. The bands come in a range of different sizes, so every bird gets a band that fits just right. In addition to new birds, we often catch birds that have already been captured and banded, referred to as "recaptures." For these birds, we copy down the numbers on their band.
Once a bird receives their band and/or has had their band number recorded, the next step is to collect data on sex, age, if they're in the process of molting, wing length, and weight. Gathering this data can definitely be trickier than it seems— there are sometimes only subtle differences in plumage between birds of different ages, and it certainly takes time and experience to train your eye to pick up on these details.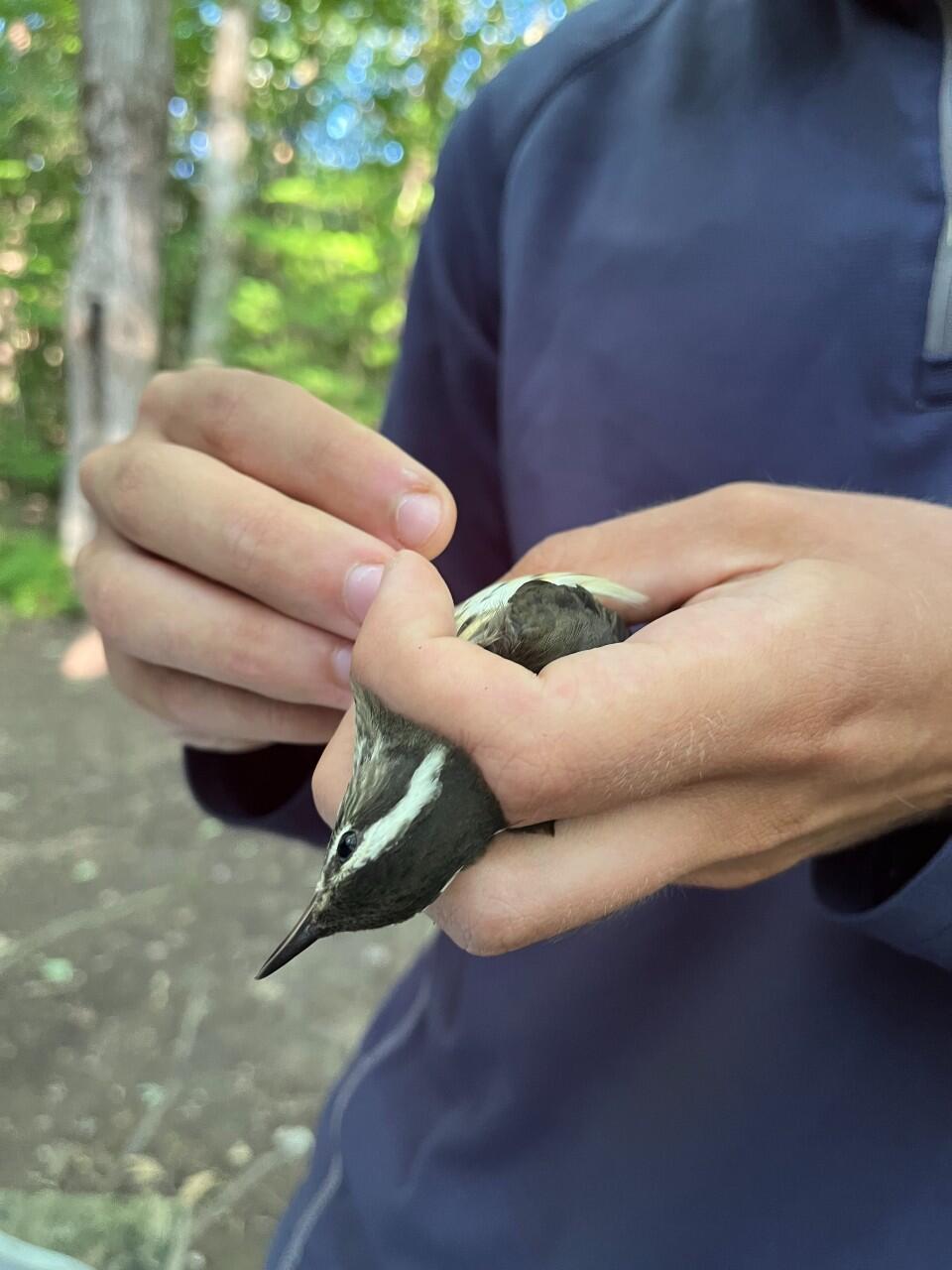 As a part of my summer conservation internship with Audubon Vermont, my fellow intern and I have had the privilege of learning how to band birds at the Green Mountain Audubon station. My experience banding has given me the opportunity to get to know the birds up close and personal. Each bird has their own personality. Some are calm and accept their examination with quiet resignation, while others are much more vocal about their displeasure. I've gotten to know the individual birds that raise their young at the Green Mountain Audubon Center, from the feistiest Red-eyed Vireos, to the family of Louisiana Waterthrushes by Sherman Hollow Brook. I was beyond excited when we captured our first juvenile of the season around mid-June, a young Song Sparrow. After that, the number of young birds in the nets kept increasing. I will absolutely never forget the young Yellow-bellied Sapsucker we banded one morning— the spotting on his head was subtly beautiful, and the bold black and white patterning on his pointy tail was striking.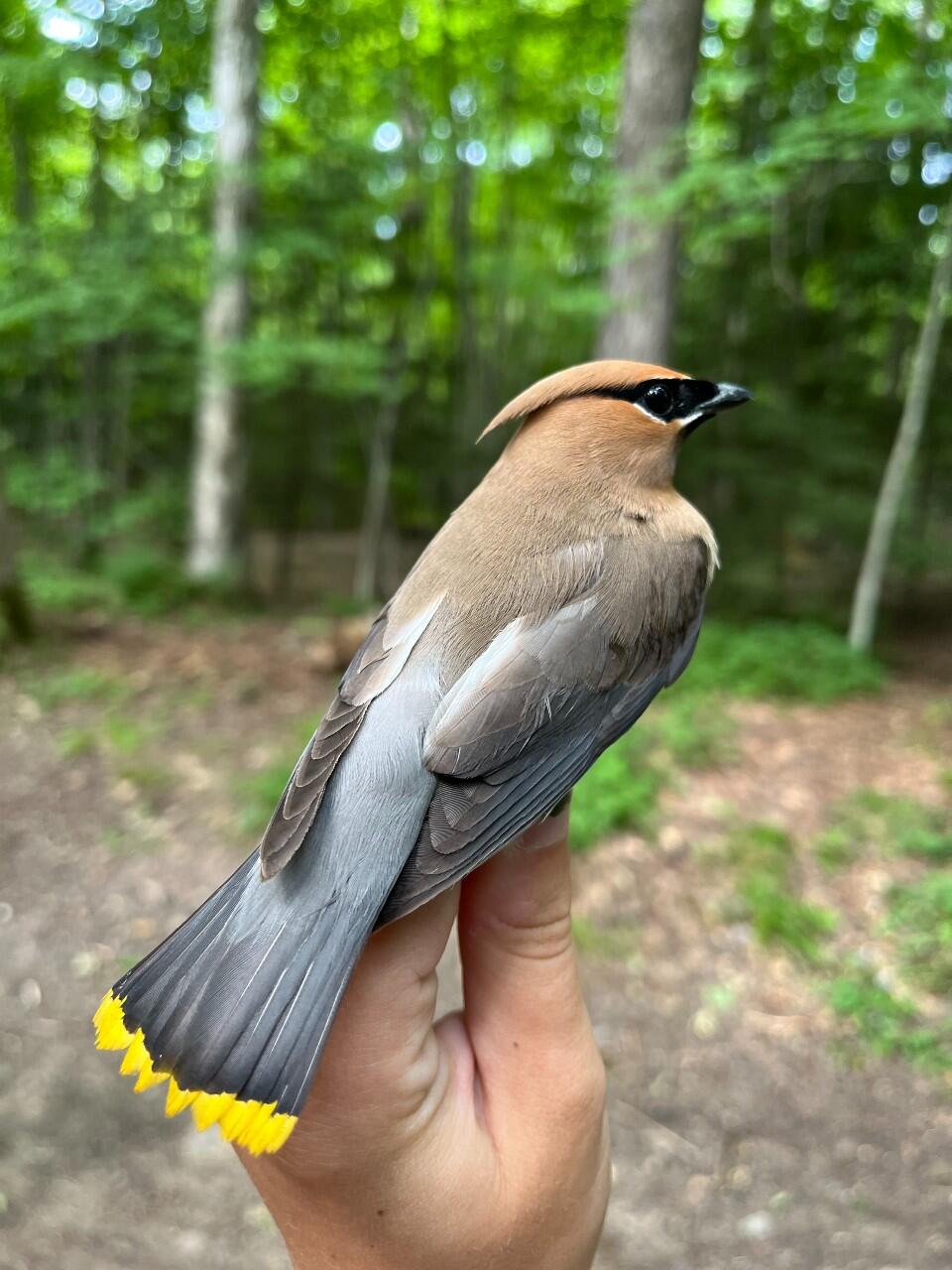 I've also gained a renewed sense of awe at the remarkable journeys these birds take each spring and fall, and a sense of wonder at how they find their way back to the same plot of forest each year. One of the many recaptured birds we caught this season was a male Veery. They are one of the more common birds we catch at the station, and their beautiful, flute-like song can be heard all around the Green Mountain Audubon Center. By looking at his band number and referring to data from previous years, we learned that this particular male was first banded in July of 2016, and he has been returning to the Audubon Center— and recaptured in our mist nets— every year since then. When he was first captured, he was determined to be at least two years old, meaning that today he is at least eight years old. He spends the breeding season in Huntington, then migrates to central South America for the winter months. Though the exact location of where this particular Veery overwinters is unknown, let's estimate that he winters somewhere in central Brazil, near the Brazil-Bolivia border, making each trip to his wintering ground around 4,000 miles each way. As of this summer, this bird has flown at least 52,000 miles in his lifetime. For a bird that only weighs around 30 grams (about as much as a lightbulb), that's pretty impressive.
Next time you visit the Green Mountain Audubon Center, take the time to pause and think about where the birds around you are coming from, and how far they've travelled to get here. And keep an eye out for any birds with a metal band around their leg.
To learn more about the MAPS Bird Banding Station at the Green Mountain Audubon Center: click here.