Monday (9/13): Mossy Rocks and an Obstacle Course
Our first day of our fall session of Forest Playschool was a hit!
We spent the morning looking for photos of squirrels around the front yard—they were hiding tucked behind trees, around our picnic tables, and even some lounging on our chairs! After finding and counting 26 squirrels together we started morning meeting and got to introduce ourselves, share something fun we did over the summer, and plan our day!
Our day started with our introduction to Forest Camp, which is where we had our snack and first story of the day. We weren't there too long though before we started on our hike up to Mossy Rocks! At Mossy Rocks everyone got to practice climbing some rocks and trees and we all got to explore and play together.
Once we were back at Forest Camp our new friends got to explore the mud kitchen. Our friends even worked together to build their very own log and rock obstacle course! With the obstacle course up, we all got to take turns practicing balancing along it.
After lunch it was time for Thank You Circle and pick up! We are so excited to have met this new group and for all the adventures we have ahead of us this fall!
Friday (9/17): Barred Owl! Mossy Rocks, and Fairies
Our morning started with us searching for squirrels in the front yard, but our squirrel counting was soon interrupted by a very special sighting—one of our friends and her parent spotted a Barred Owl! The owl was showing off for us, and sat still for quite some time on a branch not too far from us all. Watching the owl even turned into an opportunity for us to test out our binocular skills.
During our Morning Meeting in the front yard we planned a day of exploring Forest Camp and hiking up to Mossy Rocks. After a snack and story at Forest Camp, we were off! At Mossy Rocks we got to put our climbing skills to work and everyone had a blast finding fairies and having imaginative free play together.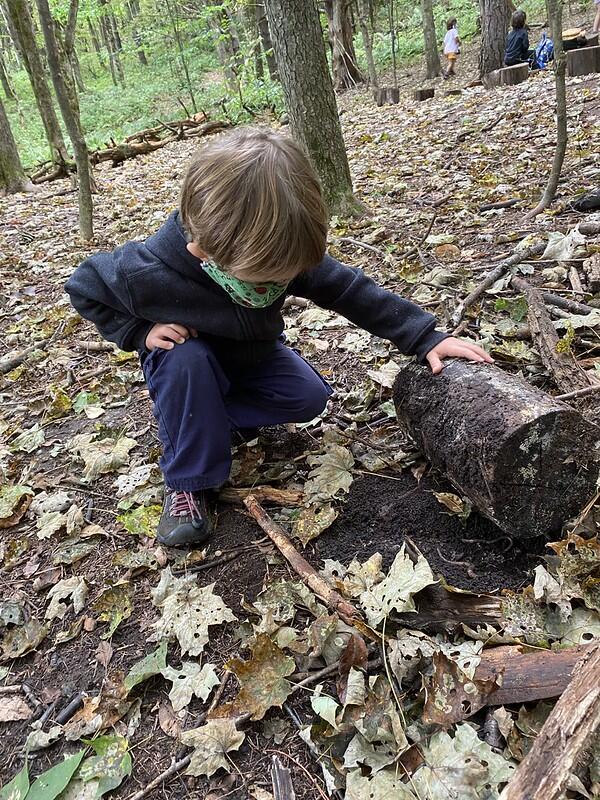 On our hike back to the barn after lunch and Thank You Circle, the Barred Owl was waiting for us on the other side of the office! It was a magical way to end the day and we all got to wave goodbye to our new owl friend.