By Rae Bronenkant, AmeriCorps Member
These cool, crisp days, make me think about new binders and fresh pencils ready to be sharpened. At Audubon Vermont the start of the school year feels a bit different. We get our backpacks full of snacks and water and head out into the woods to play, build, explore and take in all the lessons the natural world has to offer. We do that best at one of my favorite Audubon programs our Forest Playschool and my first week back was beautifully wrapped up with one of my favorite Audubon programs our Forest Playschool.
This year Teacher Naturalist Emily Kaplita and myself (Rae Bronenkant), will be teaching every Friday. The goal of this playschool is to become a member of the playschool community, to work together, learn together and be outside all day, yes all day, no matter the weather. As the parents were dropping off their kids, we started our first day drawing outside and finding items to look at more closely under the big magnifying glass.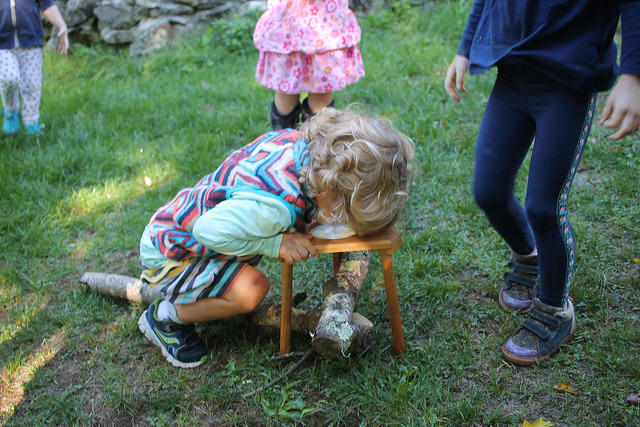 After everyone had arrived, we dove right into establishing our expectations and routines. Every Friday there will be a leader of the day to plan and guide us on our adventure. Today was Emily's turn. We all grabbed our carpet squares and made our very best circle. Each morning we have our morning meeting and talk about the weather and our plan for the day. Afterwards we headed out with our things and refueled with our snacks on the lawn.
After our snack, we were off on a hike through our magical Forest Camp. Along the way we snuck up on chipmunks, rolled our bodies over logs, and spied on all sorts of mushrooms. Once at Forest Camp we gave them the space to explore, but not before putting out backpacks on the Backpack Trees! There is an old shelter, built by last year's Preschoolers, and a stump circle around the fire pit where we like to keep warm while we enjoy the fairy homes, and all the magic of the forest around us. Some Playschoolers built forts, some cooked something up in the kitchen and some found perfect sticks to use as tools. Before lunch we gathered and sat on the stumps to talk about Forest Camp.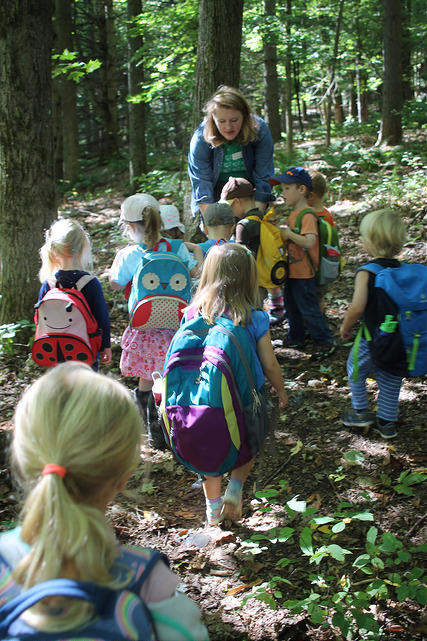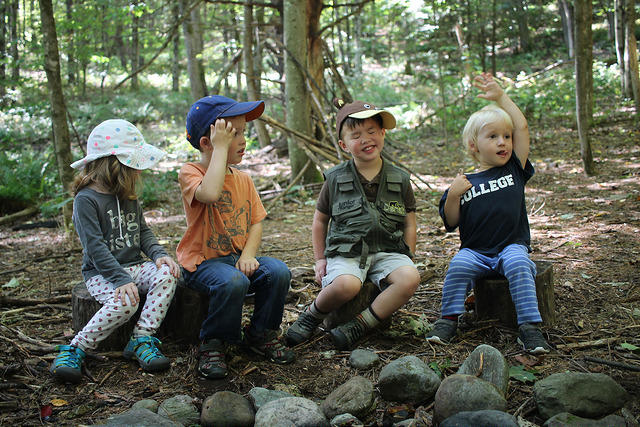 But then…… a salamander was spotted! I walked my way around letting each person look and then touch, talking about the magic of salamanders. For some it was the first time they touched a salamander! We talked about gentle open hands and how salamanders breathe through their skin, so we have to be careful if we touch them. Most just watched quietly as the eft attempted to crawl off my palms.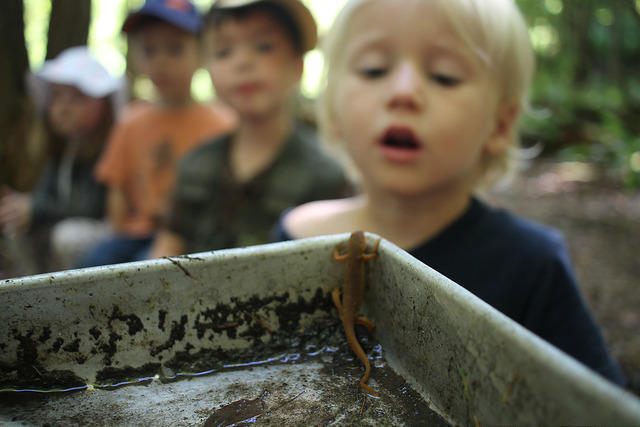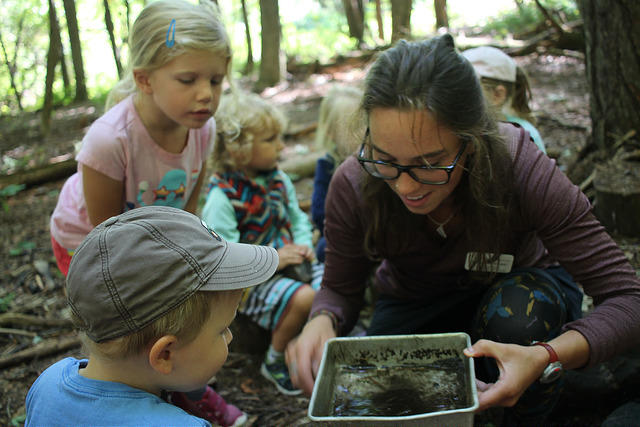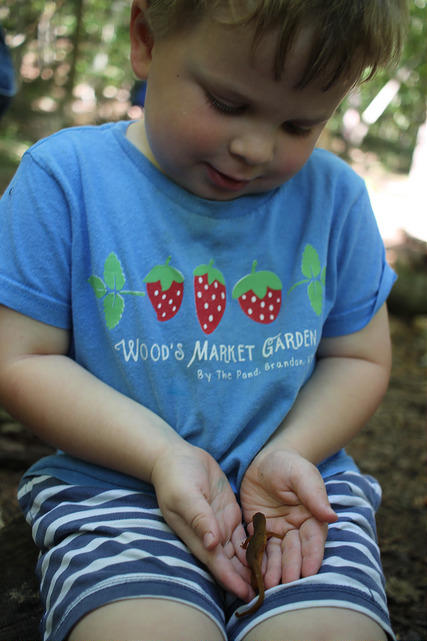 It was an amazing first day and I look forward to exploring, learning, connecting and engaging all the amazing young minds of this year's Forest Playschool group!
INTRODUCING THE 2018 FALL FOREST PLAYSCHOOL CLASS