It's been quite a year for people who love birds and exploring the outdoors. During these times of staying at home and social distancing, birders found new ways to engage with their favorite feathered species – and folks who didn't know they were birders discovered fluffy friends right outside their windows for the first time.
Whether it be singing jingles about the water cycle or unlocking the secrets of birdsongs from the comforts of their couches, Audubon centers across the country adapted to the pandemic. Places like Seward Park Audubon Center, John James Audubon Center at Mill Grove, and the Green Mountain Audubon Center flexed their digital creativity by designing virtual camp kits, hosting virtual summer camps, and making lessons and materials digitally available for everyone. These Audubon staff members engaged people exactly where they were at – at home, online, and in their backyards.

Back in March, Audubon enacted plans to limit the spread of COVID-19 to ensure the safety of staff and the communities they serve. As a result, offices and centers closed and events were either cancelled or postponed. Some of the causalities of these plans included Audubon Vermont's programming.
Instead of cancelling these in-person events, Audubon Vermont transformed them. As everyone adjusted to staying at home and social distancing, Audubon Vermont used these new challenges as opportunities to reach communities where they were.
Debbie Archer, teacher, naturalist, and education program manager for Audubon Vermont, says the entire office had to totally re-structure its education work. Prior to their pandemic-related closure on March 16, Archer says she and her colleagues had never led or hosted a webinar. On the technology side of hosting Zoom meetings and webinars – it was a huge learning curve for staff.
In addition to tapping into training resources from the Audubon network, they also reached out to a local community partner, Outright Vermont, who had shifted their queer-andquestioning youth support group to a virtual meeting format. The biggest priority for Audubon Vermont was ensuring their new online environments had the same feeling as their in-person events– making sure these virtual spaces were safe and welcoming online meeting spaces where all voices were heard.
Even though Audubon Vermont facilitated COVID-safe, in-person programing in the fall – Archer thinks we're officially in an era where organizations must think virtual. Though the mindset shift (to digital) was the biggest hurdle for their staff, the office is now positioned (and prepared) to facilitate online programs well into the future. Audubon Vermont knows that this new way of learning makes access from a distance as well as access for people who need childcare easier."It is important to meet people where they are at because we have been asked to stay at home," says Archer. "If the idea is that nature and conservation work is something we can do only over here, then we would lose our members. Nature centers are not the only place where people can engage with Audubon. Our efforts can and should be accessible everywhere."
Since the Green Mountain Audubon Center's COVID closure, Audubon Vermont transitioned in-person programs and events online – including their annual Birdathon, led virtual Pride hikes, produced a video series and multiple Instagram TV episodes, created a resource hub entitled Audubon from Home, partnered with the University of Vermont on a mentorship program, and most recently hosted a webinar series, "Tough Conversations."
The results were wildly popular and well-worth the effort to re-structure. Some of the surprise benefits of going online and re-structuring included overwhelming engagement and enthusiasm – particularly for their first ever Virtual Birdathon in May, their collaboration with the University of Vermont's "Birding Buddies" program, and their youth-led "Tough Conversations" webinars.
Audubon Vermont's Virtual Birdathon engaged more than 200 people, captured the excitement via their Instagram story highlights, received more than 200 birding checklists, and surpassed their fundraising goal. People birded close to home from different parts of the state, other parts of country (including Hawai'i), and across the globe – more than 5,000 species were tallied!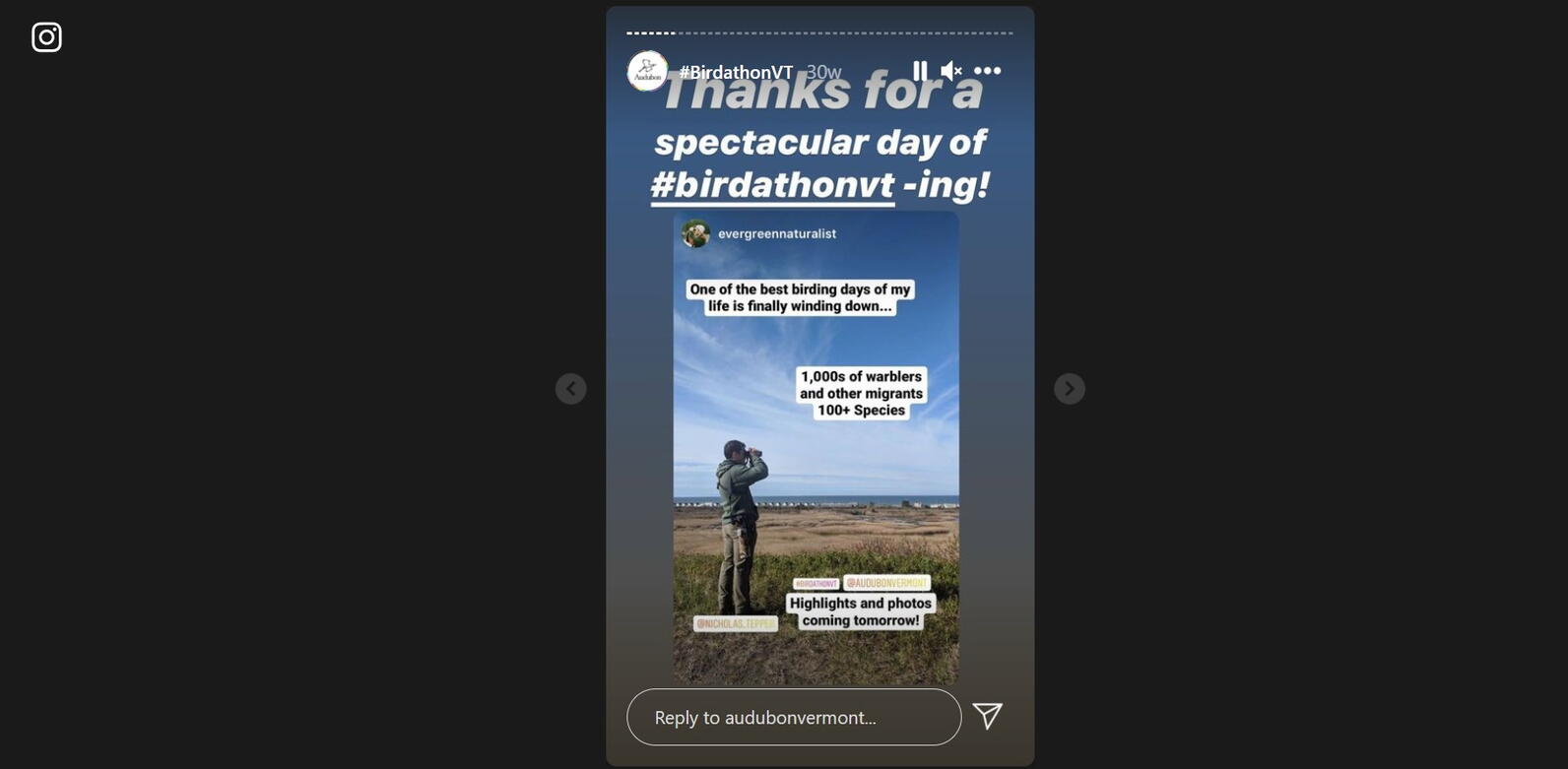 In her fifteen years of participating in the Birdathon and teaching environmental education, Gwendolyn Causer, a teacher, naturalist, and communications manager for Audubon Vermont, never thought this would be possible. During the pandemic, she has noticed a trend: people are more acutely aware of the environment and wildlife around them. As Audubon Vermont continues to adapt their online strategies and virtual engagement, Causer wants the focus to be on the needs of the community.
"We had to redefine and rethink our notions on what nature is and where it is. As an educator it is super-powerful to see the new ways people are opening their eyes and appreciating nature. My primary purpose is to feed that spark," says Causer. "For me, it does not matter how many birds students see – it is about how many people I engage with and how I am nurturing their interests. You are only going to conserve things you care about."
In partnership with Dr. Trish O'Kane, a lecturer at UVM, Audubon helped facilitate more than 200 student-to-bird enthusiast mentorships. According to Causer, the National Audubon Society's LGBTQIA+ (Queer) Affinity group is even planning to use the program as model for a future mentorship program.
Throughout the summer, Audubon Vermont catalyzed conversations on important social and environmental topics. The murders of George Floyd, Breonna Taylor, Ahmaud Arbery, and countless others showed the country's deeply flawed criminal justice system must change. These events sparked a global conversation on the ways in which racism pervades our social and legal institutions, including our systems for protecting the environment. The ongoing "Tough Conversations" series is a space to engage in and address topics like environmental and racial justice and climate in the age of COVID. The first three webinars of this ongoing series reached more than 50,000 people who wanted to hear from emerging voices in the environmental and policy arena. Audubon is prepared to be challenged, informed, and armed with tools to take action, and so are tomorrow's leaders.

It took a bit of ingenuity, but they're now well prepared for a future where "organizations must think virtually." As they prepare for the new year, Causer forecasts that virtual programming like their newest webinar series, "Ask a Naturalist," will continue throughout the coming seasons. Though the year brought unprecedented challenges, Audubon Vermont managed to proceed with their scheduled programming and are committed to online programs after the pandemic to create more accessibility for their audiences.