Pride Hikes: Sterling Pond plus Spruce Peak
Co-hosted by Audubon Vermont, Pride Center of Vermont, and Outright Vermont
Sunday, October 20, 2019
9:30am - 3:30pm
Location Details
Sterling Pond and Spruce Peak: Carpool from South Burlington or the base of the gondola in Stowe
7231 Mountain Road, Stowe, 05672
***We will meet up in the parking lot at Shaw's/Starbucks at 570 Shelburne Road in South Burlington at 9:30 am to arrange carpools. If you'd like to meet us in Stowe, we should be there by 10:45 am. The trailhead can be busy and hard to find parking, so we'll gather at the parking lot at the base of the Stowe Gondola (find it on google maps as The Midway Lodge in Stowe). We'll then re-arrange our carpools and drive up the Notch Road to the trailhead. Please let us know ahead of time if you plan to meet us in Stowe. RebeccaSwem@yahoo.com***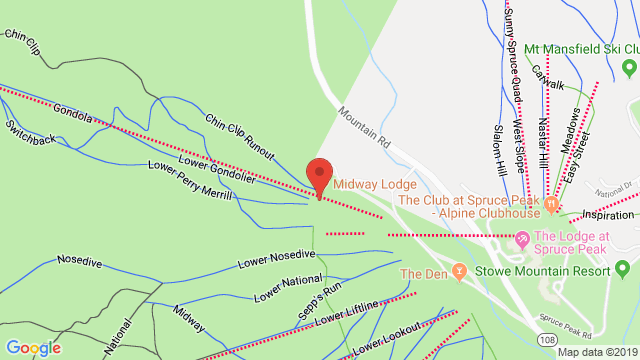 LGBTQA+ hikers are gathering to hike the Sterling Pond Trail and Spruce Peak at Smuggler's Notch. This is a short-but-steep and somewhat challenging hike. It's about one mile up to Sterling Pond. The trail starts with an impressive (and rather relentless) rock staircase, keeps climbing, then reaches a lovely payoff at the tranquil Sterling Pond. After a snack and some water we'll head south on Snuffy's Trail for another 0.4 miles to reach the summit of Spruce Peak.
"Starting off directly across from the info station at the parking lot, the first quarter mile is saturated with carefully built stone steps. Much of the first three quarters of a mile is lined with deciduous forest, trickling water and everything else you would expect in a wild area. Those unaccustomed to rocky and uneven surfaces may be interested in something with a bit of ankle support. The climb itself is not unforgiving, like the Hell Brook trail or the Long Trail up Mansfield, as climbing comes in bursts and flats are thrown in often." – All Trails
Trail Statistics: 2.8 miles round-trip, 1,100 foot elevation gain, approximately 3 hours to hike round-trip, rated "moderate." A trail map is available here. If you require accommodations or have questions about accessibility, please contact Audubon Vermont at 802/434-3068.
Becky Swem will lead the hike to provide birding, botany, hiking, and tracking tidbits.
All ages, allies, and families welcome! Youth under 18 years should be accompanied by a parent/guardian.
Please wear weather-appropriate clothing and bring snacks and plenty of water! Dogs are welcome as long as they are leashed.
Co-hosted by Audubon Vermont, Pride Center of Vermont, and Outright Vermont.
***We will meet up in the parking lot at Shaw's/Starbucks at 570 Shelburne Road in South Burlington at 9:30 am to arrange carpools. If you'd like to meet us in Stowe, we should be there by 10:45 am. The trailhead can be busy and hard to find parking, so we'll gather at the parking lot at the base of the Stowe Gondola (find it on google maps as The Midway Lodge in Stowe). We'll then re-arrange our carpools and drive up the Notch Road to the trailhead. Please let us know ahead of time if you plan to meet us in Stowe. RebeccaSwem@yahoo.com ***
Photo: Pride Hike: Sterling Pond. Photo credit: Audubon Vermont