Look up in your neighborhood and report Chimney Swifts to Audubon using eBird!
Audubon Vermont is teaming up with the Vermont Fish and Wildlife Department to monitor Vermont's Chimney Swift population. Chimney Swifts are considered a "Species of Greatest Conservation Need" by the Vermont State Wildlife Action Plan, due to their population declines in Vermont and throughout their range. Chimney Swifts breed in the central and eastern United States and winter in the Amazon basin of Peru, northern Chile, and northwest Brazil.
Chimney Swifts rely on masonry and flue-tile chimneys during both nesting and migration seasons. Chimney Swifts historically used large, hollow trees for nests and roosts, but as the old forests were cut down, they learned to use chimneys and other structures. Now, Chimney Swifts rely almost entirely on human-made structures for nest sites. Because they cannot perch like songbirds, Chimney Swifts need deep shafts in which to raise their families and roost at night. This species is protected by Federal law under the Migratory Bird Treaty Act of 1918.
Super-Awesome Facts About Chimney Swifts:
Chimney Swifts eat nearly one third of their own weight every day. These "aerial insectivores" devour flying insects, including mosquitoes, biting flies, and termites.

Chimney Swifts are an important component of Vermont's biodiversity, and their populations are declining range-wide (see more details below).

Chimney Swifts' aerial acrobatics and interactions with each other are spectacular to watch.

Chimney Swifts have some amazing adaptations: they can "sleep" in flight.; often young swifts do not stop flying for their entire first year.
Like many Neotropical Migrants, Chimney Swifts are declining in numbers and need our help.
Chimney Swift populations are steeply declining, with a 53% percent drop between 1966 and 2007 in the United States. Many chimneys have been capped or removed, which has reduced the number of places swifts can nest and raise young. Typically, just one pair will nest in a chimney during the breeding season, although swifts may share a chimney for roosting. After the breeding season and during migration, as many as thousands of swifts will roost (settle or congregate to rest at night) in one chimney or similar structure.
What Can I Do to Help Chimney Swifts?
Participate in our Chimney Swift surveys this spring and summer. See the documents below for how to report your sightings.

Please remember to SHARE your eBird checklist with the Chimney Swift Project (CHSW_Survey). See note at the bottom of this page for tricky iPhone app options for sharing your checklist.

Keep masonry or clay flue-tile chimney tops open and dampers closed from March through October to provide the opportunity for Chimney Swifts to nest.

Have your chimney cleaned in early March before the Chimney Swifts return from their winter home in South America.

Metal chimneys should be permanently capped to prevent birds and other wildlife from becoming trapped.

Email us at mfowle@audubon.org if you are interested in working with local conservation groups to construct Chimney Swift Towers in your area.

Educate your friends and neighbors about Chimney Swifts.
More about Chinmey Swifts...
The Chimney Swift is one of four species of swifts found in North America (Black Swift, Vaux's Swift, and White-throated Swift are the others), and the only one found in the Atlantic Flyway. Adult Chimney Swifts are most often seen in groups in flight. When soaring, their long pointed wings support a short, wide body with a squared-off tail. Some folks say they look like "flying cigars" because of their body shape. Chimney Swifts' flight is accompanied by loud, chattering twitters. Both adult males and females are identical in appearance: sooty-gray to black with silvery-gray coloring on their neck. Both sexes. Their long wings cross over the tail feathers, which are tipped by pointed bristles. Theses tail bristles and claws are used to cling to rough vertical surfaces.
Chimney Swifts arrive in the continental United States in late March and migrate back south by early November. Nesting begins in May, and can continue into August. Nests are a half-saucer shape and made of twigs glued together with the adults' saliva. The adults break off short dead twigs for the nest while flying by. Chimney Swifts usually raise a single brood, and there will be only one active nest in any structure regardless of the size of the site.
At the end of the breeding season, the swifts' communal instincts peak prior to fall migration. They congregate in flocks of hundreds and even thousands at suitable roost sites. Although Chimney Swifts can withstand a few early cool snaps, they will usually ride south on the first major cold-front that blows through in the fall.
For more information on how to identify Chimney Swifts by sight and sound and natural history information see the Audubon Field Guide or All About Birds.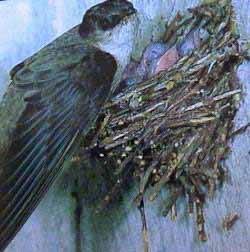 Sharing your eBird checklist with the iPhone app is a little tricky. Here's what you need to do:
For number of observers, you have to put 2. Once you do that, "Share Checklist with.." pops up as an option. Click it and enter eBird username "CHSW_Survey". If you birded alone, then the party count will be wrong. so you can go back online to edit it later.
Option #2 for sharing is to go online and share the eBird checklist on the webpage later. here's how:
1. go here - https://ebird.org/vt/eBirdReports?cmd=subReport
2. select the checklist you want to share by hitting share
3. on checklist's upper left corner find the share button
4. enter eBird username "CHSW_Survey"
5. share the checklist by hitting green button ("share checklist")
About the Artist
Chimney Swift artwork by Katie Kennedy. Learn more about the artist here.

Chimney Swift Project Stickers are available to purchase online. Proceeds will support the Chimney Swift Recovery Project. Click here to make a donation to the Chimney Swift Recovery Project.
About the artist: My name is Katie Kennedy and I lived in Vermont for four years while studying Wildlife Biology at the University of Vermont. It was during this time that I learned about birds and bird watching, and I quickly found that I was even dreaming of seeing birds. I used drawing and painting as a way to understand birds more and improve my identification skills, and soon it became very natural to create artwork that was completely inspired by my love of birds. Although I love the excitement of spotting a rare bird, the familiar and common species, like the American robin, bluejay, and chimney swift make a connection to wildlife accessible to everyone. To me, chimney swifts invoke a feeling of summer in Burlington, comparable to creemees and sunsets over Lake Champlain. Their quiet chatter and whimsical flight patterns bring a smile to my face, and allow me to dream of soaring and gliding through sunny streets.
How you can help, right now
Support Audubon Vermont
Help us engage people of all ages in education, conservation and action. Audubon Members receive camp and program discounts as well as Audubon Magazine.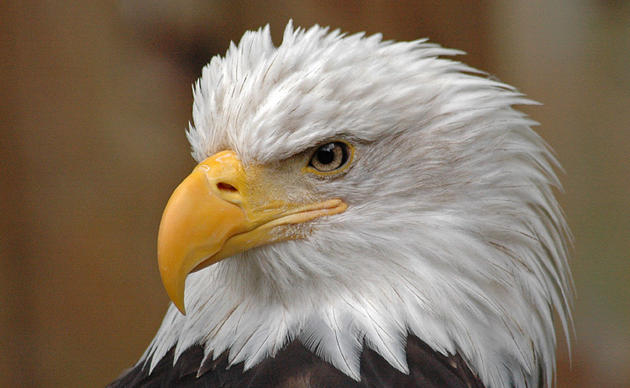 The Joy of Birds
Birds bring us happiness in so many ways. Whether you're just looking for a lift, unable to enjoy the outdoors, or in desperate need of distraction, look no further than this birdy care package.