We had a wonderful gathering at Audubon Vermont's Bird and Barn Festival on September 25th! More than 200 guests joined us for a full day of activities to celebrate the reopening of our beloved Education Barn after extensive renovations.
David Mears welcomed guests and opened the festival with a reading of the poem "Home from Guatemala (No Walls Here)" by author, poet, and wildlife biologist Drew Lanham. He also took a moment to remind us that as we celebrate the good work of Audubon, we should take the time to acknowledge and remember that the Audubon Center is on land which has served as a site of sustenance, community, meeting and exchange among Indigenous peoples, specifically the Abenaki, since time immemorial.
Early birds to the festival attended morning bird walks with either Ali Wagner or local Bird Diva, Bridget Butler. Bridget first fell in love with birding during her days as a teacher and naturalist at the Green Mountain Audubon Center. Naturalists from the Audubon Center also led walks in the forest, around the pond, and to investigate insects in the field.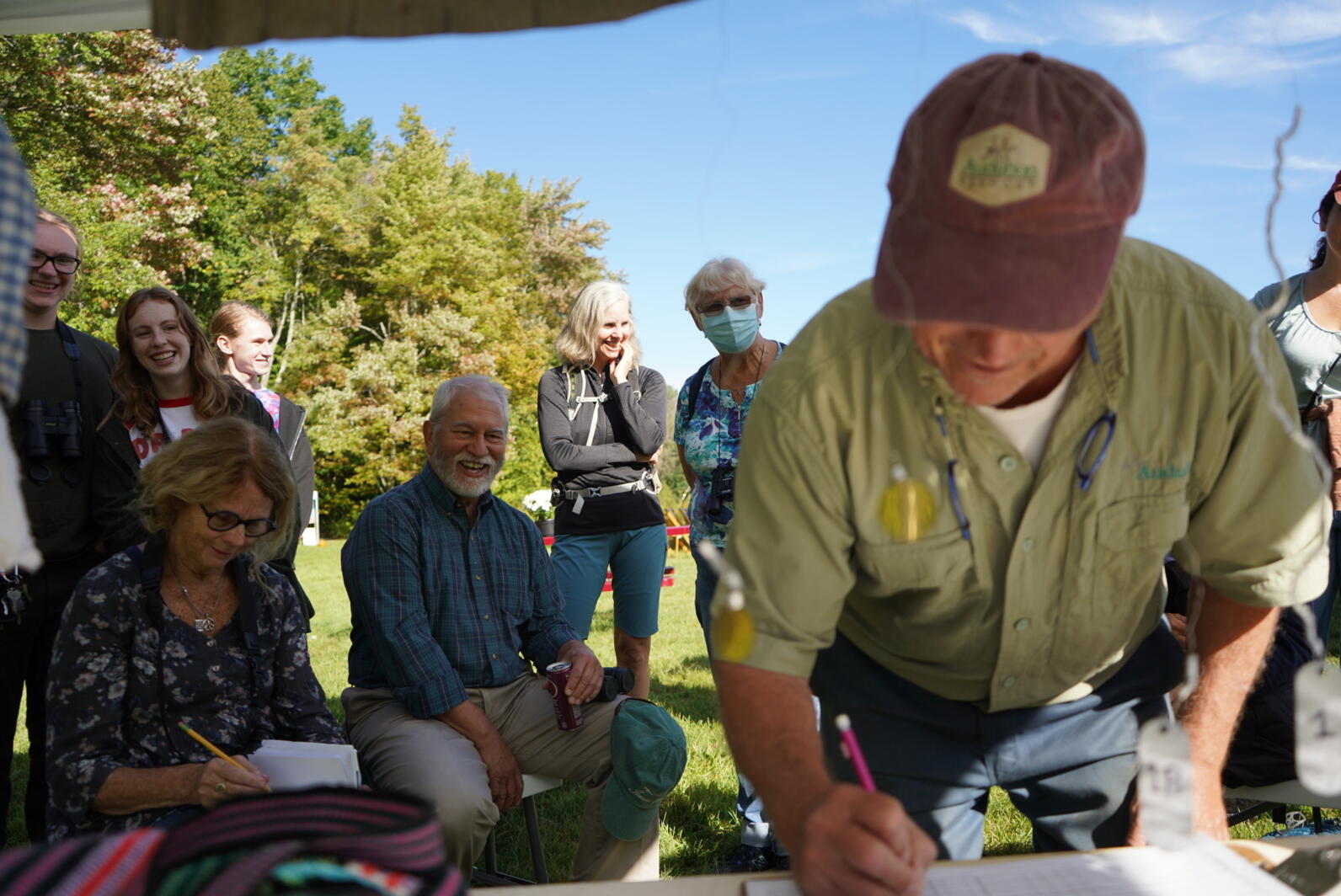 During a morning of bird banding, Mark LaBarr managed to catch an impressive variety of birds, including a Hermit Thrush, a Magnolia Warbler, and a Ruby-crowned Kinglet. Our neighbors from the Birds of Vermont Museum helped us celebrate by showing us how to make soap carvings of some of our favorite birds, and Erin Avelle, artist at MetamorFaces, painted our faces with portraits of birds that are migrating through Vermont.
In the afternoon, Steve Hagenbuch, our resident maple sugarbush expert, took a group of twenty out to show them how we manage our sugarbush to support maple syrup production in a way that also supports birds. And Craig Newman from Outreach for Earth Stewardship brought three beautiful owls from the rehabilitation center to show festival attendees and teach them about these nocturnal residents. Craig shared the stories of how each bird came to him and a wealth of information about how each owl is well adapted to life in Vermont year-round. The Great-Horned Owl was especially entertaining, showing off its impressive wingspan several times throughout the presentation.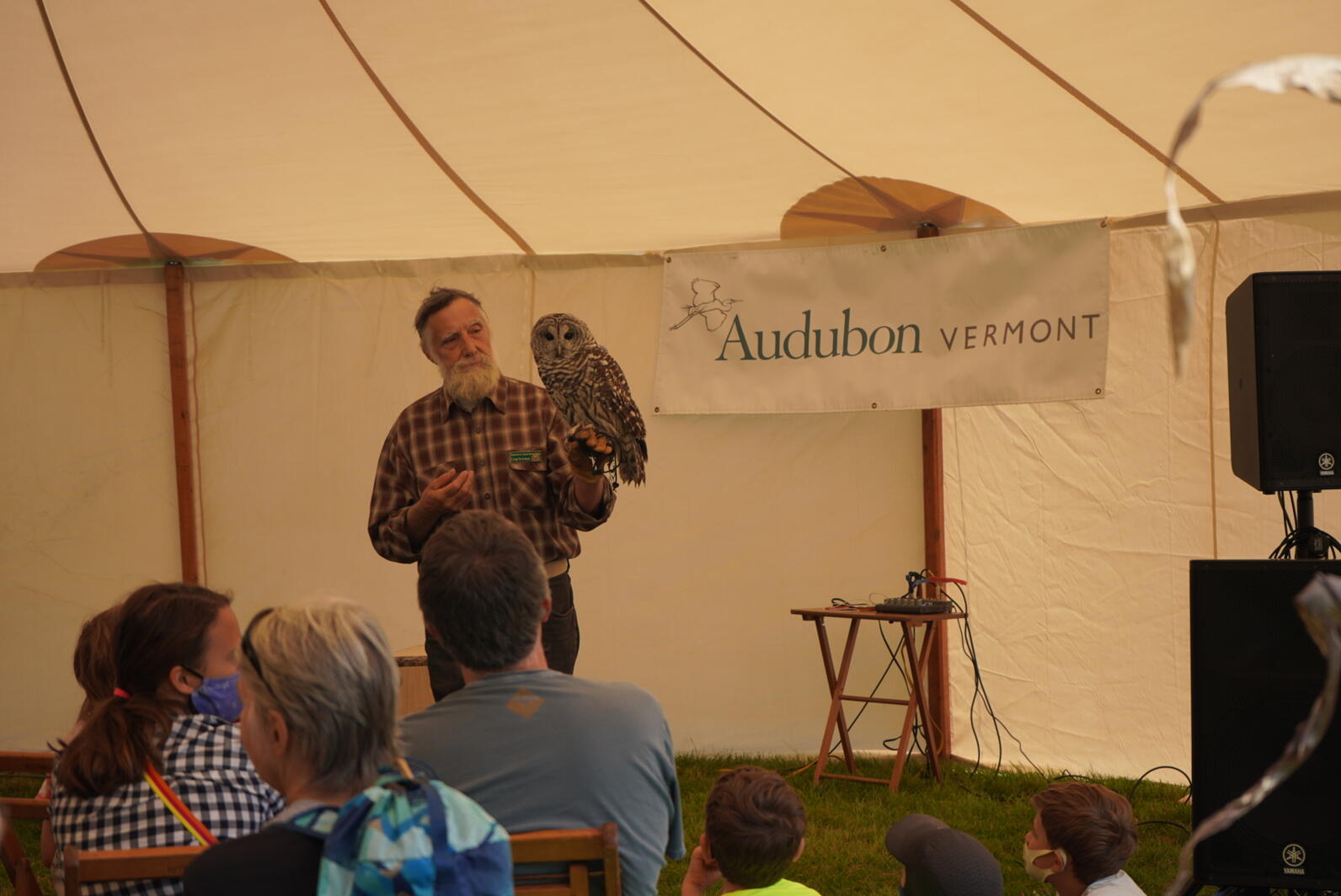 Even the weather seemed on our side, and we were grateful that The Udder Guys brought plenty of Adirondack Creamery ice cream on such a warm autumn afternoon. As a special treat, they also brought a selection of books about birds to peruse and purchase. They then donated 10% of purchases back to Audubon!
In short, we had a great time! And it's hard to express enough gratitude to our generous sponsors Main Street Landing and the Green Mountain Audubon Society, as well as Charlie Frazier and Sandy Combs for providing a sound system, and Audubon Vermont's Board of Directors and interns who worked tirelessly on preparations for the event.
We're also thrilled with the meticulous restoration of the barn itself. To see photos of the renovation process from start to finish click here.
With the generous support of foundations and donors, we were able to make the space more comfortable and energy efficient without sacrificing its original historical character. Happy Hollow Builders, of Huntington, Vermont oversaw the renovations in collaboration with Center Director Kim Guertin.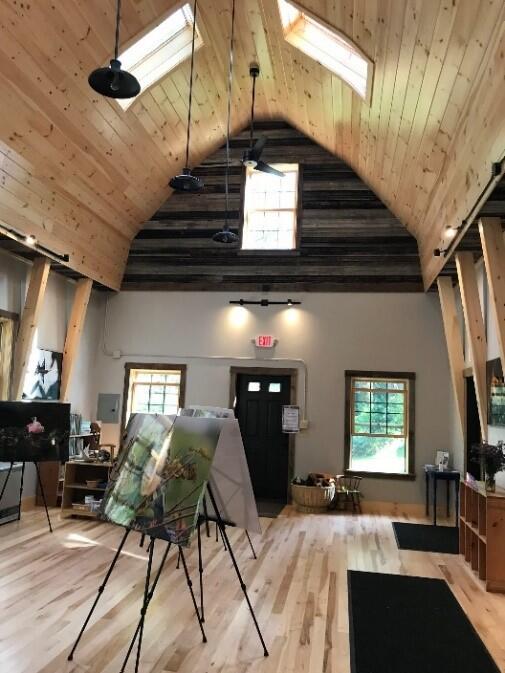 Renovations included the replacement of the windows and doors, the installation of cedar siding and a new chimney pipe, and the insulation of the ceilings, floors, and walls. In an effort towards sustainability, original materials were reused when possible. The old barn siding was repurposed on the upper gable end walls, and windows were trimmed using repurposed barn board. Local maple hardwood floors were installed throughout the building, and the hinges of the barn doors were replaced with hand-forged replicas of the originals made by a local blacksmith. Words can hardly do justice to the careful craftsmanship and thoughtful attention to detail that went into these restorations, so please take the time to stop by next time you're out birding on the trails!
In the coming year we also hope to install a permanent accessibility ramp and improve the bird and wildlife gardens surrounding the building to provide habitat for even more feathered visitors. With the support of our funders, we're able to maintain and improve the Center and keep our trails free and open to the public from dawn till dusk every day of the year.
We hope you'll consider making a donation here to enable us to continue our work to protect birds and engage our community, at the Audubon Center and in Vermont.