If you were living in Vermont last October, you might remember the severe windstorm that took place on October 30, 2017. Central and northern Vermont were hit hard by the storm and it caused a great deal of damage at the Audubon Center in Huntington. A large black locust tree fell on Audubon's office building, damaging the attached deck, roof and interior walls and ceilings in the circa 1850's renovated farmhouse.
Hundreds of additional trees fell throughout the Audubon Center's 255-acre property, damaging outbuildings, picnic tables, trail signs and creating dangerous obstacles throughout the 5-mile trail system. For the first time in the history of the Audubon Center, we closed to the public for four days as staff and community volunteers worked tirelessly to clear and inspect the hiking trails and repair and stabilize infrastructure to ensure the buildings and grounds were safe for visitors.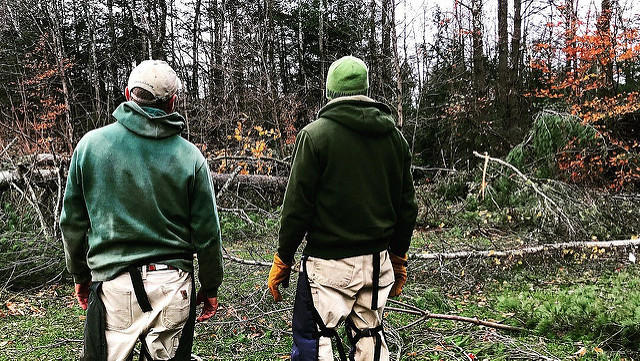 The outpouring of community support in the weeks following the storm was substantial. Shelburne Farms, a fellow non-profit organization, graciously sent a crew of four highly skilled sawyers to the Audubon Center along with a farm tractor that had forks and a winch to help us clear one of the most dangerous sections of downed trees. The Vermont Youth Conservation Corps (VYCC) followed suit, sending a talented trail crew from Richmond to help fell trees that were dangerously tangled and in many cases overhanging highly traveled trails at the Audubon Center. Channel 5 ran a news story on the recovery efforts while the VYCC was at the Audubon Center. You can watch the news story at the following link: https://www.youtube.com/watch?v=EipKFU0CaDo.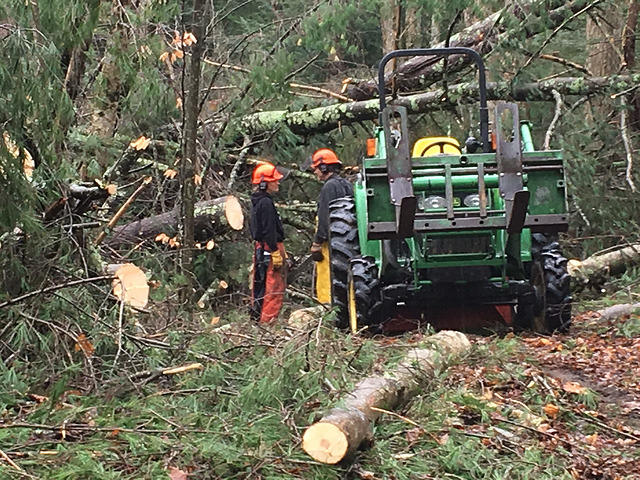 Other community volunteers spent countless hours helping Audubon's staff to clear fallen trees and other debris so we could reopen to the public and to the hundreds of schoolchildren and families that visit each fall for nature-based education programs.
Almost a year later, thanks to generous donations from foundations and individual donors, our recovery is complete. Contractors have repaired the office building deck and roof caused when a large tree fell on the building. They fixed damage to the old plaster ceilings and walls inside the office. Work on our trail system is always an ongoing effort, but all of our trails are now safe and accessible to the public. We hired a local logger to salvage trees he could sell and he then processed ten cords of firewood for our sugarhouse out of the leftover wood!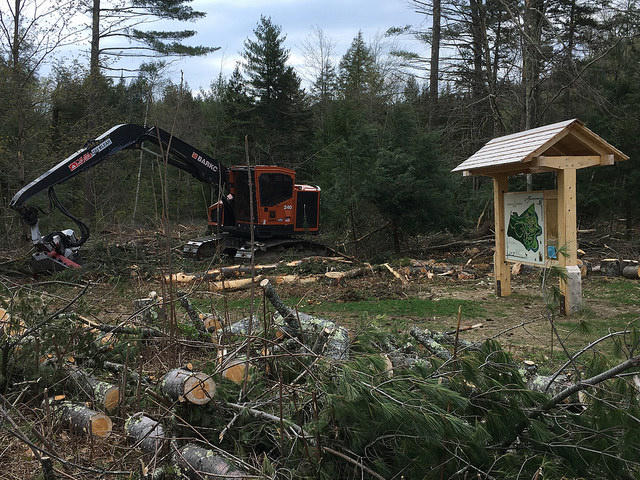 Below are photos showing the damage and our recovery efforts. Please visit the Audubon Center to hike our trails and to see our freshly repaired office walls and deck in person. Autumn is a lovely time to visit!