It is wild to think that we have only 2 more weeks of Forest Classroom after this one. The day may have started cloudy, but the sun did come out and shine, and this group of students doesn't let the weather stop them at all!
We began the day exploring a fallen down dead tree and chopping away at it with sticks and rocks. It was really great to see how the different tools did different things to the wood and work together. We created a lot of wood chips! We had so much energy that I thought it would be a good idea to run it out with our favorite game, Park Ranger. We did one round of it before it was time for morning meeting.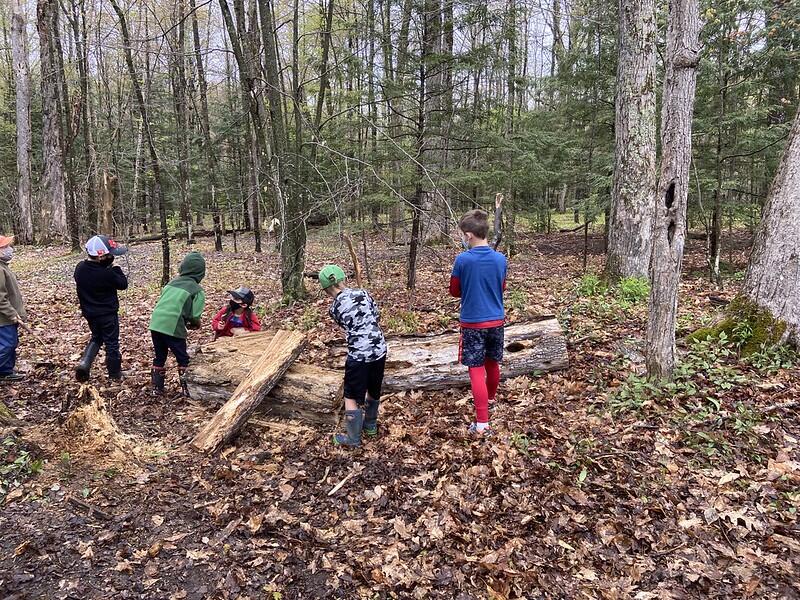 We opened morning meeting with two fun questions, our favorite animal that has 4 or more legs and our favorite color. Favorite animals ranged from fox, toad, spiders, wolverine, and so many mor, favorite colors ranged from red, blue, purple, and pink!
Once our day was planned out by everyone we enjoyed snack and a story. Sarah read a very funny book, Diary of a Worm, we enjoyed learning about a worms life and all the silly things that can happen.
After snack we grabbed either a net or a yogurt cup and went to Beaver Pond. Before we got there I told everyone that we were approaching a fox den and that we might be able to see a fox kit or two. Unfortunately we didn't, but Sarah and I are going to move the game camera there and see if we get any pictures! At Beaver Pond we explored the water, collected about 8 newts, and found a baby painted turtle. Others explored this rock wall in the woods and built a dam with the flowing water.
After a while we moved to the brook. This was a spot that not everyone had explored before but has a lot to offer. We made boats and sent them down the brook, build stick and rock bridges and explored the wonders of Audubon.
Soon it was lunch time that was followed by everyone sharing their favorite part of the day, it was such a great day it was hard to pick. We wrapped up with free play by the clubhouse where some played a fox game, others went back to work on chopping away the logs, and there was another group village game happening too.