It sure is starting to feel like fall. This morning I could see my breath for the first time and my toes couldn't seem to get warm either.
There were so many leaves on the ground that many of us wanted to have fun and make some leaf piles and leaf walls. I worked with some friends and did some slug hunting to build our slug mansion, we had 7 slug living in the mansion and they were getting along great.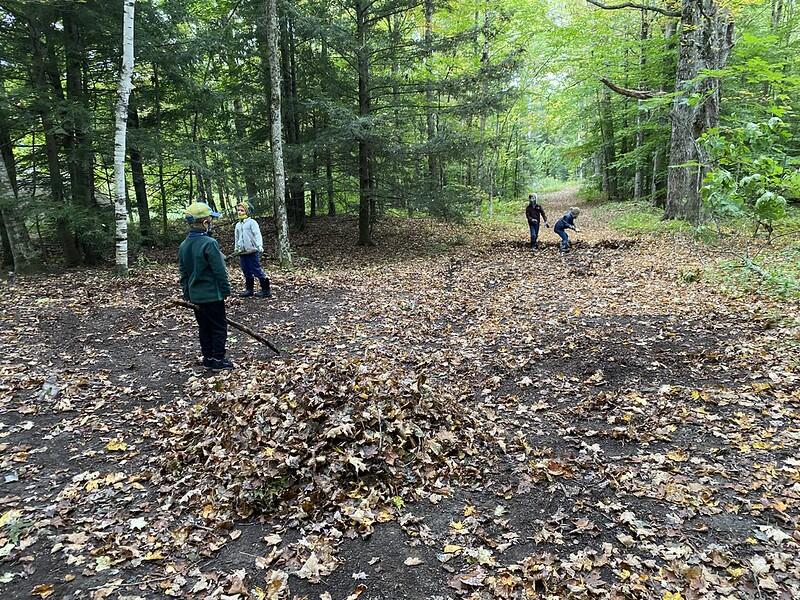 During morning meeting we talked about how when it gets colder there might not be as many fun critters to find and that there are other activities to keep us warm, like building fort and fires, learning about tracking wildlife, going on hikes, exploring the upper part of Audubon, and so much more.
We decided that this was probably going to be one of our last days take a trip to Beaver Pond until it is either fully frozen over, or is Spring! We journeyed there first and we found an orange ball in the woods, we picked it up to not litter and it was inflated. A few of us enjoyed playing keep away with the ball while others played in the mud. No critters today, besides some grasshoppers and crickets.
We didn't have a second stop of the day, we wanted to spend all the time at Beaver Pond for our "last" day. When we got back to the Clubhouse we had a little early lunch, and then we went back to what we were working on in the morning. A few of us worked on a fort that is something I would consider sleeping in outside for shelter.