Fall brings dramatic change to our landscape here in the northeast- the leaves, the migration of birds and insects, and here at Audubon Vermont we have said goodbye and welcomed in a few of our staff members that we want to take a moment to recognize.
Jacob Crawford joined our team as our new Community Science and Chapter Engagement AmeriCorps Member. Jacob will serve with us this coming year leading community science programs for the public, assisting with education programs for youth, engaging college students around the state with conservation actions, and connecting to Audubon's Chapters across Vermont. Read Jacob's Bio.
-
Sarah Hooghuis has returned as our Youth Conservation Leadership Coordinator, after Rae Bronenkant departed to pursue classroom teaching. Sarah previously served 2 years as our Outreach and Education AmeriCorps Member and worked as a maple sugaring assistant in our sugarbush last year. As our Youth Leadership Coordinator, Sarah will run our Jr Conservation Technician and Counselor in Training programs for high school students, as well as other opportunities for young adults and young professionals. Learn more about our Youth Leadership Program and Sarah's Bio.
-
And lastly, after 17 years with Audubon Vermont, Gwen Causer marked her last day earlier this month. I am grateful for her time, particularly in education, leading hundreds of programs over the years. Gwen brought Pride Hikes to Vermont, working with partners to advance inclusivity in the outdoors. She wore many hats at Audubon Vermont, including compiling our newsletters and other communications for our members and the press. Since the pandemic she also worked with our conservation staff, particularly in our Bird Friendly Farming initiative. We wish her best of luck in her future endeavors. See below for her farewell letter.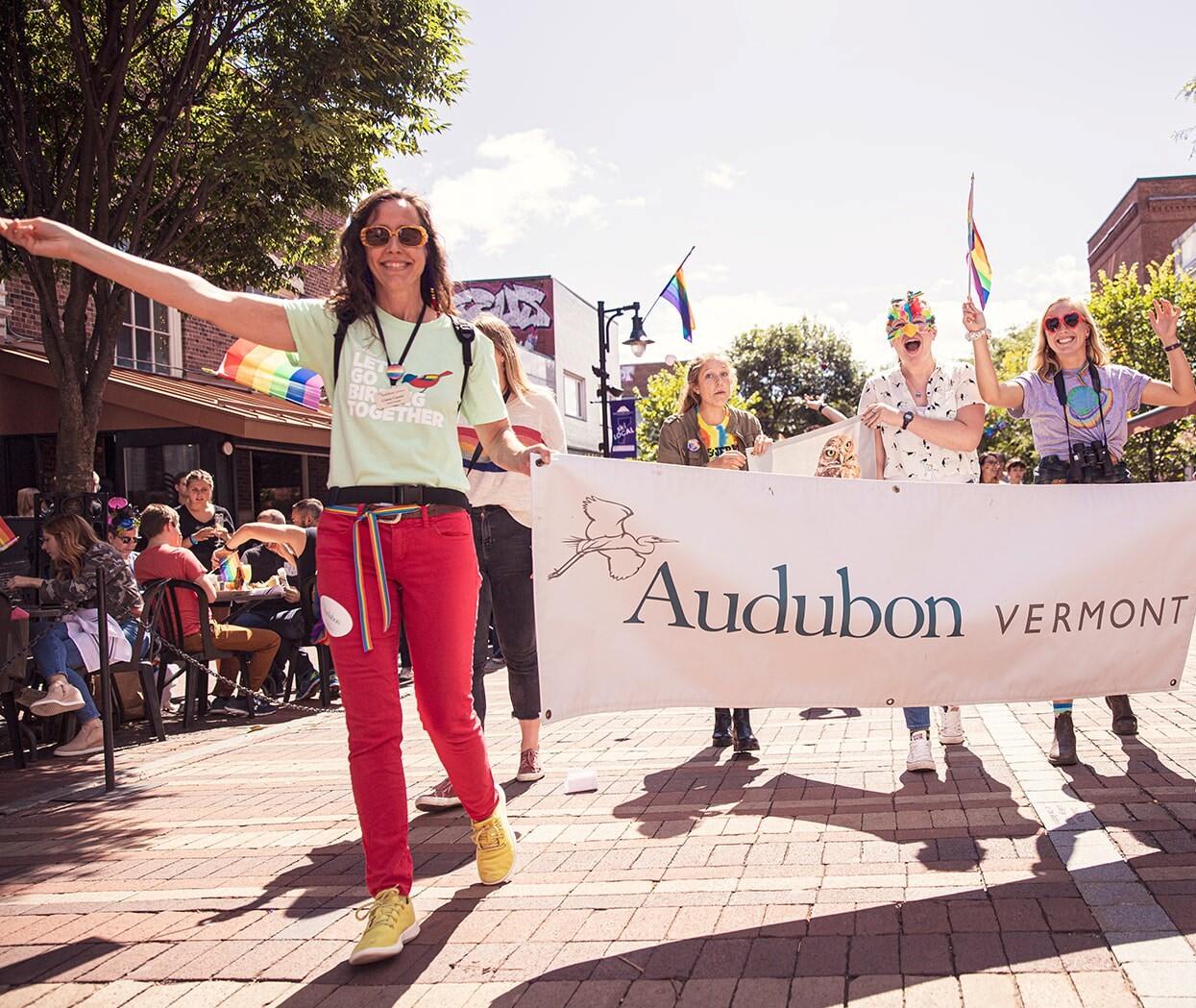 After 17 years with Audubon, the time has come for me to depart from the flock. I am truly honored to have spent my days and years learning, growing, and evolving in this environment, taking inspiration, guidance and support in so many different ways from all of you in my community. I appreciate the opportunities I've had over the years to connect people to nature and to witness the healing power of engaging with and caring for the natural world in unique and personal ways.
Partnerships have made some amazing things possible. I'll start close to home. Thank you to the many volunteers, community groups, and Burlington Parks, Recreation and Waterfront for transforming the wetlands at Oakledge Park with me from a soggy softball field into a vibrant habitat, bursting with native plants. I walk to Oakledge almost every day and I'm always humbled by the changes.
Thank you to the Pride Center of Vermont and Outright Vermont for launching Pride Hikes with me and for holding a safe space for our Queer community on the trails every month, rain or snow or shine. I've never experienced anything as powerful as the Pride Hikes - I'll see you all in January.
Thank you to Outright Vermont for trusting us to host Gender Creative Kids Outings and for the opportunity to bear witness to the joy of celebrating gender creative youth outdoors.
Thank you to the farmers and colleagues who have co-created our Bird and Bee Friendly Farming project. I'm looking forward to watching this grow!
Thank you to the countless school kids, families, friends, chaperones, teachers, preschoolers, senior citizens, unschoolers, interns, AmeriCorps members, and Audubon teacher/naturalists who have joined me in the woods, at the pond, brook, and river, in parks (King Street Kids!) and schoolyards (Winooski Newcomer Academy! Champlain Elementary!), at gardens and nurseries and libraries, on farms, and, yes, even in webinars, to experience a little Audubon magic together. Thanks for catching salamanders, birding by ear, making maple syrup, starting fires, identifying plants, tracking foxes, foraging for mushrooms, and forest bathing with me.
Thank you to all of my Audubon colleagues, near and far, past and present, for bringing passion and a sense of humor to our work together. A special shout out to Audubon's Affinity Groups, Audubon's All Gender Working Group, and our Audubon for All Union. You've given me the strength to make change. In Vermont, thanks for all the Birdathons, Sugar on Snow Parties, Sugarbush Tapping Days, and quiet walks in the woods together at the Green Mountain Audubon Center. Audubon truly is a magical place.
So, this is farewell, but not goodbye. I plan to remain connected to our community as I chart my new path forward. I'm looking forward to seeing you as my next chapter unfolds.