Gorgeous birds like the Rose-breasted Grosbeak pictured here are singing their hearts out right now at the Green Mountain Audubon Center. Do not miss your chance to become acquainted with these birds and others. Join us on a bird-monitoring walk this spring or summer. We've been hosting monthly bird- monitoring walks for more than 15 years. These walks, while collecting important data on birds at the Center, are also relaxed, informative and fun. They are open to the public and to birders of all abilities. Honestly, they are perfect even for your very first bird walk. We'll even supply your binoculars!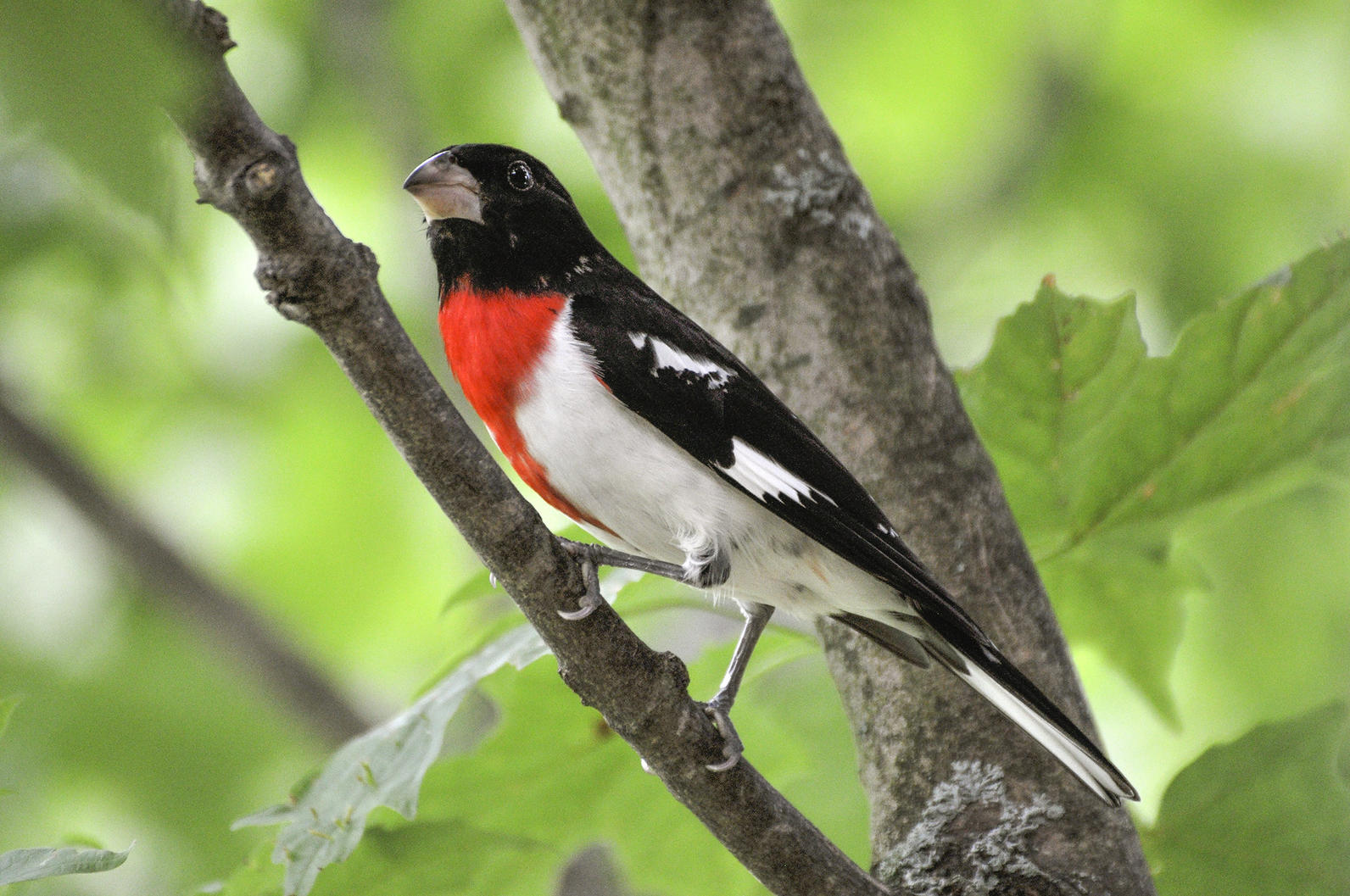 We follow the same monitoring route every month. Walking through early successional/young forest habitat and then around an open meadow that sits adjacent to a wetland you never know what you might see or hear. We take our time walking two loops and make eight official stops to look and listen for birds, counting individuals, and of course identifying each species we see or hear. We also take note of whether the birds were what we call "Flybys", meaning they are seen cruising overhead, "Nesting", meaning they are seen at their nest or with nesting materials in their beaks, or they are recorded as in the "Exterior", meaning they were heard singing, but from outside of the monitoring area. Data collected on these monitoring walks are entered into an online database called eBird, a user-friendly database managed by the Cornell Lab of Ornithology. eBird allows community scientists (like you!) to enter bird sightings year-round and contribute to a globally important conservation effort.
eBird allows us to store our data and also allows us to access the data that we enter over time. We can look at trends and species abundance here at the Center. We can also learn about how land management affects the birds. More importantly, scientists from around the world can access the data collected by a global population of birders that can then be used for research, conservation efforts and education. According to their website, eBird has collected half a billion observations of birds, entered by people like you and me, which have been used to analyze bird abundance, range boundaries, habitats and bird trends on an international scale.
When we take just 1.5 hours out of our day to participate in a monitoring walk at the Audubon Center, your sightings contribute to conservation decisions, scientific papers, student projects and help to inform bird research on a global scale. For me, that's a feel good morning. I have the pleasure of leading the monitoring walks this June and July at the Center. I hope you'll join me bright and early. (It is absolutely acceptable to carry a cup of coffee instead of binoculars. A lot of birding is done by ear anyway.) Please follow the links below to learn more.
http://vt.audubon.org/events/joys-june-bird-monitoring-walk
http://vt.audubon.org/events/heart-summer-bird-monitoring-walk