Audubon Vermont's conservation staff spend much of their time working with private landowners to plan and implement on-the-ground activities that enhance bird habitat on their land. But what if you are not a property owner? What can you do to support bird and habitat conservation? How you spend your hard earned dollars can go a long way toward making sure birds have access to critical habitat.
A great example is the Bird-Friendly Maple Project. By purchasing maple syrup from producers enrolled in the project you are supporting forest management that intentionally considers bird habitat along with sap production and other forest services. Getting the word out about this opportunity beyond the borders of Vermont has recently been given a big boost.
Runamok Maple of Cambridge, Vermont, one of the 27 syrup producers currently involved with the project, recently entered into a business partnership with Wild Birds Unlimited, a nationwide retail company that specializes in bird seed, bird feeders, and many other bird feeding supplies. Human food (maple syrup!) was never part of their business model until now. With over 250 stores coast to coast, consumers all around the country can support bird conservation in Vermont when they purchase syrup produced from a Bird-Friendly Maple Project sugarbush.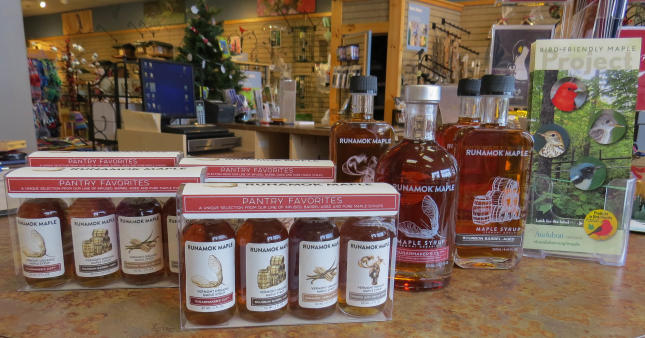 Wild Birds Unlimited customers are not the only new group of people to learn about the Bird-Friendly Maple Project. Thanks to a recent article in the Maple News, the maple industry's trade publication, sugarmakers throughout the country have also been introduced to the project. Check out the full article here.
For a complete list of maple producers participating in the Bird-Friendly Maple Project and for additional information visit http://vt.audubon.org/maple