What a spring day! Warm and cloudy with a chance of rain, nothing says mud season more than this.
As we all arrived we enjoyed in some free play in the sugarbush. Some of us found some sticks and made flutes, trumpets, and drum sticks and a drum set. Others played in this nature made fort near the clubhouse. It is a wonderful space to curl up and hide and pretend to be a squirrel, a fox, or even a bear.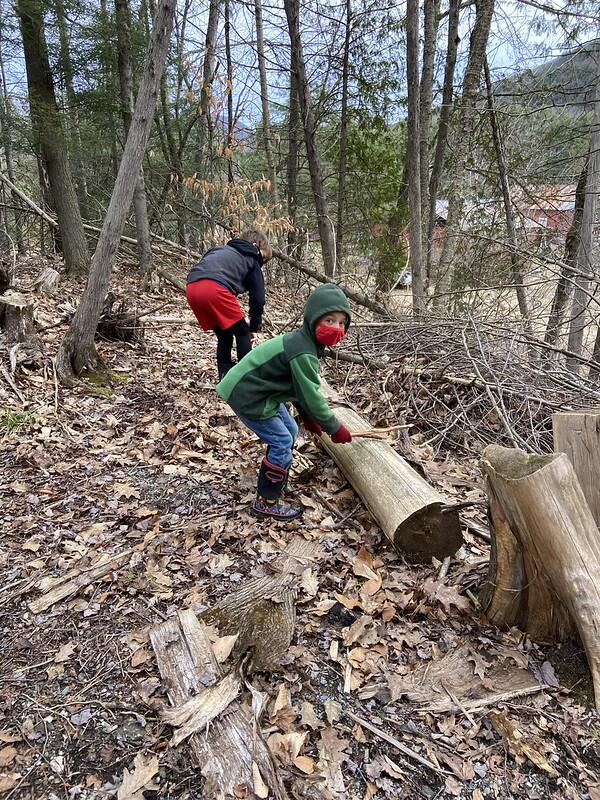 To begin our day we participated in Morning Meeting, this was introduced last week. We plan out the entire day and we get a chance to express our interests and when we would all like things to happen. After morning meeting the first thing on our list was snack and story. Sarah read us a story about a spotted salamander which was very informative.
After we were fueled up we began on our journey to Beaver Pond. The night before Sarah and I told everyone how we had an encounter with a beaver at Beaver Pond. This sparked something in and us, and we thought it would be a fun idea to set up a game camera pointed at beaver pond to see if we can capture anything. We found a great tree and placed the camera right at beaver pond. We will see next week if we got anything!
After setting up the camera we went on a beaver hike around the pond. We counted all of the beaver chews, 64 to be exact, and we looked for other sighs like drag marks or beaver scat.
We got back to the Clubhouse and tried to do a leaf litter search for salamanders under logs and other amphibians, but we were so tired and hungry that we couldn't focus. This was a great sign that it was lunch time. At lunch, Sarah read us a story about different poisonous frogs in the world and we really enjoyed it.
To end our day we enjoyed free play down in the field and wrapped up with sharing our favorite part of the day!
Next week we will have 7 new friends join us and we couldn't be more excited!