Conservation
The Next Step in Winter Wildlife Tracking
Sunday, February 24, 2019
9:00am - 4:00pm
Location Details
Audubon Vermont's Green Mountain Audubon Center
255 Sherman Hollow Road, Huntington, 05462
Meeting Place: Education Barn
Map and Driving Directions: http://vt.audubon.org/education_barn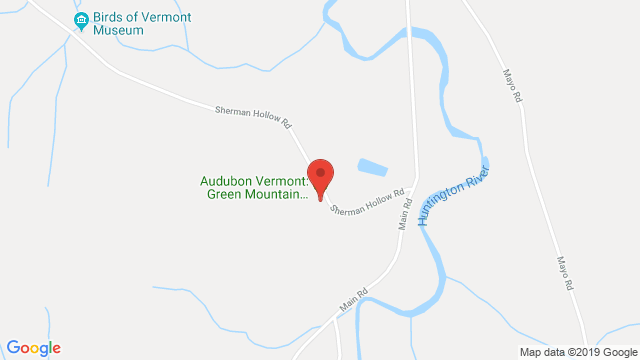 Join field naturalist Sophie Mazowita for a full-day immersion in tracking and trailing wildlife in winter, aimed at participants already holding a basic knowledge in track and sign identification. Beginner trackers are welcome to come as long as you are ready to take a deep dive into the tracking world right away.
We'll start with an indoor presentation to populate a list of species we might encounter on the winter landscape, reviewing their tracks, gaits, habitat, and associated sign. From there we'll head out to explore the forests, brook, and beaver and peeper ponds to find out who, why, when, and where wildlife is on the landscape. We will look to get on the trail of a fisher, fox, coyote, or bobcat and become intimately acquainted with its story as we walk in its footsteps. We'll ponder tracking mysteries and shine a light on the tracking process, revealing approaches to tracking and building wildlife knowledge, which include: track journaling and measurement; gait analysis; trailing; adopting a focal species; camera trapping; and more. Towards the end of the day, you'll be granted the opportunity to assess your tracking knowledge and process through a series of track and sign questions, which you will first answer individually and then take up as a group.
Sophie is an avid wildlife tracker and coordinator of the Burlington Mammal Tracking Project. She is a program director at Crow's Path Field School in Burlington and was formerly the Education Manager at the Green Mountain Audubon Center. She's been a student of wildlife tracking for a decade and dedicated much of the last year to honing her practice while getting on the trails of wildlife in New England and Ontario. She has a deep appreciation for tracking as a skill set and framework to foster connection with the land and its wild inhabitants.
Ages: Adults and children 13+
Fee: Audubon member $45, non-member $50
Registration required. Click here to register.