Working Lands
Bird-Friendly Maple Sugarmakers
Maple sugarbushes are inherently good for birds, but forests that are intentionally managed with birds in mind are even better!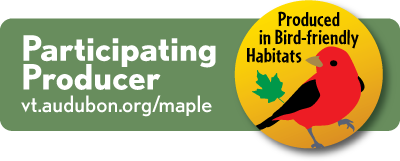 Green Mountain Audubon Center
Huntington, VT
Kim Guertin
vt.audubon.org
vermont@audubon.org
802-434-3068
Audubon's wood-fired, maple syrup is produced in a bird-friendly sugarbush and can be purchased at the Green Mountain Audubon Center and The Birds of Vermont Museum, both located on Sherman Hollow Road in Huntington.
The Barr Farm
South Woodstock, VT
Fred and Corey Barr; Brad and Tina Tuckerman
www.square/store/one-chicken-at-a-time-farm.com
latteslathers@gmail.com
802-457-1376
Barred Woods Maple Products
Underhill, VT
Dawn Hall, Barbara Paggi, Matt Paggi and Charlotte Reed
www.barredwoodsmaple.com
barredwoods@gmail.com
802-598-6027
Products available: maple syrup, maple crunch granola, maple cream, maple sugar, maple candy, maple seasonings and rubs
Bear Cobble Sugarworks
Starksboro, VT
Sprague Huntington
802-349-5544
Products available: maple syrup
Bourdon Maple Farm
Woodstock, VT
Don Bourdon
www.bourdonmaple.com
info@bourdonmaple.com
802-300-3203
Products available: maple syrup
Boyce Family Sugary
South Richford, VT
Scott and Wendy Boyce
scott.boyce85@gmail.com
802-782-6150
Branon Family Maple Orchards
Fairfield, VT
Tom and Cecile Branon and Sons
www.branonmaple.com
www.facebook.com/branonmaple/
info@branonmaple.com
802-827-3914
Products available: organic/kosher maple syrup - single sourced, maple products, value added maple products
Bridge Road Sugarworks
West Danville, VT
Molly Gleason and Adam Webster
www.bridgeroadsugarworks.com
molly@bridgeroadsugarworks.com
Products available: wood-fired maple syrup in glass pints, liters and samplers
Buck Family Maple Farm
Washington, VT
John, Cathy, Lauren, Hayley, and James Buck
802-244-8792 or 802-272-4856
https://www.facebook.com/buckfamilymaplefarm
Products available: Single-source 100% pure Vermont maple syrup in all container sizes for individual and commercial use.
Cabot Hills Maple
Cabot, VT
Marcia Maynard and Ken Denton
www.cabothillsmaple.com
syrup@cabothillsmaple.com
877-486-5524
Products available: maple syrup
Carman Brook Farm, LLC
Highgate, VT
Daniel and Karen Fortin with their sons, Jameson, Nathaniel, Levon, and Jonathan
https://cbmaplefarm.com
thefolks@cbmaplefarm.com
802-868-2347
Products Available: Single sourced maple products harvested, evaporated, and produced in small batches to include maple syrup, maple candy, maple cream, wedding favors, and gift baskets/boxes

Dan Clayton
Underhill, VT
danny@claytonincorporated.com
802-635-7664
Products available: maple syrup
Cobb Hill Maple Syrup
Hartland, VT
Jesse Hills
jessnbon@vermontel.net
802-436-0317
Products available: maple syrup
Couching Lion Maple Sugar Farm
Huntington, VT
Matt Menard and Chaska Richardson
www.couchinglionsugar.com
https://www.facebook.com/woodfiredsugar/
couchinglionsugar@gmavt.net
802-434-5232
Products available: maple syrup
Dark Wing Maples
Wolcott, VT
Ronnie Leroux
https://darkwingmaple.wordpress.com/
darkwingduck1928@yahoo.com
802-888-4233
Products available: maple syrup
Tom Dunkley
Westford, VT
thomassdunkley@gmail.com
Products available: maple syrup
Elm Brook Farm
East Fairfield, VT
David and Lisa Howe
http://elmbrookfarm.com/
ebf@elmbrookfarm.com
Products available: maple syrup, distilled spirits
Fleury's Maple Hill Farm
Richford, VT
Stephen and Elizabeth Fleury
www.facebook.com/Fleurys.Maple.Hill.Farm/
fleurymaple@hughes.net
802-848-3885
Products available: maple syrup
The Forest Farmers
Marshfield, VT
Michael Farrell
mike@theforestfarmers.com
518-637-7000
Products available: maple sap and syrup, birch sap and syrup
Hi Vue Maples
Richford, VT
Jessica Boone and Dale Smith
http://www.hivuemaples.com
hivuemaples@gmail.com
802-848-7705
Products available: maple syrup, maple candy, maple cream, maple vinegar, maple popcorn
Holton Family Maple
North Wolcott, VT
Dave and Dolly Holton
dholton@myfairpoint.net
Isham Family Farm
3515 Oak Hill Road
Williston, VT 05495
Mike Isham and Helen Weston
www.ishamfamilyfarm.com
www.facebook.com/isham.farm
ishamfamilyfarm@yahoo.com
Products available: maple syrup, blueberries, raspberries, pumpkins, Christmas trees

Jed's Maple Products
259 Derby Pond Rd.
Derby, VT 05829
Steve and Amy Wheeler
www.jedsmaple.com
802-766-2700 (866)4 PURE VT (toll free)
Judd's Wayeeses Farms
Po Box 66
Morgan, VT 05853
Donna Young and Jim Judd
wayeesesfarms.com
wayeesesfarms@gmail.com
802-895-4418
Products available: maple syrup, maple sugar, maple candy, maple cream
Lamb Sugarworks, INC
East Calais, VT
Drew Lamb and Laurie Grigg
www.lambsugarworks.com
drewlamb@lambsugarworks.com
802-279-6868
Products available: maple syrup
Little Hogback Farm LLC.
Bristol, VT
Matthew Davis
www.littlehogbackfarm.com
littlehogbackfarm@gmail.com
802-598-8204
Purchase direct from Sugarhouse, Middlebury Farmer's Market, Middlebury Co-op or from our website
Mance's Tree Farm
Shaftsbury, VT
Dave Mance
www.mancemaple.com
dmance3@comcast.net
802-688-3506
Products available: maple syrup
Maple Sugar Mountain, LLC
Belvidere, VT
Billy Baker, David Mann, and Roger Mann, Jr.
https://maple-sugar-mountain.myshopify.com
maplesugarmountain@gmail.com
(802) 644-1599
Products available: electric-evaporated maple syrup in gallon, half-gallon, quarts, pints, half-pints, and sampler sizes
Merck Forest & Farmland Center
Rupert, VT
Tim Duclos, Ecologist and Conservation Manager
www.merckforest.org
info@merckforest.org
https://www.facebook.com/merckforest
(802) 394-7836
Products available: organic maple syrup
Morgan Brook Farm
Westford, VT
Robert Pittala
morganbrookfarm@gmail.com
www.morganbrookfarmvt.net
Products available: maple syrup
Mountainview Mapleworks at the Giroux Family Farm​
Richmond, VT
Jim and Cori Giroux and family
corigiroux@gmail.com
www.facebook.com/mountainviewmapleworks/
802-434-5198
Products available: Wood-fired, single source Maple Syrup in glass and traditional plastic jugs in various sizes
Maple View SugarWorks
Westfield, VT
Tom and Cheryl Wright
www.gotmaple.com
mvs@together.net
802-744-6208
Products available: maple syrup, granulated maple sugar, maple sugar bricks, maple candy, maple cream, maple jelly, maple BBQ sauce, maple marinade, wedding favors, gift baskets
Kathryn Nuissl
Berlin/Montpelier, VT
knuissl@vtlink.net
Products available: maple syrup
Runamok Maple
Cambridge, VT
Eric and Laura Sorkin
http://runamokmaple.com/
https://www.facebook.com/RunamokMaple/
eric@runamokmaple.com
802-644-9366
Products available: barrel-aged, infusions, smoked, and Sugarmaker's Cut maple syrups
Shaker Mountain Farm
Starksboro, VT
Richard Faesy and Ann Bove
https://www.shakermountainfarmvt.com
shakermt@gmavt.net
802-434-4254
Products available: 100% pure Vermont certified organic maple syrup in all container sizes.
Shelburne Farms
Shelburne, VT
Dana Bishop
https://shelburnefarms.org/about/farm-products/woodlands
dbishop@shelburnefarms.org
802-985-8686
Products available: maple syrup
Stannard Farm
Stannard, VT
Riva Reynolds
http://www.stannardfarm.com/
stannardfarmvt@gmail.com
Products available: maple syrup, maple candy
Sterling College and The Virginia Russell Maple Sugarbush
Craftsbury, VT
802-586-7711
Learn more...
Sterling Mountain Farm
1064 Upper French Hill
Johnson, VT 05655
Rob Maynard and Deb Ravenelle
Sweet Bird Farm
Waterbury Center, VT
Steve Hagenbuch
www.sweetbirdfarmvt.com
maplebird@comcast.net
802-233-0332
Products available: single source, wood-fired maple syrup
The Vermont Maple Farm
Corinth, VT
Meghan Martell and Tim Jarvis
https://thevermontmaplefarm.myshopify.com/
thevermontmaplefarm@gmail.com
(802) 222-1654
Products available: maple syrup, maple sugar
Wild Woods Maple
Cambridge, VT
Rob Niles and Katie Amadon and Daughters
www.wildwoodsmaple.com
www.facebook.com/wildwoodsmaple/
info@wildwoodsmaple.com
802-644-9454
Products available: maple syrup
Witness Tree Maple, LLC
862 Cobb Hill Road
Waterbury, VT 05676
Nick Sibley & Lauren Sopher
WitnessTreeMaple.com
WitnessTreeMapleVT@gmail.com
802-734-1418 or 802-309-3257
Products available: maple syrup
Questions? Contact Audubon Conservation Biologist, Steve Hagenbuch.
The Bird-friendly Maple Project is funded in-part by the Vermont Community Foundation and the Canaday Foundation.
How you can help, right now
Donate to Audubon
Help secure a future for birds at risk from climate change, habitat loss and other threats. Your support will power our science, education, advocacy and on-the-ground conservation efforts.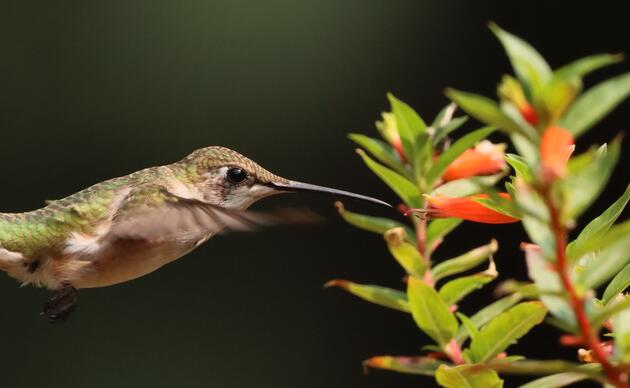 Visit Audubon
It's always a good time to visit the Audubon Center. Trails are open to the public year-round. Visit us daily from dawn until dusk! Donations are appreciated.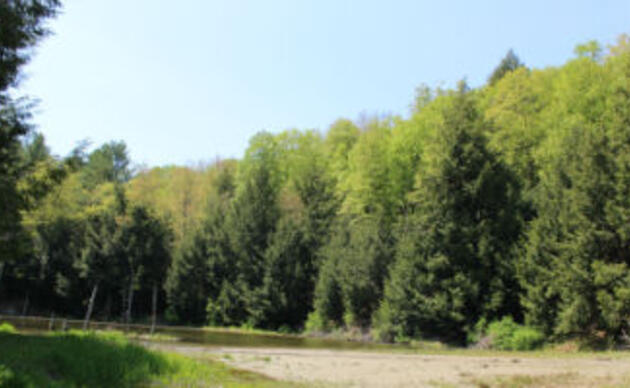 Events
Adults, preschoolers, foresters, photographers, sugarmakers and families will all find opportunities to connect with nature.