Program
Winter Wilderness Skills
Vacation Day Program
Tuesday, February 27, 2018
8:30am - 3:30pmHuntington, Vermont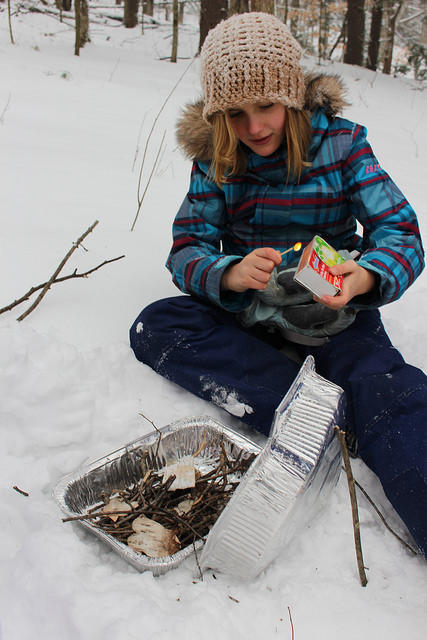 Location Details
Audubon Vermont's Green Mountain Audubon Center
255 Sherman Hollow Road, Huntington, 05462
Meeting Place: Education Barn
Map: http://goo.gl/maps/wxJOd
Do you like to build forts and roast marshmallows over a campfire? Then this day is for you! Join us for an exciting day building practical winter shelters for fun and survival. We'll choose a good campsite, find the best building materials, and do it all with little impact on the land. Afterwards, we'll gather wood and discover the tricks to building a safe and successful campfire. We'll end the day enjoying S'mores around the fire!
Grades: K - 5
Fee: Members $60/day or $150 for all three days
Non-members $65/day or $165 for all three days
Become a member online now for camp discounts! Choose "Family Membership."
Online registration is required: To register for Vacation Day Camp, first review our registration instructions packet. This is where you'll find the link to the online CamperReg registration website.
Questions? 434-3068 or email vermont@audubon.org