Debbie and Emily were so excited when they realized that the new season of Forest Preschool was starting up again. Seeing all those smiling faces ready to explore and learn was the highlight of our past year, and we couldn't wait to see what this year would bring us. We had some familiar faces come back to Forest Preschool, as well as some exciting new faces.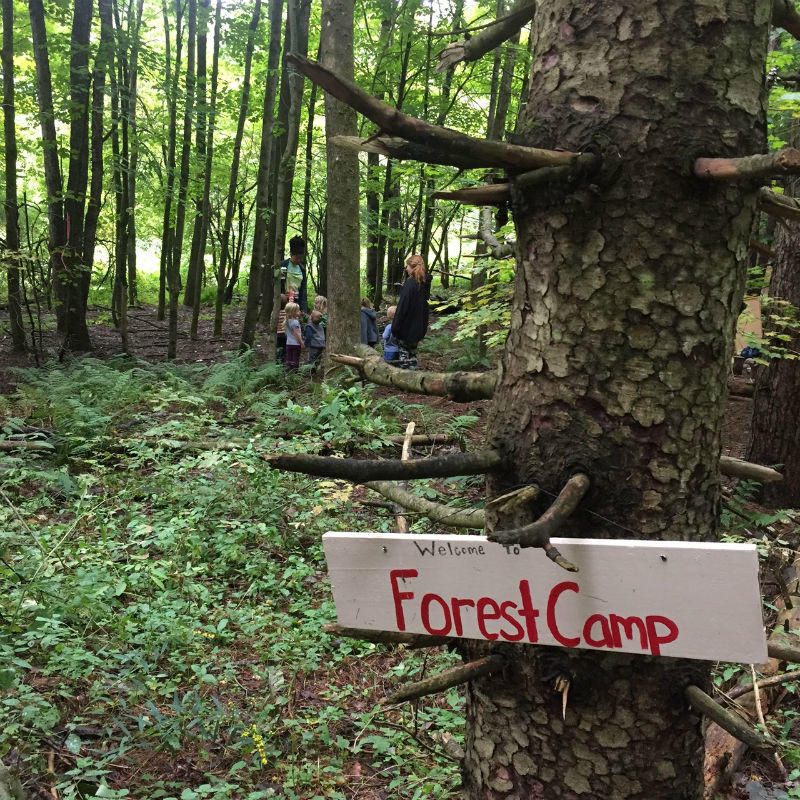 The first day of Forest preschool is always an exciting one. Everyone comes to Audubon, walks through the barn doors, and finds the cubby with their name on it, and can't wait to begin the day. The weather held out for us, it was a little chilly but that didn't bother any of us. We started off the day playing outside, some of us were practicing how to jump like frogs while others were baking up some delicious treats in our mud kitchen.
Once all of our friends arrived, and after playing around a little, Debbie and Emily knew it was time to start our exciting day. We all made sure our backpacks were packed with our water bottles, snacks, and lunch boxes. Once we confirmed everyone had what they needed, we got on the trail to Forest Camp. At Forest camp, everyone was introduced to out backpack tree, and then hung up their backpacks. We pulled out our snacks and sat around our fire circle on our tree stumps and had morning meeting.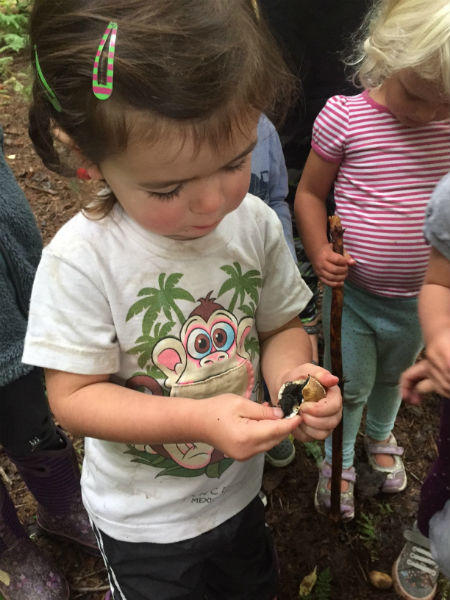 Morning meeting this year will be led by a different Forest Preschooler each week. This being the first week, Debbie and Emily want to make sure everyone understood how it works, so Debbie led our morning meeting. Debbie really wanted everyone to get comfortable at Forest Camp, so she planned a great day of playing and exploring at Forest Camp, even eating lunch there, but ending our day with our Thank You Circle at the barn with our parents.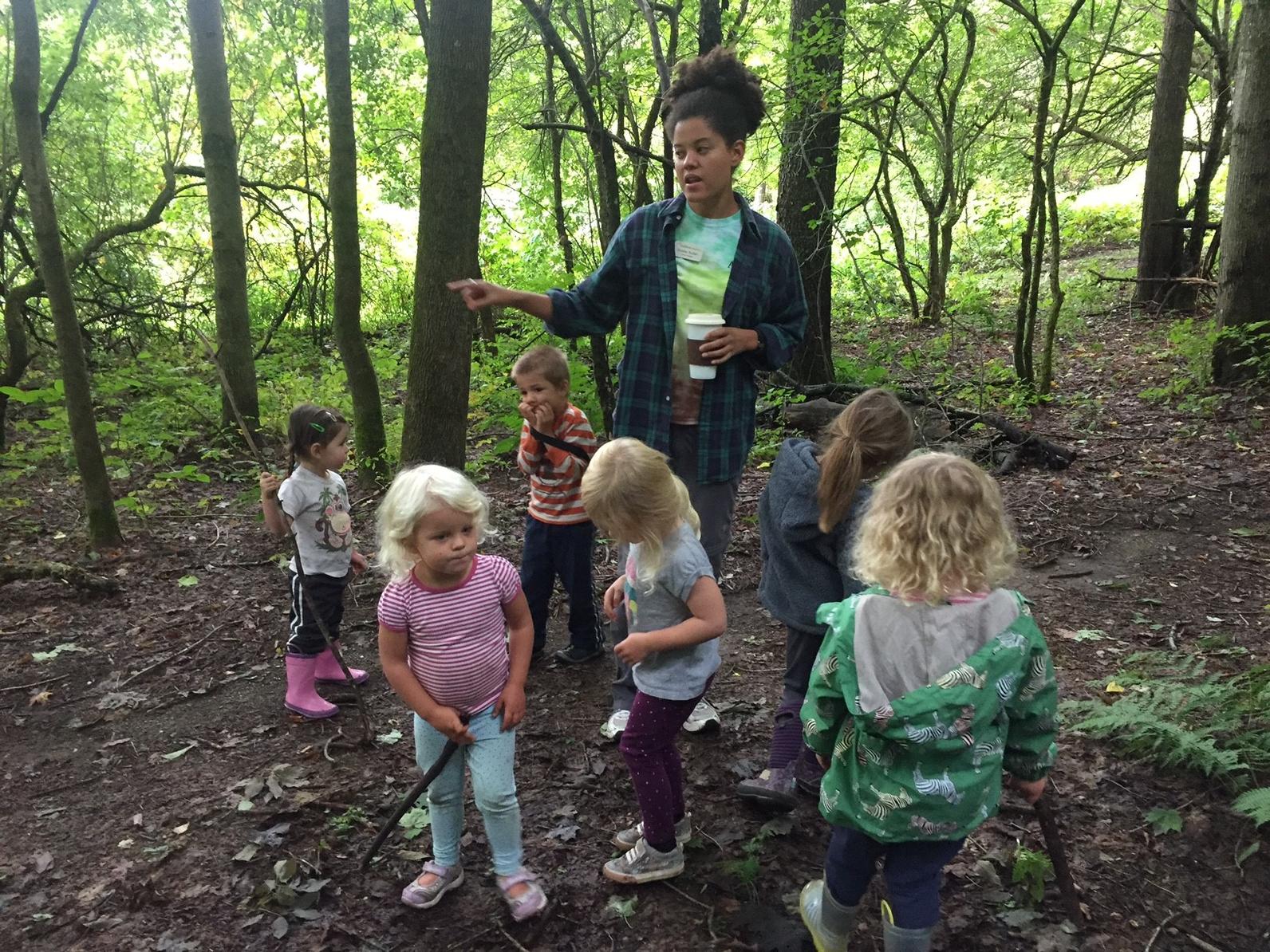 Before we could play, we needed to know what the boundaries of Forest Camp are to know where is safe to play and explore. Debbie walked us around the perimeter of the forest and made sure everyone understood where is safe to play. Once all of the boring work was done, it was time to play! Some of us, including Debbie, worked on reconstructing our fort at Forest Camp, others pretending that a fallen down tree was a ship and traveled to some pretty incredible places, and a few played around with dirt making taste treats for the rest of the group.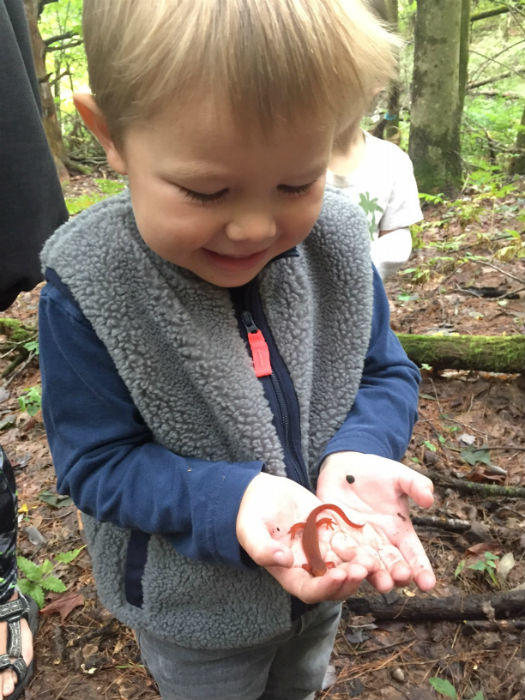 Midway through our playing our preschoolers got the music bug and started to sing some pretty incredible songs! We had a whole band going at one point with some drummers, a singer, dancers and a wonderful audience.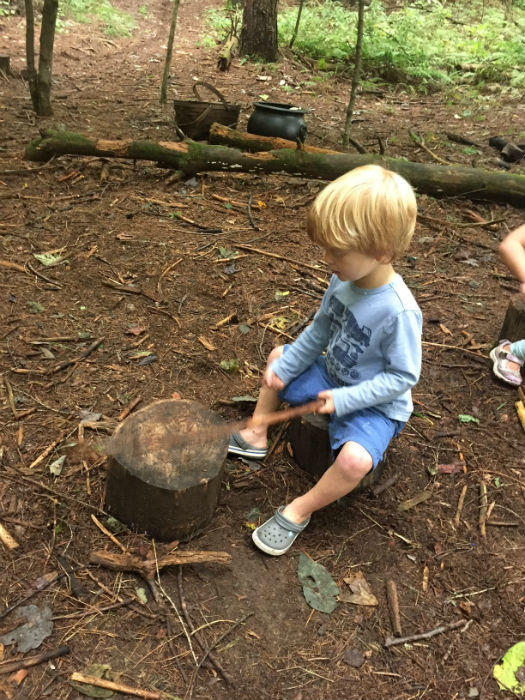 As always, we ended our day with a Thank you Circle that many of our parents/guardians joined us for. Many of us were thankful for being able to play outside in the woods, some were thankful for it not raining, and others were thankful for specific things that happened during our day.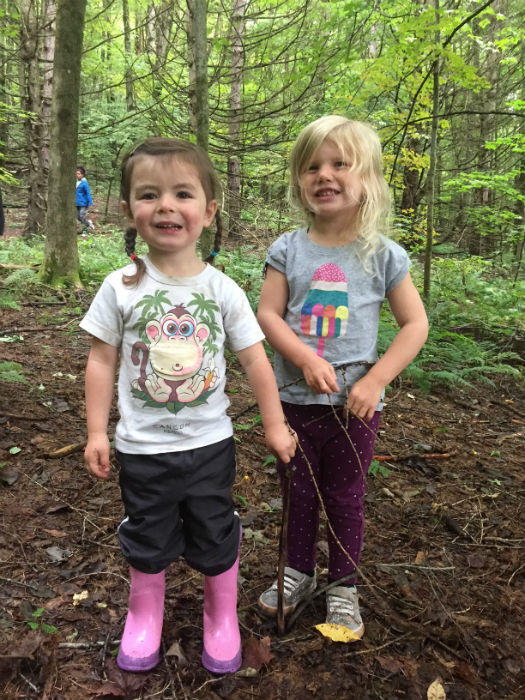 Debbie and Emily are so excited that we have so many new and old friends with us on Fridays again. This session of Forest Preschool is going to be great!